Good weather, a rich history, scenic hills, incredibly delicious food are just a few of the things that make Lisbon such a great city to visit. You could easily spend a week exploring all the treasures of the capital of Portugal and never get bored. But what if you have one day in Lisbon? Don't worry, there are still plenty of things to see in Lisbon in a day. Follow this one day itinerary to have a perfect day in Lisbon.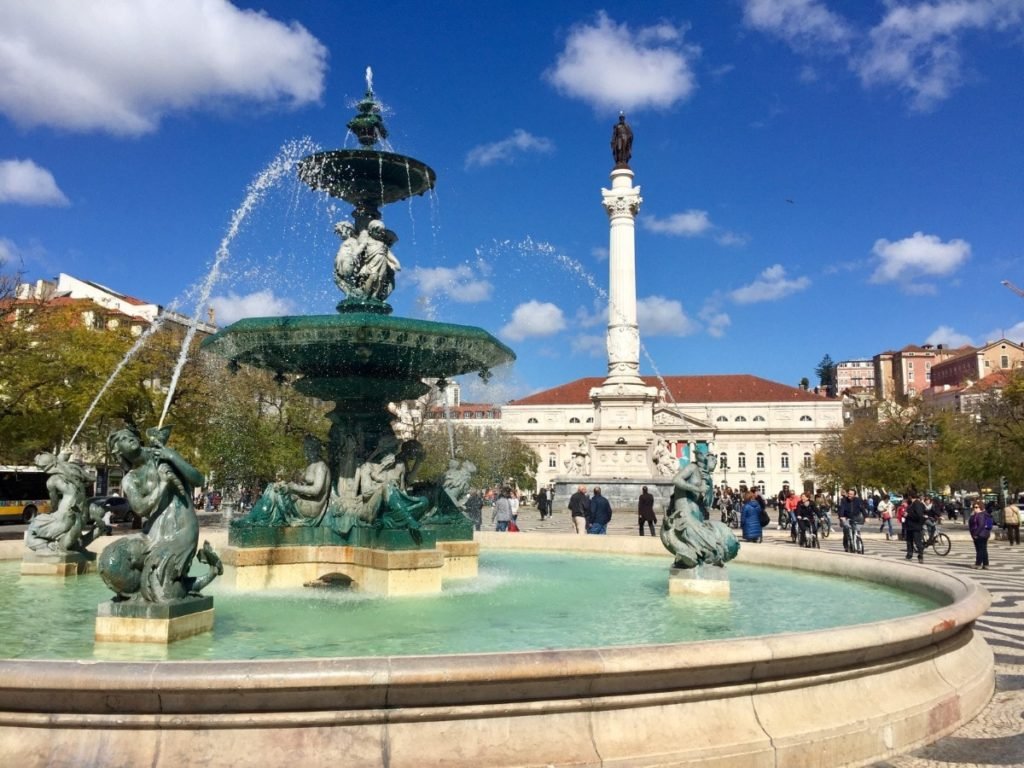 Start your day with a delicious breakfast in the neighborhood of Alfama, Lisbon
If you have one full day in Lisbon, take your time to enjoy a relaxing breakfast in the Alfama disctrict. Head to Pastelaria Alfama Doce and spoil yourself with a delicious coffee and some Pastéis de Nata, the most famous pastry of Lisbon and the Portuguese speaking world. Pastéis are small creamy custard pastries that you can find all over Lisbon. They are best consumed fresh from the oven with icing sugar and a hint of cinnamon.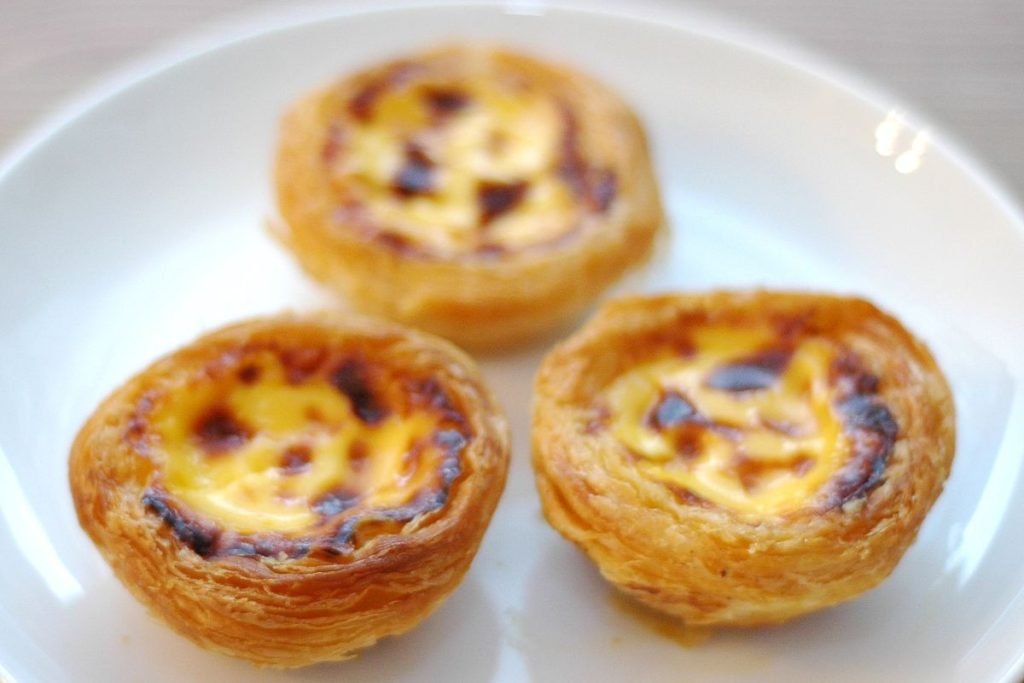 Interested in more food stuff? Check out our guide on the best affordable tapas restaurants in Barcelona
Visit the Alfama neighborhood
After breakfast, it is time to explore the picturesque Alfama neighborhood. Back in the old days, this part of town used to be the part of town where the poorer dock workers used to live. But over the last decades, Alfama has evolved into a modern and beautiful part of town. Take some time to wander around the beautiful houses and get lost in the narrow cobbled streets.
If you are into photography and want to explore the city, you may consider taking a photography tour through Lisbon.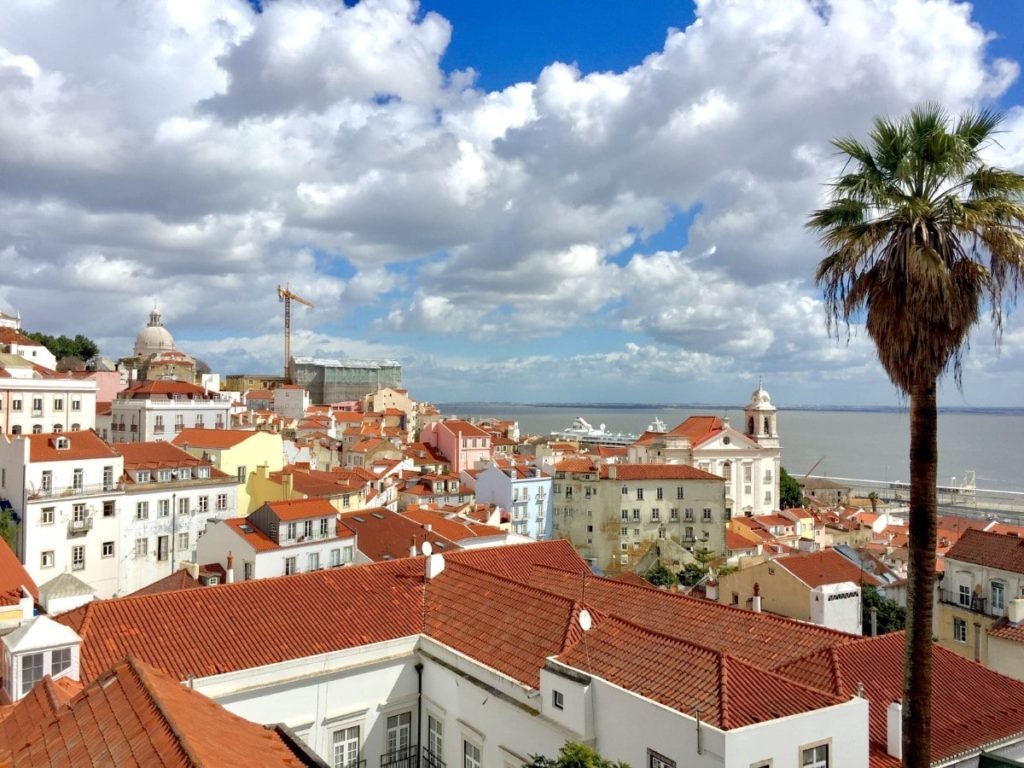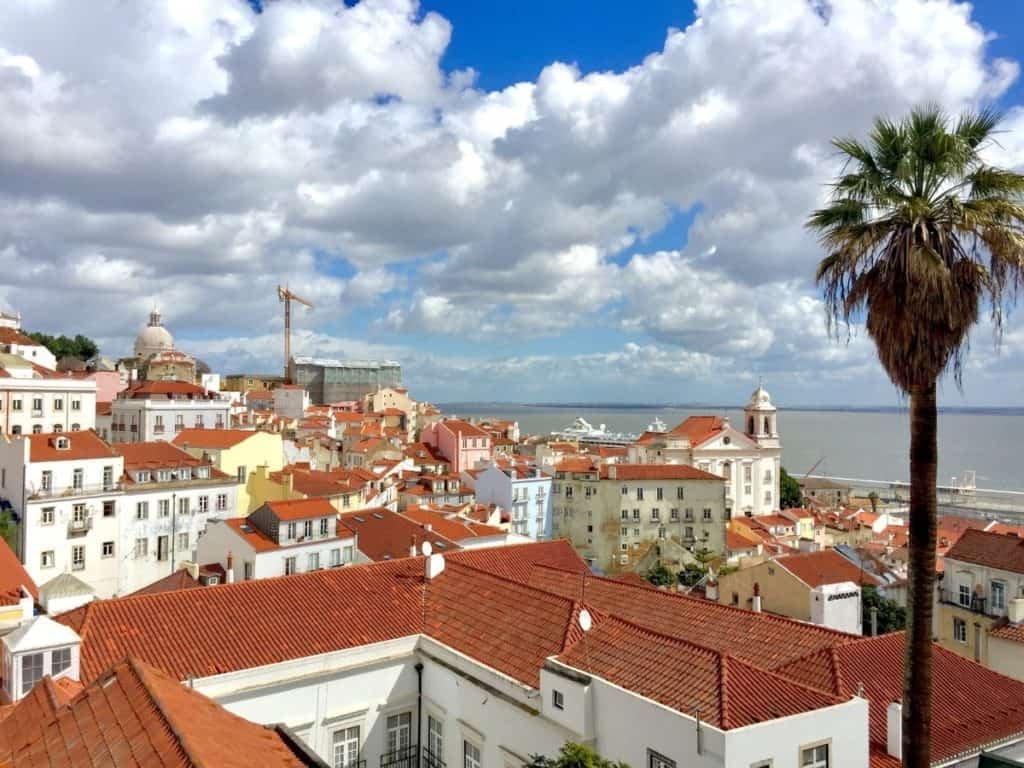 On your way through Alfama, make sure to stop by Lisbon Cathedral. Construction for this impressive church has begun in the year 1147 – nearly 900 years ago.
Tip: If you have more time in Portugal, check out this itinerary for a roadtrip from Lisbon to the beautiful city of Porto.
São Jorge Castle
The monumental São Jorge Castle on top of the hill can be seen from many parts of the city. From many places in Alfama, it is just a short walking distance away and the perfect next stop on your Lisbon itinerary.

Depending on the time of the day, you may choose to enter the castle or just take a walk around it. The entrance fee is €10 and sometimes, the queues tend to get very long. If you only have time to visit Lisbon in one day, I would recommend you to just enjoy the castle atmosphere from the outside and then move on. If you have more than one day in Lisbon, I would definitely recommend you to enter the castle, especially if you are interested in history. Also, the views from the castle are some of the best you can get in Lisbon.
Getting to São Jorge Castle
In case you don't find yourself close to the castle before wanting to visit, there are several ways to make your way up to São Jorge Castle:
Many tourists take a ride on the famous Tram 28. Single tickets cost €2.9 and you can buy them onboard the tram. But due to the incredible popularity of the tram, you may have to wait in line for over an hour. If you decide to take the tram, beware of pickpockets.
The fastest and most comfortable option is to take a taxi up the hill. A standard fare will be between €4-7 from anywhere in Alfama or Rossio metro station
You can hire electronic rickshaws for around €40-50 per hour. In addition to the transport, they also come with an English speaking guide. So if you are in a real hurry or if you only have a half day in Lisbon, this may be a good option.
The cheapest and most scenic way to get us the hill is by walking. It only takes about 20 minutes to get from Rossio station to São Jorge Castle at the top of the hill. The way up leads through narrow streets and offers some beautiful views over the city. If you are already in the slopes of Alfama, you can make it there in even less time.

The famous Tram 28 riding through the narrow streets of Lisbon
Ready for Lunch?
Depending on how many pasteis de nata you have had for breakfast, now may be the time when you get hungry. There are plenty of good restaurants close to the Castle and in Alfama. You can just stroll around and choose any. We enjoyed some delicious lunch in Claras em Castelo, a cozy and small restaurant very close to the castle. Claras em Castelo is located in Rua Bartolomeu de Gusmão 31. Not sure what to order? You can find an overview of the best traditional Portuguese dishes here.
Torre de Belém
Even though Lisbon is a very walkable city, it is now time to jump into a taxi (or take some public transport). Time to drive to the other side of town: to the Torre de Belém (Belém Tower). Which is one of the most famous landmarks of Lisbon and a UNESCO World Heritage Site. A taxi ride from Alfama will set you back around €15. The Torre de Belém is a defense tower built in the 16th century to protect Lisbon from attacks from the sea.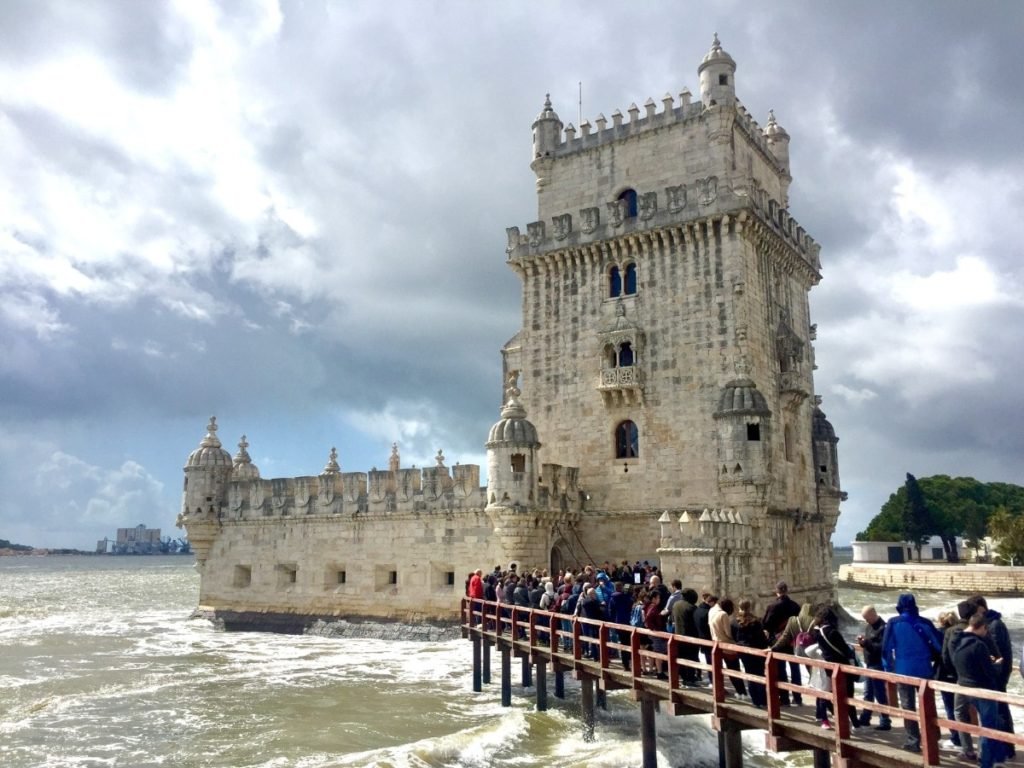 It is also possible to enter to tower (admission €6). But if you want to see Lisbon in a day, I would recommend you to simply enjoy the views of the tower and the Tejo River from the outside.
Also take some time to walk along the river front towards the 25 de Abril Suspension Bridge which looks a lot like the Golden Gate Bridge in San Francisco.
Tipp: If you have more than one day in Lisbon, consider a visit to the UNESCO World Heritage Site Sintra – a perfect day trip from Lisbon.
Next Stop: Baixa District
Baixa is the central district of Lisbon and home to many of the city's most famous squares and shopping areas. Rossio Square is right in the center of it all. From here, other sights like the Elevador Santa Justa and the Carmo Convent are just a short walk away. The Carmo Convent is a former convent that was destroyed in the devastating earthquake in 1755 which left the entire city of Lisbon in ruins.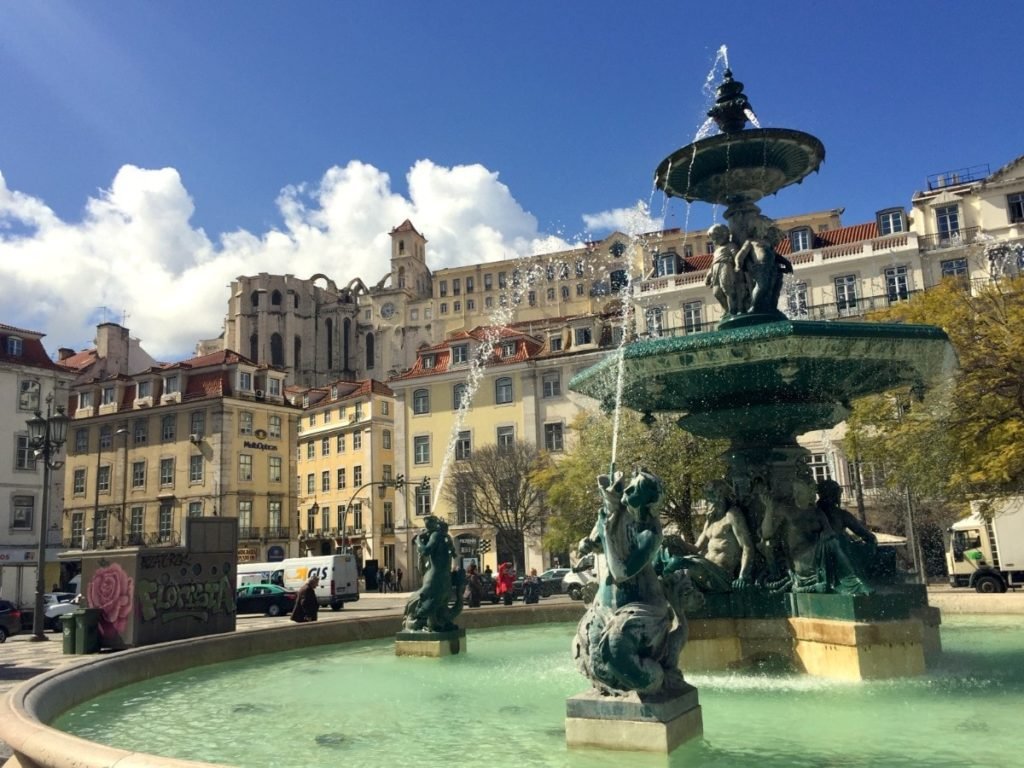 Lisbon in a Day – Time for some drinks in Bairro Alto
Bairro Alto is one of the central districts that the one day Lisbon itinerary hasn't touched so far. And for good reason. During the daytime, there is not much going on here but as soon as the sun starts to set, this district comes to life. There are numerous bars, pubs and restaurants for you to choose from. Bairro Alto is also the ideal place in Lisbon to watch a Fado performance – a music genre with its origins in Lisbon. If you still have some energy after this long day, you can party all night long in Bairro Alto.
I hope you liked our Lisbon in a day itinerary. Have you been to the Portuguese capital yourself or do you plan to visit Lisbon one day? Let me know in the comment section. I would love to hear your experiences. If you are looking for an add on to your trip to Lisbon, I would recommend a side trip to the UNESCO site Sintra just outside the city limits of Lisbon.
Other interesting itineraries on the Iberia Peninsula:
Bilbao, Spain – Two Day Itinerary
Seville, Spain – Travel Inspiration
Two Days in Granada, Spain and How to Buy Last Minute Alhambra Tickets
Pin this for later: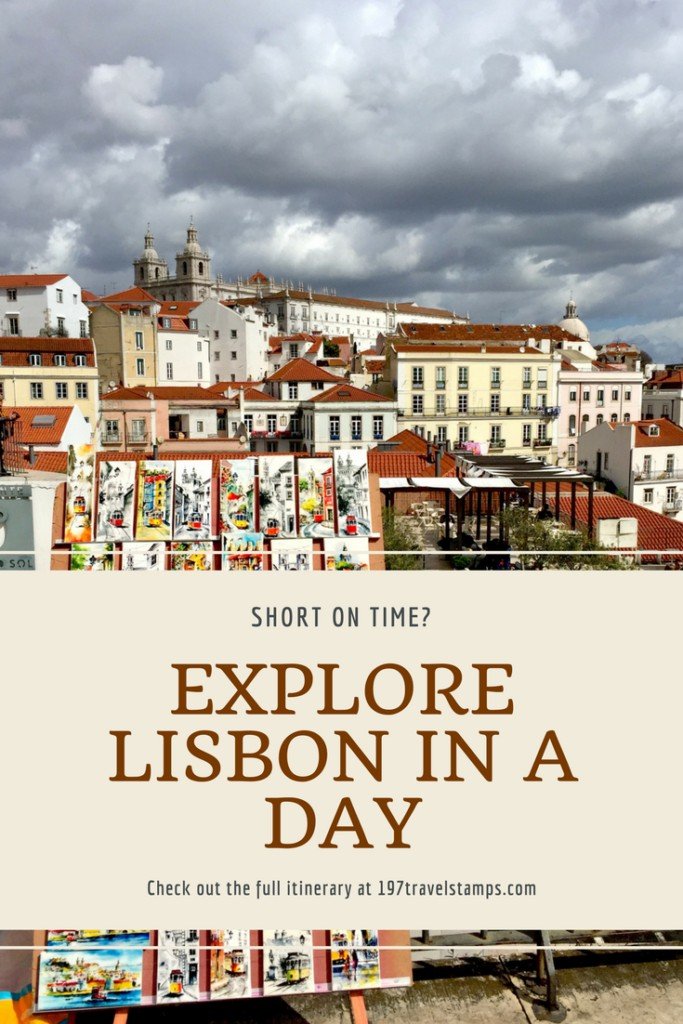 Lisbon in a Day – A perfect itinerary to explore the Portuguese capital