Boracay is perhaps the most beautiful and most famous of the 7,641 Philippine islands. Here you can find everything you will imagine when you think of paradise: incredible white beaches surrounded by blue waters, perfect weather conditions and breath-taking sunsets. But you will certainly not get bored on the beach with these 8 best Boracay activities.
Update April 2019:

Boracay was shut down for tourism for several months in 2018 so the island could be cleaned up and recover from overtourism. Now, Boracay is back better than ever with strict rules to avoid overtourism and pollution in the future. One of the rules restrict the number of tourists that may arrive to the island per day to 6,405. So make sure to book early to get an accomodation and you will be set to go! Check out the other new rules for visiting Boracay here.
Best Boracay Activities #1 – Experience the underwater world
The small island of Boracay is surrounded by the crystal clear waters of the Pacific Ocean. One of the best activities in Boracay is scuba diving. There are several dive centers all over the island that offer dives for beginners (roughly €60 per dive including equipment and instructor) or for more advanced experienced divers. Over 30 dive sites can be reached by boat within a few minutes from the island. If you have a little more time on the island, you can get your PADI open water diving license for around €350. Some of the tours stop at several small islands around Boracay – so the price for the diving tour includes some Boracay island hopping as well.
Helmet diving is one of the great alternative Boracay water activities, if you don't want to try scuba diving. The helmet is filled with fresh air so you don't have to learn the breathing techniques of scuba diving but you will still be able to enjoy the unbelievable beauty of the ocean. Prices for helmet diving start at €30.
If you decide to go diving, make sure to bring an underwater camera to capture the incredible sea life around Boracay island. You can find some tips on how to take amazing underwater photos here.
Travel Tip Section: Best time to go to Boracay?

There are two seasons in Boracay: the wet season and the dry season. Try to visit the island during the dry season that lasts from October until late May. The small island gets especially crowded during Christmas and Easter holidays and during Chinese New Year. So if you are flexible with your time you can get cheaper accommodation by bypassing the peak seasons.
Best Things to do in Boracay #2 – Go Kite Surfing
During the dry season, strong winds blow on the eastern side of the island. These perfect windy conditions make Bulabog Beach one of the kite surf hotspots in the world. Experienced kite surfers from all over the world flock to Boracay every year.
You should give it a try too! There are several operators on the island that offer beginner courses where you can learn the basics of kite surfing within a few hours. Prices for kite surfing activities in Boracay start at around €60 for courses.
Boracay Safety Tips

While the Philippines ranks only 38th in the Asian safety ranking due to some safety issues, especially in the southern islands, Boracay is a very safe destination for tourists. Here are a few safety tips to make your stay more comfortable:

Wear sunscreen – one of the main dangers is the hot sun. Protect your skin.
Prevent mosquito bites – dengue fever does occur on Boracay.
Beware of thieves and pickpockets – do not leave your stuff on the beach out of sight and keep your valuables in closed pockets.
What to do in Boracay #3 – Take a Filipino cooking class
Filipino food isn't just good – it is great. To me, tastes and cooking techniques are an important aspect of a culture and a cooking class is a perfect way to get a good glimpse at it. And being able to cook some delicious Filipino dishes for your friends and family is the best souvenir you can bring back home with you. Most cooking classes will take you to the local market first where you can select the fresh products you will prepare and eat later. You can book the cooking activity from one of the operators in Boracay or through your hotel. The price should be around €30.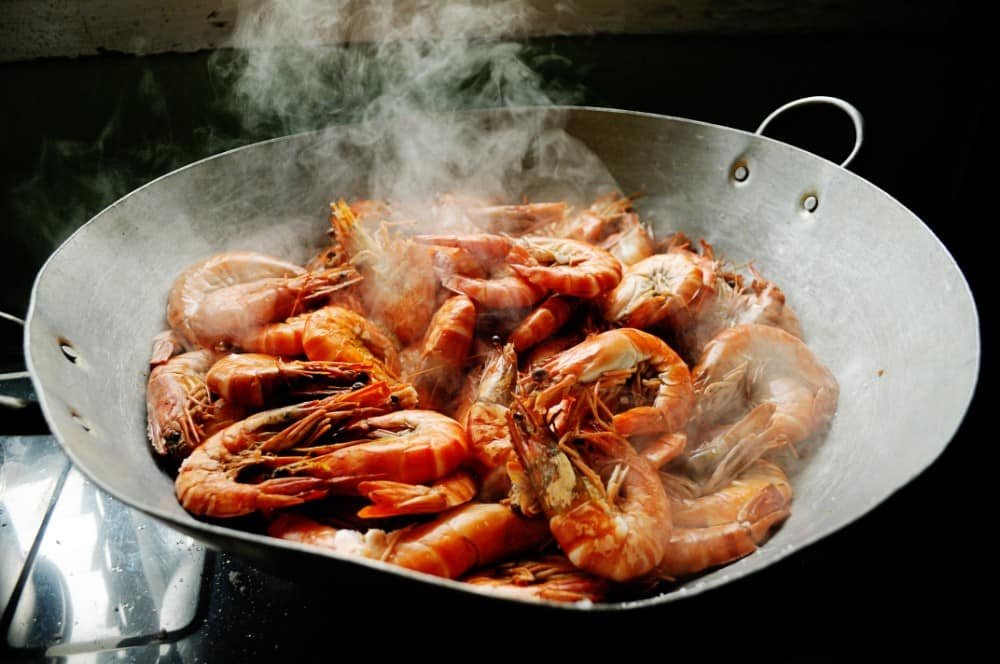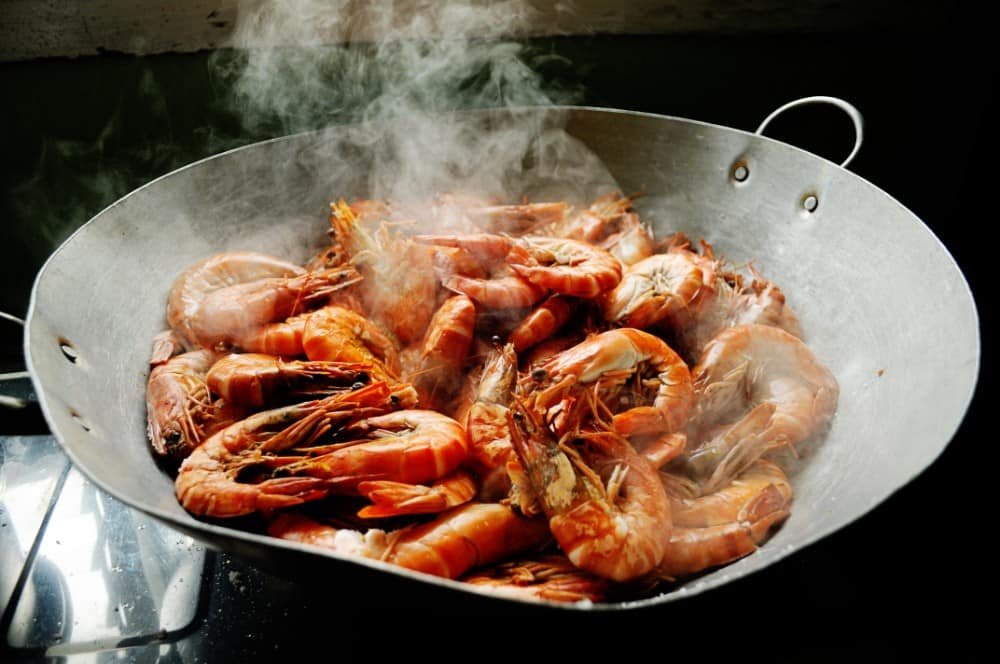 Activity in Boracay #4 – Experience the night life in Boracay on a pub crawl
There are tons of bars, pubs and restaurants on Boracay and it would be a pity to only stay in one place all the time. Therefore, Boracay is a perfect place for bar hopping – have a drink at one bar and then move on to the next location. You can either just explore the nightlife and bars by yourself or if you want to get to know other people, you can join a pub crawl. For around €15, you will get around 10 shots, access to several bars and a t-shirt.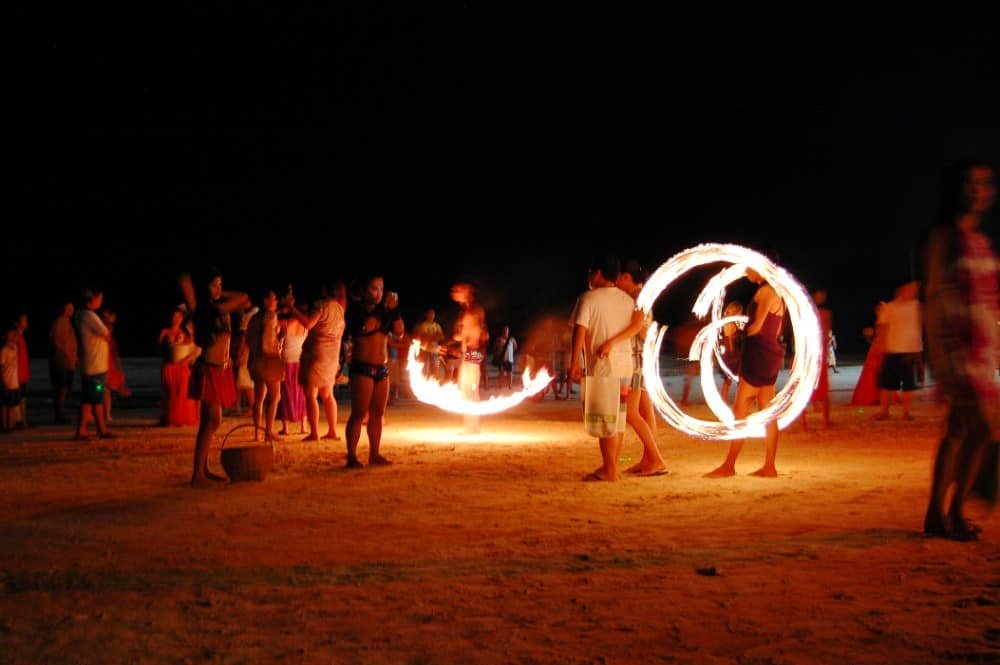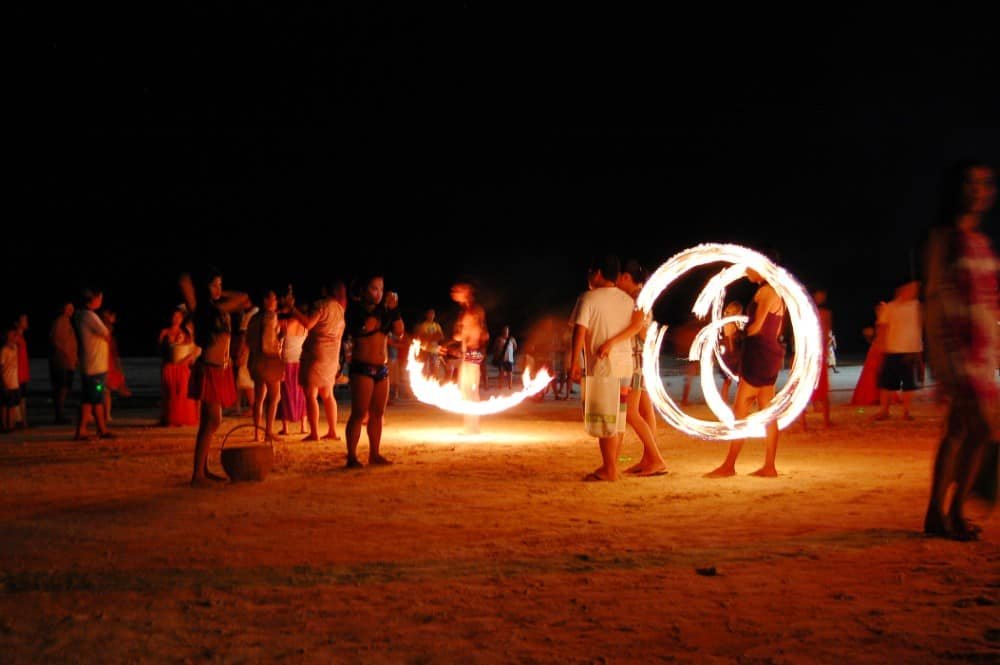 Travel Tip Section: Philippines or Thailand?

Many travelers ask themselves this question before going to Southeast Asia. While both countries offer some incredible beaches and nature, they are also very different from each other. Check out this post to help you decide whether to travel to Thailand or the Philippines.
Activities in Boracay #5 – Boracay parasailing adventure
Parasailing is a great and adventurous way to see the island of Boracay from above. You are attached to a parachute that is pulled by a boat. After a bit, you will take off and then you will be able to look down at the small world below you. While it sounds like an extreme sport, you will be sailing through the sky at moderate speed so you can fully enjoy the views. Parasailing is a great activity in Boracay for couples. Expect to pay around €30 for 15 minutes of sailing.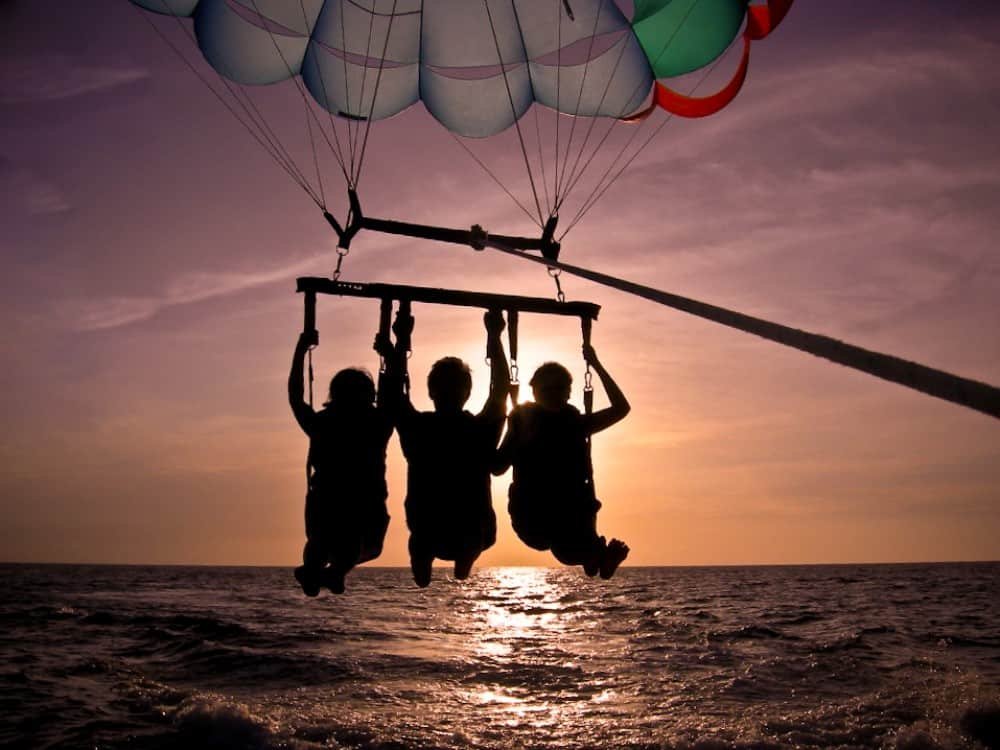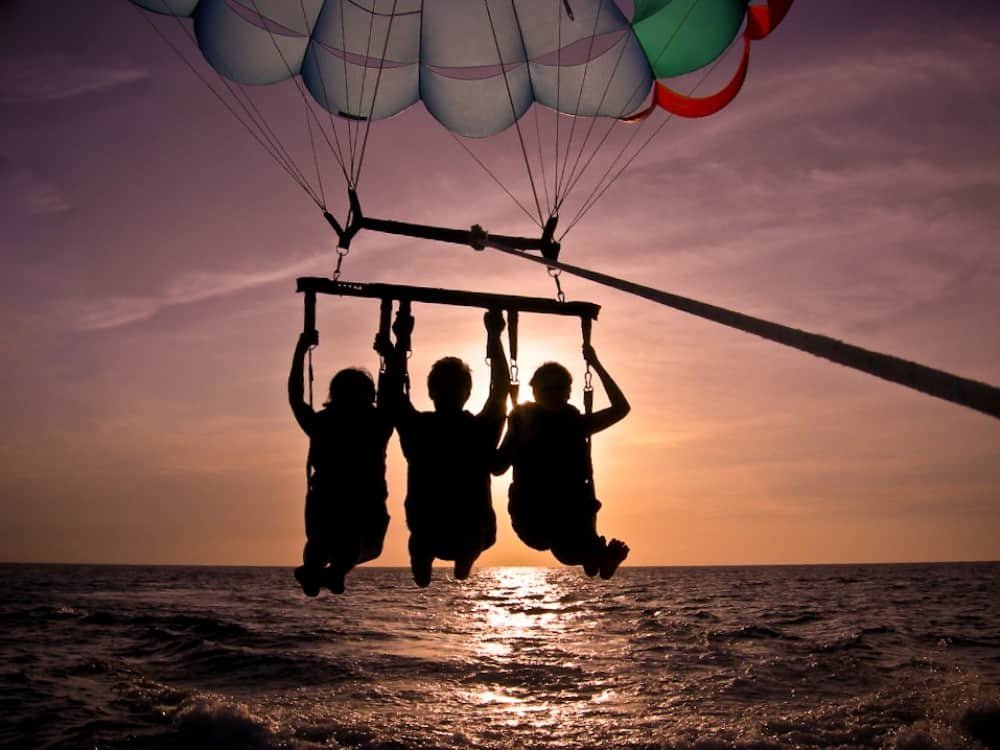 Boracay Travel Tip Section: How to get there? And where to stay?

There is no airport on Boracay. All visitors have to take a short ferry boat ride from Caticlan port to the island. To get there, you can either fly directly to Caticlan airport, just a few miles down the road. Alternatively, you can fly to Kalibo airport, 80 minutes by road from Caticlan port. The best option is to check for flight prices to both airports. Often, the flight to Kalibo airport is cheaper. From Kalibo airport, you can either get on a shared minibus to Caticlan ferry port or prebook a private Boracay airport transfer for around €40 including the ferry cost.

Click here to find out where to stay in Boracay.

P.S. if you are looking for a less touristy alternative or a side trip from Boracay, check out Carabao Island just north of Boracay. You can reach the island with a one hour ferry ride from Caticlan ferry port.
Boracay what to do #6 – Get a massage
After all the surfing, diving, parasailing, pub crawling and other activities, you may just need a time out. In the end you are here on your well-deserved holiday and you should return back home with your batteries recharged. What could be better than a relaxing massage? There are plenty of women on White Beach offering massages, starting at around €5 per hour. IAre you looking for a more organized atmosphere? Head to Nigi Nigi Beach Resort where you can get a massage on a proper table for around €10 per hour.
What to do in Boracay #7 – Do nothing and relax on the beach
Grab a towel and your favorite book and head straight to White Beach. The main beach on the island stretches over a total of 4 km. Soak up some sun, swim in the crystal clear waters or grab a beer at one of the stylish little beach bars. If you are like me and you get bored on the beach without doing anything, check out this guide about the 20 best beach games for adults.
If you are looking for other beach experiences in Boracay, away from the crowds at White Beach, hire a tricycle to Puka Beach or Baling Hai Beach. Or head to Bulabog Beach to watch the kite surfers enjoy the wind and perform crazy tricks.
Top things to do in Boracay #8 – Enjoy the incredible sunsets in Boracay
Most nights, when the sun sets in Boracay, the sky lights up in amazing colors. Sit back, relax with a cool drink in your hand and enjoy the show.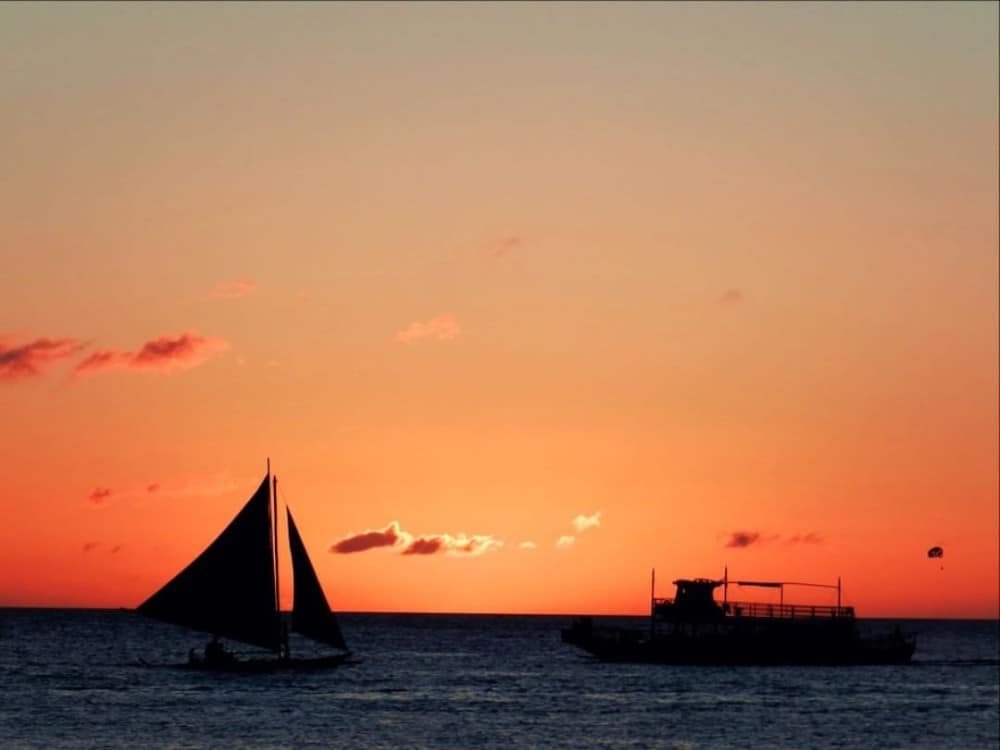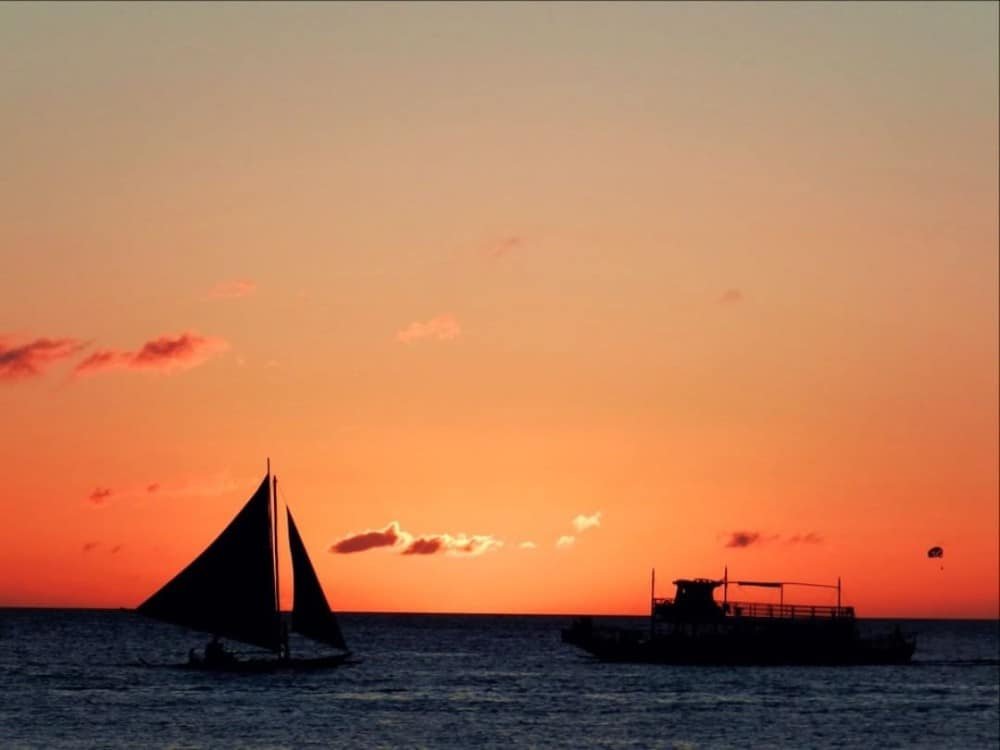 These are the 8 best activities in Boracay. Have you been to Boracay or anywhere else in the Philippines? Have you tried any of the activities on your Boracay trip? We would love to hear about your experiences in the comment section.
Why not pin this post on Pinterest for later?
Check out our other guides too:
The Best Area to Stay in Tokyo – A Personalized Recommendation
Visiting Sal Island in Cape Verde – Country Number 104
Guide to Travelling to the Danakil Depression in Northern Ethiopia – The Hottest Place on Earth
My Top 5 Budget Tapas Restaurants in Barcelona
8 Best Boracay Activities – The Best Things To Do In Boracay