It doesn't matter if you are a foodie, an art lover or you just want to explore a new, vibrant city – you will be amazed by Bilbao. What used to be a rough, industrial town is now a major culinary and art centre in Europe. If you don't have much time, this two day itinerary for Bilbao will help you cover the main sights.
Bilbao travel tip: pack an umbrella and be flexible with your schedule. No matter what time of the year you are visiting the Basque Country, with over 170 rainy days per year, it is very likely that one of your two days will be a rainy day. When we explored Bilbao for two days back in January, the weather was fine on the first day and it was raining throughout the second day. Therefore, the two day itinerary plans for one good weather and one bad weather day. But depending on the weather upon your visit, you can simply shuffle the program around.

Are you going on a backpacking trip through Spain? Check out this helpful post to find out what to pack.
Bilbao Itinerary Day 1 – Good weather activities
A view over the city – Artxanda Mountain
A good way to get to know a city is by seeing it from above. Therefore, you should head to Artxanda Mountain after breakfast. Don't worry, you won't have to climb up the mountain – there is a funicular railway that will bring you to the top. Once you are up there, the view over the city is amazing. You can look over the entire city, including the Guggenheim Museum. Bring a jacket, it gets very windy up there.
Cost of the Funicular de Artxanda : €3.25 for a roundtrip ticket

Opening Hours: 07:15-23:00
Check out the Guggenheim Museum
After you have taken the funicular back into the city centre, it is time to take a closer look at the Guggenheim Museum. That is what you are in Bilbao for, right? From the railway station, you can easily walk there within a few minutes, crossing the Nervión River. Take your time to wander around the entire ship-like structure designed by Frank Gehry and admire all the details in the curved and twisted titanium squares. Absolutely astonishing.
Time for Lunch – Mercado de la Ribera
If it's not raining yet, try to resist the temptation to enter the museum and continue exploring the city. Head back to the other side of the Nervión River and walk east towards Casco Viejo. Your next destination is the Mercado de la Ribera – one of the biggest covered markets in Europe and home to numerous Pintxo stalls. Pintxos are, similar to tapas, small portions of food but they are placed on top of a piece of bread. Since the market is inside a building, you can also head there if it starts raining.
Interested in Spain and food? Read our guide for the best and cheapest tapas in Barcelona here.
A relaxed afternoon in Casco Viejo
Spend the rest of the afternoon exploring the sights of Casco Viejo. Make sure not to miss the Bibliotheca de Bidebarrieta. The inside of the building is incredibly beautiful. There is no entrance fee or registration upon entering so you can just walk in and head up to the second floor to enjoy the amazing architecture. If you have the time, just pick out one of the many books and have a quick read – just like the locals do.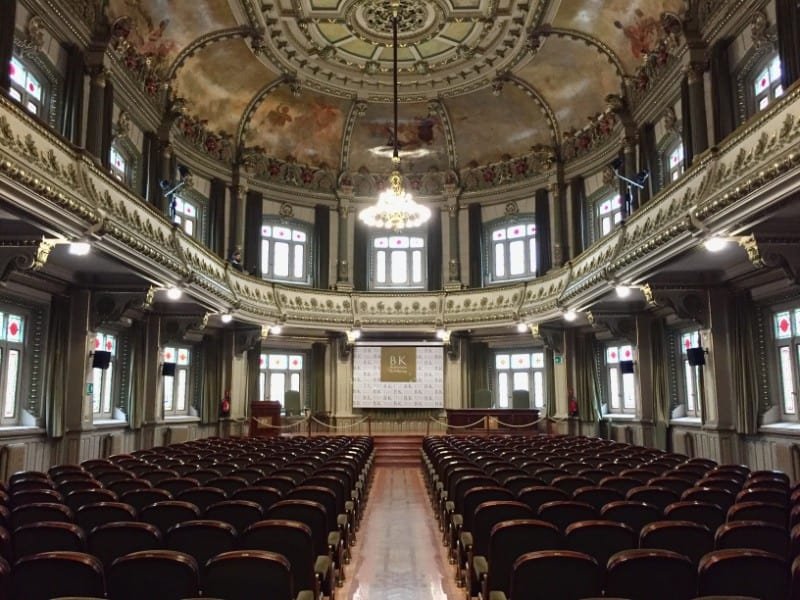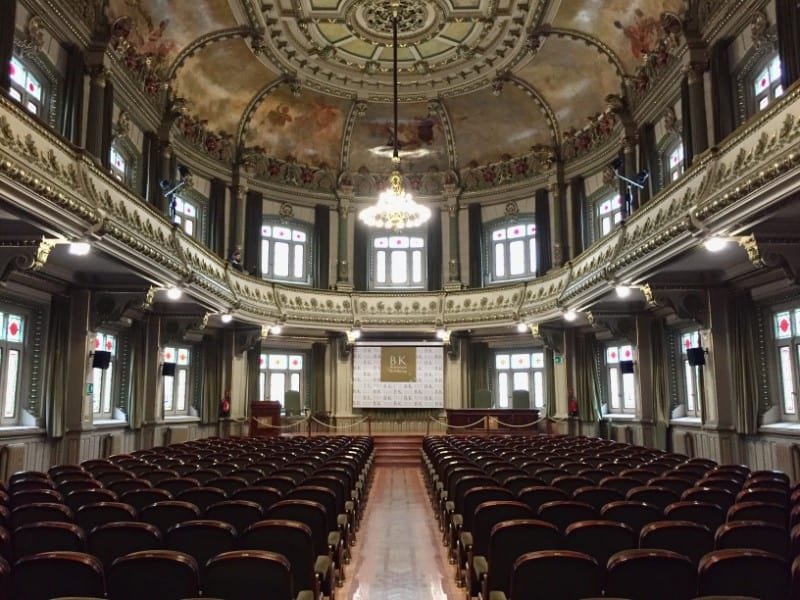 Other sights in Casco Viejo are the Santiago Cathedral and the San Nicolás Church.
In case you are in Bilbao during the summer months, grab your towel in the early afternoon and head to the beach. Jump on metro line 1 and get off at Algorta station. The ride takes about 30 minutes.
Time for some more food in Bilbao
After exploring Casco Viejo or after relaxing on the beach, it's time to head back to the hotel to refresh and get ready for dinner. If you like to select your restaurant on Tripadvisor before heading out, I'd recommend you reserve a table one day ahead. The good restaurants in Bilbao fill up quickly with the number of visitors constantly growing. But if you just want to look around for a good option, it is best to head back into Casco Viejo – there you will find lots of good restaurants that serve pintxos, Spanish tapas or other delicious meals.
Bilbao Itinerary Day 2 – rainy day activities
You just woke up and it's raining? That means it's time for the Guggenheim Museum.
A taxi ride through town shouldn't cost you more than €10 if you don't want to walk through the rain. You can easily spend a couple of hours walking through the weird exhibitions of the museum. I have to admit, I am not a big art lover but I absolutely loved what I saw inside. Not because I would consider any of it very impressive or especially beautiful, it was more the surprise element of the exhibition pieces. The majority of them is called "No Title" and they range from simple concrete blocks to entirely black canvasses. None of it makes sense (at least to me) and that makes it fun to look at.
Cost: The entrance fee for the Guggenheim Museum is €13 – sometimes the price varies depending on the special exhibition           

Opening Hours: 10:00-20:00
Lunch on Day 2
The Bistró Guggenheim inside the Guggenheim Museum offers very affordable tasting menus starting at €29 for a three course meal. Try to reserve your table in the morning to avoid queuing once you are hungry. If you are looking for a more upscale dining experience, you can also find a Michelin Star restaurant inside the Guggenheim called Nerua Restaurant.
An alternative, cheaper option for lunch, depending on the weather is Plaza Nueva in Casco Viejo. The square is surrounded by arcaded buildings, most of them housing Pintxo bars. Ideal for some bar hopping – just grab a few bites in one places and move on to the next.
If all the modern art of the Guggenheim was too much for you and you are looking for something more down to earth, check out the museum of fine arts Bilbao. The museum is open from 10:00-20:00 and entrance is free if you enter after 6pm. Before that, the admission fee is €9.
Accommodation Tip in Bilbao

Bcool Hostel Bilbao offers very affordable private rooms with rates starting at €50. Our room was very clean and spacious with a huge bathroom. Also, these two wonderful swans were waiting for us when we got to our room.
Check out these tour options for your 2 days in Bilbao
These are your perfect two days in Bilbao
I hope you will enjoy your time in Bilbao – ideally without any rain but it's best to come prepared. If you have any further questions or if you have already been there and have some extra tips for the two day itinerary for Bilbao, let me know in the comment section. If you have more time in Bilbao, you should take some time to explore the Basque country and the beautiful city of San Sebastian.
Are you still planning your Spain itinerary? Check out this comprehensive guide on where to go in Spain. 
Make sure to include a visit to the city of Granada and the famous Alhambra to your itinerary.
In case you are worried about the weather in Bilbao, check out our guide for Seville, a city with over 300 days of sunshine per year. Or visit Barcelona for some incredible tapas or the nearby city of Tossa de Mar on the Costa Brava.
Pin this: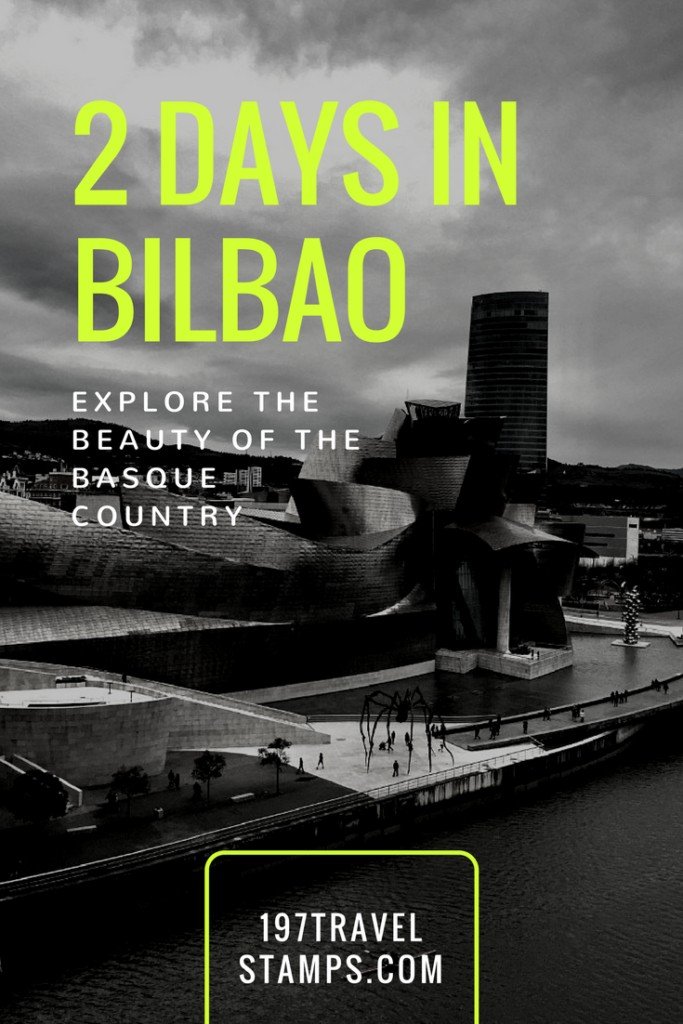 Visiting Bilbao – A Two Day Itinerary to Explore the Heart of the Basque Country