Asia is the largest and most culturally diverse continents on our planet. It is home to 48 UN countries. How well do you know the national flags of the Asian countries? Take our flags of Asia quiz to test your geography knowledge.
Below, you will find 10 flags of different countries in Asia. There are four answer options for each question. For every correct answer on this multiple choice trivia, you will be rewarded with an interesting and fun fact about the Asian country.
So how well do you know the Asian flags? Time to start the quiz. Your total score will be shown at the end.
Flags of Asia Quiz
Question 1: This is the flag of...
This is the national flag of the Philippines!
Here are some fun facts about the Philippines: The Philippines are named after King Philip II of Spain. Over 2,000 islands of the Philippine Archipelago are inhabited and on them, over 170 different languages are spoken. The official languages are Filipino (based on the Tagalog language) and English. The Philippines are the top supplier of nurses around the world - one quarter of all nurses working overseas are of Filipino origin.
Question 2: What Asian country does this flag represent?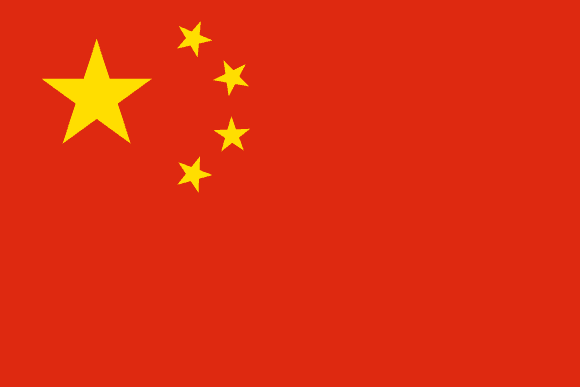 This is the flag of the People's Republic of China
Here is a fun fact about China: In the East Asian nation it is not uncommon to find canned fresh air for sale. Due to the high levels of air pollution in the big cities, locals are longing for some Canadian forest air.
Question 3: What international flag is this?
This is the flag of Kyrgyzstan
Kyrgyzstan is a little known country in Central Asia. Between 70-80% of its area is made up of mountainous territory. We visited the capital Bishkek and its surroundings some time ago and we agree with several travel guides: it is an absolutely amazing destination. Incredible nature, amazing food, safe and a very affordable price level.
Question 4: Flags, Flags, Flags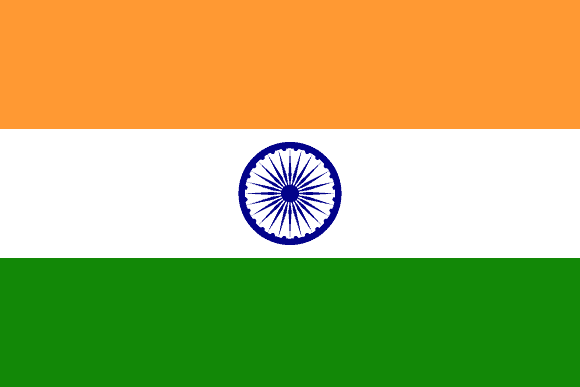 This is the flag of India
India hosts world's largest festival, the Kumbh Mela festival in the city of Allahabad. The 55-day festival gets between 80-100 million visitors every year. And I thought Woodstock was a large festival...
Want to read more about strange and interesting festivals and traditions? Click here
If you are planning a visit to India, check out our guides to Mumbai and the Sikkim Region.
Question 5: Guess the flag
This is the flag of Turkmenistan
Here is a fun fact about the Central Asian country: nearly 90% of all workers in Turkmenistan are directly employed by the Turkmen government. 
Question 6: Another Asian flag...

This is the Thai flag
Did you know Bangkok is the most visited city in the world? The capital of Thailand gets around 20 million overnight visitors per year.
Question 7: This beautiful flag belongs to...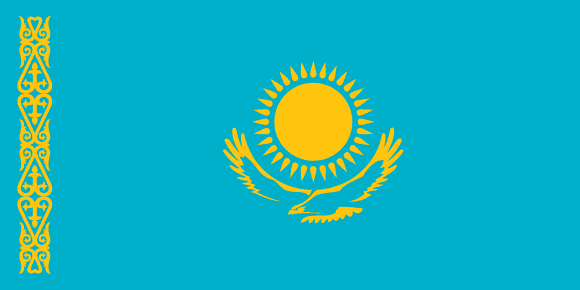 Kazakhstan
The capital of Kazakhstan, world's ninth largest country is called Astana, an articifial city in the middle of nowhere. The city was artificially constructed and inaugurated as the capital in 1998. 
Question 8: Do you know what Asian country this flag belongs to?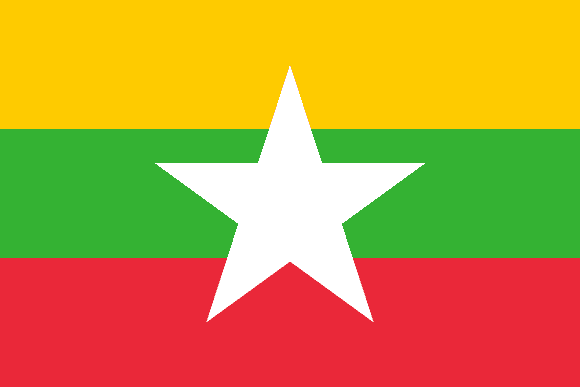 This is the flag of Myanmar
Myanmar is one of only three countries that isn't using the metric system. The other two are the United States and Liberia. The capital of Myanamar, Yangon, is also home to one of the most incredible temples in the world - the Shwedagon Pagoda.
Question 9: Another Asian flag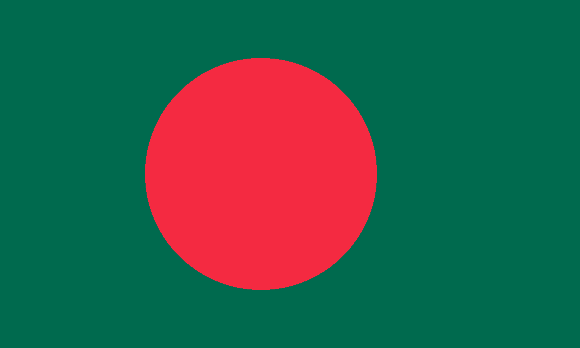 Question 10: Last One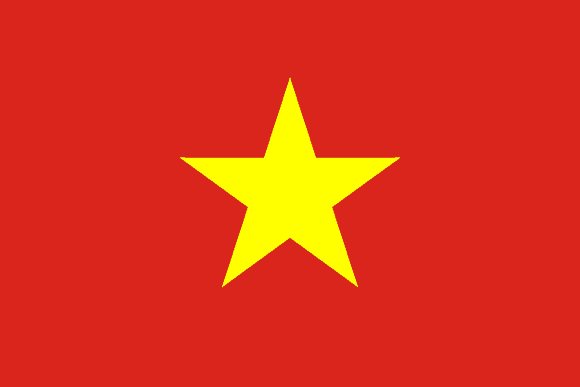 This is the flag of Vietnam
You really deserved this fun fact about Vietnam: There is no individual birthday in Vietnam. Everybody ages one year every year at the Vietnamese new year and the initial count at birth starts at 1. So if you calculate your Vietnamese age, you would always be one or two years older that you are right now. 
Planning a trip to Vietnam? Click here for the perfect 10 day Vietnam itinerary.
All 10 questions completed!
---
Share results:
How well did you score in our flags of Asia quiz?
Let us know in the comment section. Also make sure to check out our other travel quizzes. If you are a flag expert and know all flags of the world, take our hard flag quiz. Or take our world flag quiz here. If international flags are not your thing, you may want to check out our famous landmarks quiz. Click here for a list of all Asian countries, their capitals, population and their currency.
Do you feel like traveling but you are unsure where your next trip should take you? Then we have got just the thing for you. We created an incredible tool that tells you your ideal next travel destination. Just answer a few questions and you will receive a personalized travel recommendation. Click here to check it out.
Like the quiz? Pin it: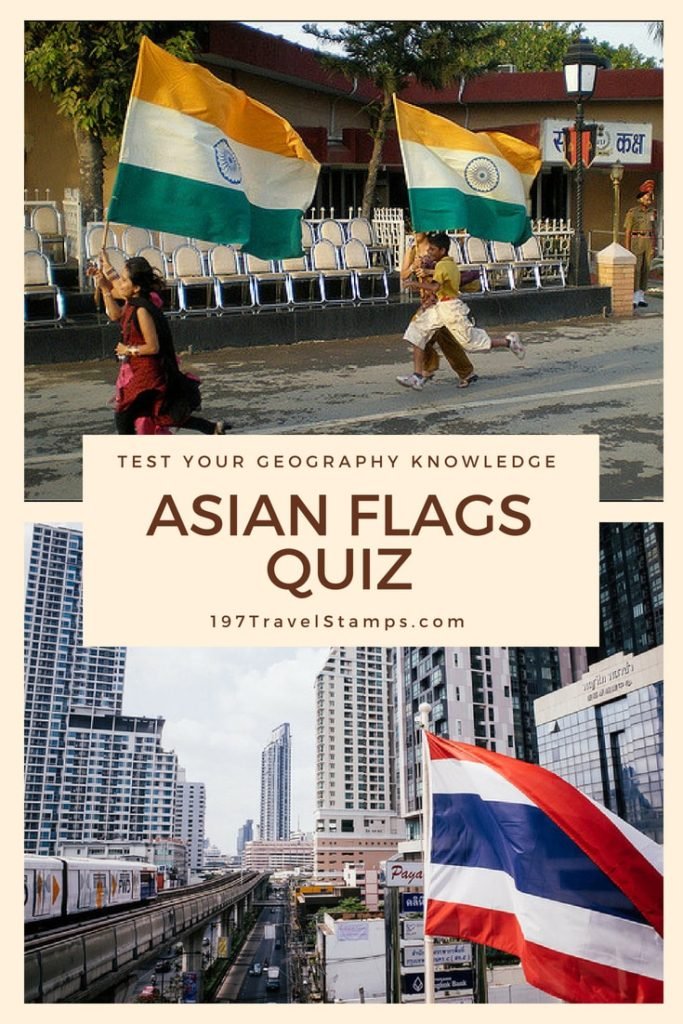 Flags of Asia Quiz – How well do you know the Asian continent?