I am sitting in the waiting room at the consulate of Bangladesh in Kolkata, India. On the wall, I can see a huge poster reading the words "Visit Bangladesh Before the Tourists Come". A very self-confident statement of one of the least visited countries on earth.
A few days later I board the train from Kolkata towards Bonagon, a border town between India and Bangladesh. Direct trains between Kolkata and Dhaka, the capital of Bangladesh, are also available. But since I want to explore the more relaxed south of the country, I just take a regional train to the border. When I think of trains in India, the image of hundreds of people riding on the roof of the train immediately jumps into my mind. Well, apparently that isn't allowed anymore. That means that even more passengers have to squeeze inside the carriages. What follows is the craziest two hour train ride I have ever experienced. Nobody was able to move an inch from his position. They packed so many people into that train that it was even difficult to breathe because there was no space for my chest to expand. Insane.
Life is different on the other side of the border – first impressions of Bangladesh
On the other side of the border, things are more relaxed. The crazy hassle of Kolkata is far away from the very rural South of Bangladesh. I continue my journey towards Khulna on the bus. Life is different here – every now and then, we drive past a group of small, self-built houses. Most people living here are subsistence farmers. The south of the country is often hit by floods and many people rely on international aid. Click here to read more how Oxfam is trying to empower local women to become more independent through chili farming.
Surprisingly, even the larger towns are not nearly as polluted as on the Indian side. Instead of cars, people rely on the occasional bus or donkey carriages. Instead of food wrapped in plastic, people sell real fruits and vegetables on the markets. It's like life at a different time.
Tip: Don't visit Bangladesh during the month of Ramadan. Most people here are faithful Muslims and are fasting from sunrise to sunset during the holy month of Ramadan. If you venture outside the bigger cities, it will be hard to find a restaurant that serves food during lunch time.
Visiting Bangladesh before the tourists came
As I walk the streets of Khulna in the evening, I am quite sure I did indeed manage to visit Bangladesh before the tourists came. Word seemed to have spread that a foreigner is in town and more and more people were following me around and started posing for pictures. After I had taken a photo of everyone in town and their niece, I head back to my guest house. The masses following me are rather intense. In a town of nearly 700,000 inhabitants, people should be used to the occasional foreigner, one would think. But the huge buzz around me on the first evening and an Australian backpacker I met the day after would convince me of the opposite. He had been to the country for over a month and I was the first tourist he had seen. And he would also be the only one I would see during my week in Bangladesh. At times, I am happy I did not opt to visit Dhaka, the incredibly hectic, overpopulated and crazy capital of Bangladesh. Still, I want to return to Bangladesh one day to also check out its capital.
Petting Crocodiles and Visiting Ancient Mosques in Bagherat
The next day, I took a 45 minute bus ride further east to the mosque city of Bagerhat. A UNESCO world heritage site with over 50 Islamic monuments that were built in the 15th century.
Meeting the crocodile
As I walk back into town after visiting the mosques, I run into Dewan, an engineering student from Dhaka who came here visiting his family. When I asked him about other things to do in the Bagherat he had just the recommendation for me. I should check out their family pets – crocodiles. Well that sounds intriguing. I couldn't say no to that. On the way to the pond where the crocs are supposed to live, we meet Dewan's younger brother, the crocodile whisperer. As he starts making weird noises that are supposed to attract the crocodiles, I start thinking about the soundness of my decision. I am somewhere in the middle of nowhere in Bangladesh, about to pet some wild crocodiles. Just as I was about to change my mind, we heard a noise in the water. Something was listening to the crocodile whisperer. Soon after that, a huge reptile head appeared from the water and opened its mouth.
After checking on his mood, Dewan's brother waved me over to pet the crocodile's head. A little nervous, I started to reach out to the animal and touched its velvety skin. So amazing! This is one of those experiences that make it worthwhile to travel to remote and untouched places.
Beach Life in Bangladesh
The next morning I continue my journey towards my next destination: Kuakata. One of the most famous destinations in Southern Bangladesh next to Chittagong – although famous is relative when talking about Bangladesh. On Kuakata Beach, both sunrise and sunset can be admired from the same spot. After the crowds and craziness of India, this is just what I needed. With a good book I enjoy some relatively quiet days on the beach. At some point even the crowd of locals that have been following me through town started losing their interest in me.
Petting a wild crocodile in Bangladesh was definitely one of the most memorable moments of my travel life so far. Did you also make any crazy or unexpected experiences while travelling that remain in your head until today? Let me know in the comment section below.
Are you planning a trip to Bangladesh? Most travelers reach Bangadesh via India – make sure to check out our India posts:
Pin this: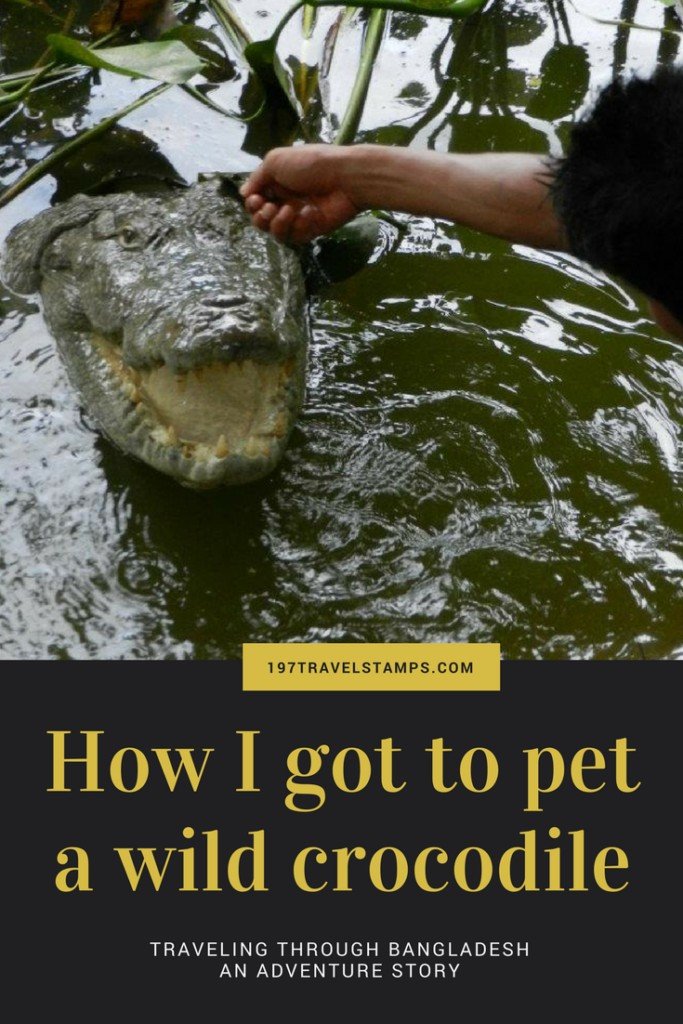 Do you want to read more experiences from some of the least visited countries on earth? Just click on the images below to find stories about my trips to Burundi and Djibouti. If you want to stay up to date with my latest trip reports and weekly travel quiz, subscribe to my site to receive a notification when new content is up (no spam, I promise). You can find the subscription section on the top right of this page.
Petting Crocodiles in the South of Bangladesh – A Memorable Travel Experience