Today, our guest blogger Jessica Pascoe takes us along with her for a weekend in Jervis Bay, Australia. Jervis Bay is the perfect weekend trip from Sydney. Located around three hours south of Australia's largest city, it has got plenty to offer to its visitors. In one weekend in Jervis Bay, you can see whales, dolphins, penguins, seals and explore nature at its finest by scuba diving, kayaking or just relaxing on the world's whitest beach.
Before moving to Australia, I had never heard of the beachside paradise of Jervis Bay. A little slice of heaven 3 hours south of our home in Sydney. Jervis Bay is a perfect weekend trip from Sydney. Here you can walk along blindingly white sands, dip your toes into turquoise waters, meander through stunning national parks and get involved with all sorts of water sports. There is something for everyone. With plentiful dining and accommodation options in the surrounding areas, you are positively spoilt for choice. So you can make the most of your time in this stunning part of the world, I've shared my guide on how best to spend a weekend in Jervis Bay. If you're lucky enough to have longer to spend here, well, I'm incredibly jealous!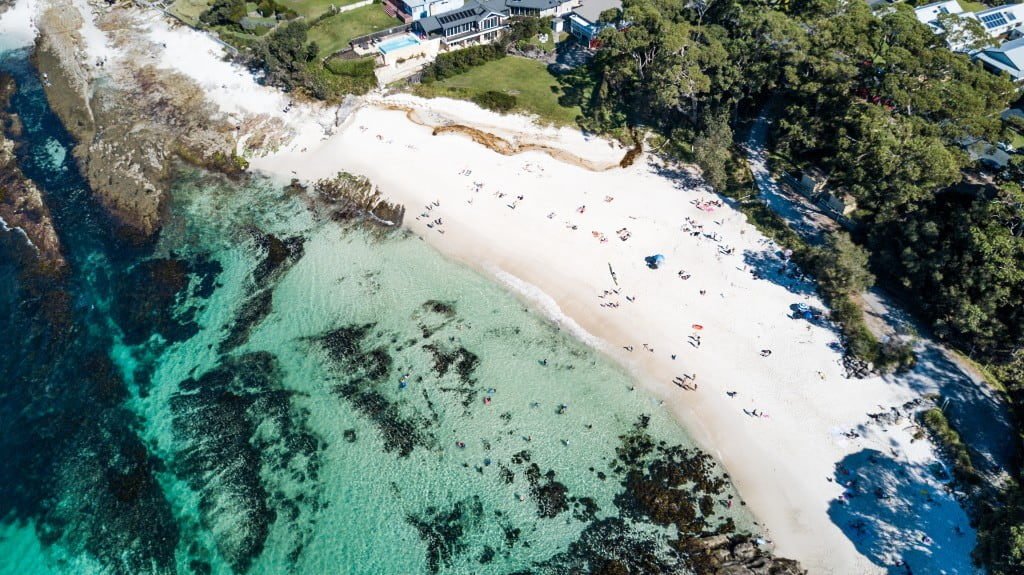 A perfect weekend in Jervis Bay
Friday
Getting from Sydney to Jervis Bay
Jervis Bay is approximately a 3-hour drive without traffic from central Sydney via the M1 and Princes Highway and this is the best route to take if heading down after 5pm. If you have longer, you can take the more leisurely, spectacular Grand Pacific Drive, Australia's answer to California's Big Sur. This 140-kilometre scenic route starts about an hour south of central Sydney and meanders through Wollongong, Shellharbour and Kiama before reaching Shoalhaven, where Jervis Bay is located.
You'll get to cross over the famous Sea Cliff Bridge that links the coastal villages of Coalcliff and Clifton. It is a great viewing platform for migrating whales during migration season. You'll turn inland via Berry and Nowra to reach Jervis Bay. Berry is a perfect spot for a getaway in its own right, so it's worth stopping here to pick up some delicious local produce for your weekend. Make sure to get seom prawns to throw on the BBQ if you've opted for self-catered.
If you don't have your own car, you can hop on a train from Sydney Central Station to Nowra, which will take about 3 hours. From Nowra it's a further 30 minutes by car or taxi to Huskisson, with coaches operating occasionally.
Where to stay in Jervis Bay
There are lots of accommodation options to suit everyone in Jervis Bay. Most options are centred around the seaside towns and villages in Jervis Bay, Callala Bay on the northern shore, Huskisson, Vincentia and Hyams Beach on the western shore and Jervis Bay Village, the southern gateway to the Booderee National Park.
If your budget allows, indulge with a romantic stay at Paperbark Camp. Luxury safari-style tents in the bush on the edge of Currambene Creek. Alternatively, you can book into a self-catered holiday cottage, a bed and breakfast or camp in one of the many nearby campgrounds.
My personal recommendations include checking out AirBnb for their numerous unique listings or booking.com.
If you are a fan of camping, you can't go wrong with choosing a campground moments from the beach such as Bristol Point, Cave Beach and Green Patch, all within the Booderee National Park.
Saturday
Morning: Diving, snorkelling, kayaking and whale watching in Jervis Bay
Wake up early for a half-day dive excursion with Dive Jervis Bay located in the heart of Huskisson. Jervis Bay has some of the best diving sites in Australia after the Great Barrier Reef. A dive with this PADI 5-star dive centre is not to be missed. You can do either a half or full day. Options for snorkelling range from 135 AUD (100 USD) or a PADI Discover Scuba experience at AUD 350 (250 USD). If you're lucky, you'll get some one-on-one time with one of the friendly seals from the colony that call Jervis Bay their home.
In case diving or snorkelling isn't for you, you can rent a kayak or paddleboard and enjoy your time over water. You can also book a guided tour with Jervis Bay Kayaks and Paddlesports in Huskisson.
One of the other great activities Jervis Bay is dolphin or whale watching. You may even be lucky and see one on your kayak trip. If you want to make sure to see whales and dolphins, book an affordable tour. Prices start below 50 USD.
After your water adventure, grab lunch either at one of the many cafes including Main Deck Café or 5 Little Pigs, or opt for a takeaway Aussie meat pie from the Huskisson Bakery & Café to take to the beach with you.
Afternoon: Relaxing at Hyams Beach or Chinamans Beach
Now it's time to relax and have a swim at the famous Hyams Beach. The beach with the 'whitest sand in the world' and one of the best beaches in New South Wales. This beach is part of the 'White Sands Walk', a 2.5km loop. The loop is a relatively easy stroll with incredible coastal views along the route. Hyams Beach can get busy during the summer months. If you want somewhere a little quieter then try Chinamans Beach. Also on the 'White Sands Walk.'
In the evening, suitably exhausted and sandy, you can either go out for a fancy dinner or just a few drinks. If you feel like dining, the Gunyah restaurant is my personal recommendation. Make sure to reserve in advance. If you want something more casual, visit the Huskisson Hotel pub. Here you can have a hearty meal and a cold beer. The ideal way to end the second evening of the weekend in Jervis Bay.
Are you American and are you trying to figure out how to get a work visa for Australia? Check out this post!
Sunday
Early morning: Sunrise at Greenfield Beach
It's another early start on Sunday with a trip to Greenfield Beach to watch an epic Jervis Bay sunrise reflected over the still, peaceful water. Grab breakfast back in Huskisson and have a browse in some of the boutique shops and galleries; Huskisson Framing and Gallery features original artwork by local artists whilst Babylon Boutique an eclectic collection of women's and children's clothing, accessories and gifts.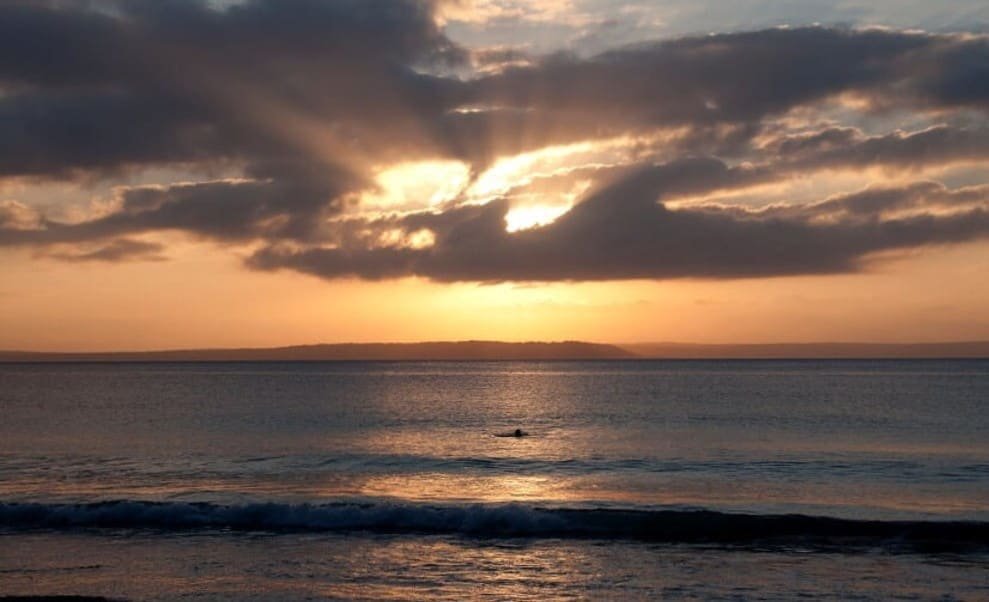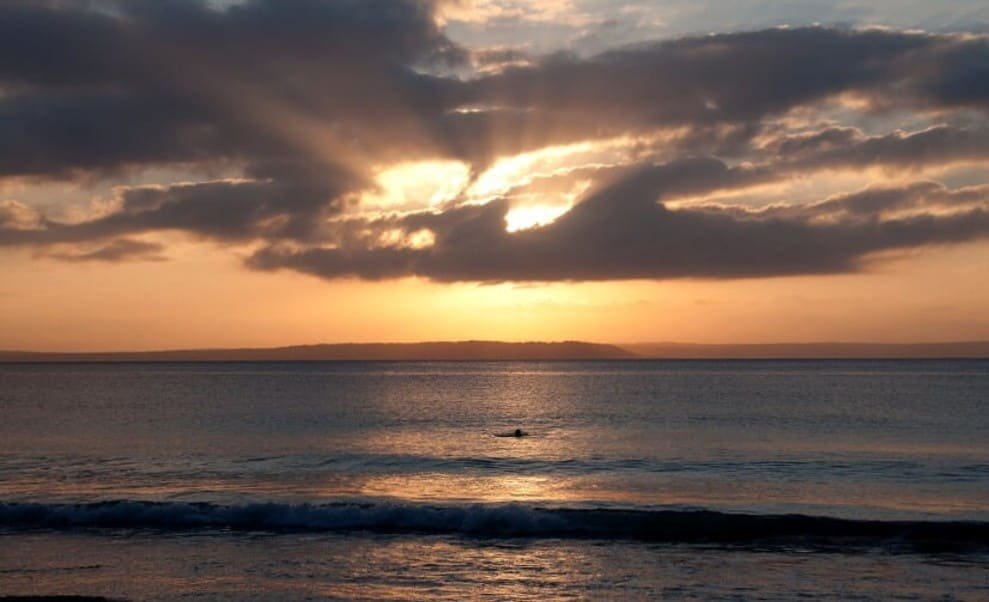 Morning: Bush-walking in Booderee National Park
Now, fuelled for an invigorating bush walk, make your way to Booderee National Park. Booderee means 'bay of plenty' or 'plenty of fish' in the local Dhurga language. It's 13 AUD (10 USD) for a 48-hour car or motorbike pass. Concessions are available. The name 'Booderee' was chosen by the Wreck Bay Aboriginal community of local Koori people who remain closely tied to their culture and committed to sharing it with visitors. Bush walks in the national park range from gentle strolls to easily accessible, family-friendly beaches to more challenging walks to secluded beaches.
Try the quick walk to Murrays Beach opposite Bowen Island, home to a penguin colony and fantastic snorkelling, before tackling the trail from Steamers Beach Carpark through the eucalypt forest down to Steamers Beach, with some of the park's most rewarding scenery.
If you're feeling particularly active, you can explore the St George Headland via the 11.4km return Circuit Trail. The park is home to over 200 species of Australian birds, so keep your eyes peeled as you go.
If you've worked up an appetite from your bush walk and fancy a picnic lunch, you can stop off at the Booderee Botanic Gardens, the only Aboriginal-owned botanic gardens in Australia. These beautiful gardens are well worth a visit. Here, you can learn about bush tucker and the medicinal use of plants. After the visit, you can make use of the picnic tables and electric barbecues available. Or you can take an afternoon nap on the grass lawns.
Return to Sydney with a stop at Berry
Sadly, it'll now be time to make your way back to Sydney. Before you go, make sure you stop in at one of the wineries near Berry. Now it is time for a quick tasting to break up the journey. Silos Estate offers a superb selection of wines available for tasting. Here you will also have the opportunity to stretch your legs around the estate. And the best thing: you will have a chance to greet the resident Huacaya alpacas. Purchase a bottle of your favourite tipple to take with you before getting back on the road.
Pin this post for later by clicking on one of the images below:
A Weekend in Jervis Bay, Australia