At times, Bangkok can be a hectic and crazy city. If you are spending some time in the capital of Thailand and feel like you need a break from the big city life, you are in the right place! Together with other travel bloggers we compiled a list of the best day trips from Bangkok.
Thailand is an amazing country and there are plenty of things to be discovered in the land of smiles. From the beautiful islands in the south to Chiang Mai and Chiang Rai in the north of the country. But you can stay in Bangkok, the capital of Thailand overnight and still explore the remote beauty of Thailand with an incredible options of short trips from Bangkok. This post provides a quick overview of the best day trips from Bangkok. Click on the bookmarks to jump to a specific part or scroll down to read the full article.
Relax on Ko Si Chang Island
Thailand is famous for its beautiful islands and some of them can be reached in a short trip from Bangkok. In fact, one of them can easily be reached on a day trip from Bangkok: Ko Si Chang Island. Ferries to the island depart from Sri Racha, a small town just under two hours outside of Bangkok and take 40 minutes.
The island was also the favorite weekend retreat for King Rama IV in the 19th century. The remains of his summer palace can still be admired on the island today. Other sights on the island include a multilayered Chinese temple as well as a huge Buddha statue that can be seen from the ferry. The best way to explore the island is to rent a motorbike at the ferry port for around 500 Baht. Alternatively, you can also hire a tuktuk to take you around. If you are looking for relaxation and water-activities, head straight to Tham Pang Beach from the ferry port. It is your choice if you prefer to just sunbathe on the beach or if you want to explore the underwater world. Among others, Ko Si Chang is a great place to go scuba diving in Thailand.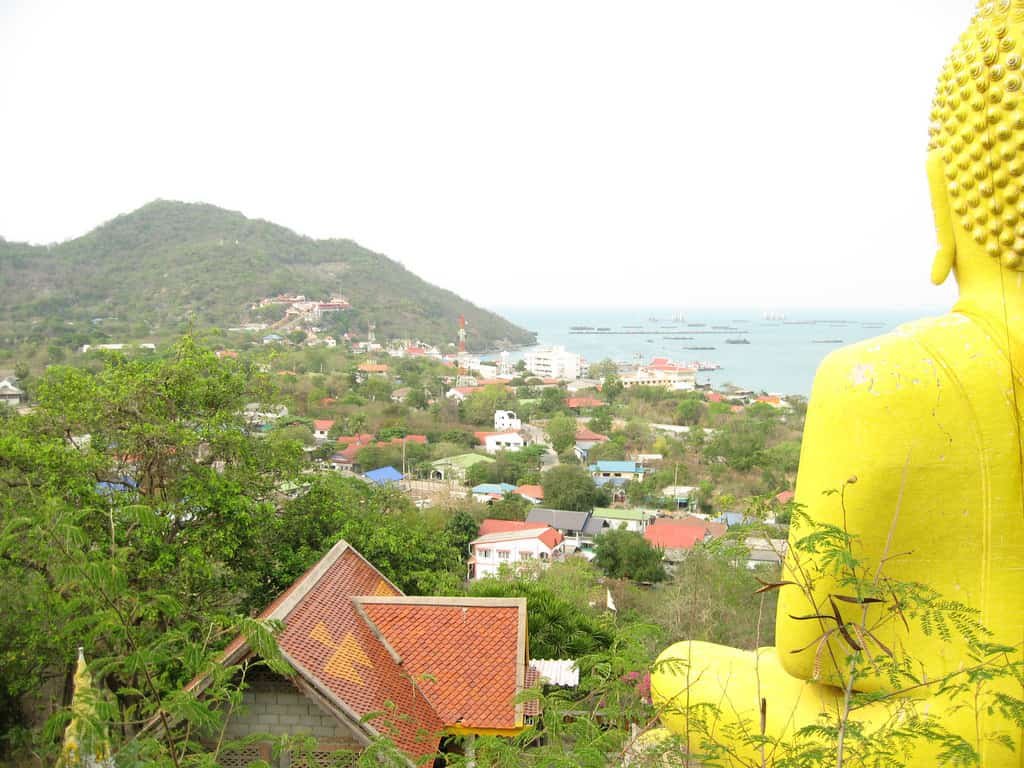 Take a Ride on the Death Railway over the Bridge over the River Kwai in Kanchanaburi
By Allan of Live Less Ordinary
Tourism in Kanchanaburi is centred on the rather grim realities of World War 2, when Allied prisoners were forced into building the Burma Railway, now dubbed "Death Railway" due to the 10,000 lives that were lost in its construction. These days, only a short stretch of this railway remains open, and it can be followed both ways from Kanchanaburi (leaving 06:07, 10:30 and 16:26) and from Nam Tok (leaving 07:19, 14:48 and 17:41). And despite the grim reality of the railway's construction, it is a rather beautiful route following cliff sides along the valley of the Khwae Noi River.
The journey takes around 2 hours each way between "The Bridge on the River Kwai" and Nam Tok. Or alternatively you can stop at Krasae cave (Saphan Tham Krasae Station) to visit the famous Buddha statue built inside the cliff of a cave by the station. The one way price is 100 Baht from either Krasae or Nam Tok.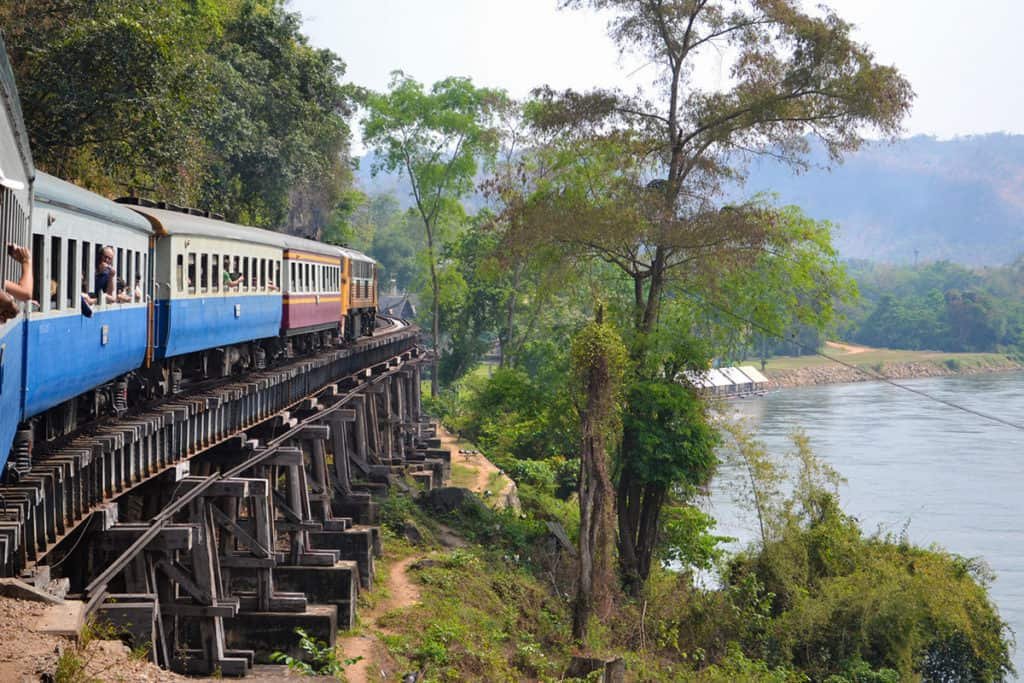 Getting to Kanchaburi
For travel from Bangkok we were quoted 2,500 Baht per person for the generic bus tour, but with four travelling we chose to rent a taxi for the day for 3,000 Baht, giving us a flexible itinerary. For cheaper alternatives, there are various options for travel. But the quickest option are the somewhat cramped minivans from Victory Monument (around 2 hours) or maybe the coaches leaving Bangkok's North (Mor Chit) and South bus terminals (near 3 hours). Meaning it is best to leave early. Expect to pay no more than 250 Baht there and back (120 each way). Then maybe 100 Baht transfer in Kanchanaburi. It is also possible to take a train from Bangkok to Kanchanaburi. The train ride is much slower than the bus option, but the landscapes on the way are breathatking.
Interested in more affordable travel? Find some more inspiration in this great overview of the 32 cheapest travel destinations in the world.
Visit Erawan National Park and Waterfalls near Kanchanaburi
A great alternative or addition to a day trip from Bangkok to Kanchanaburi is Erawan National Park. If you have only one day, you can join an organized tour in Bangkok to see both attractions. If you have more than a day, you can combine the Death Railway and Erawan National Park on a great weekend getaway. The main attraction of the park are the Erawan Falls – some of the most beautiful waterfalls in Thailand. The best way to get to the national park from Kanchanaburi is renting a motorbike (around 300 Baht). Alternatively, there are busses leaving Kanchanaburi to the national park every hour. The entry fee is 300 Baht.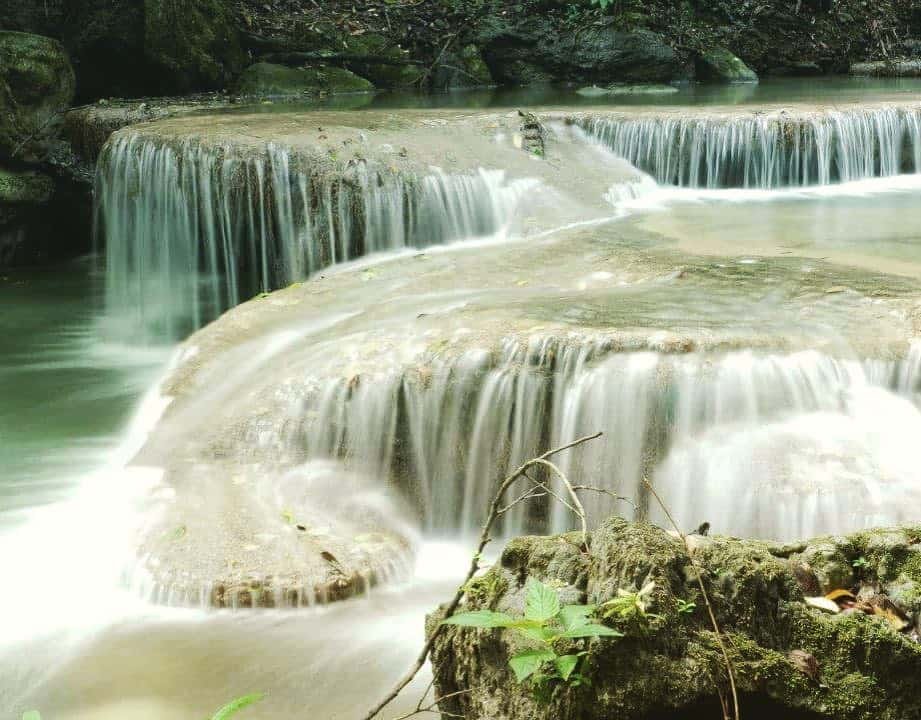 Beware of the monkeys
Make sure not to carry any food visible on the outside of your backpack. There are plenty of monkeys in the jungle and they will try everything to steal it from you if you aren't careful.
The falls consist of seven tiers and can be reached after a short walk from the main parking area. If you combine this day trip with a visit to the bridge over the River Kwai, make sure to come to the falls in the morning as the upper tiers are closed at 3 pm. Make sure to bring plenty of sunscreen as you can get bad sunburns while swimming in the clear waters of the falls. At the forth tier, there is a big rock that is often used as a water slide. If you want to take some impressive photos or videos, this is the right spot for you. The hike gets a little steeper after the forth level so if there are too many tourists at the lower levels, try to hike up higher for some peace and quiet.
Explore Ayutthaya, the former capital of Siam
By Sarah Carter of ASocialNomad
Taking just 90 minutes to get to from Bangkok, Ayutthaya is the perfect choice for a day trip from Bangkok.  You can take regular trains from Hua Lamphong Railway station for 20 THB.  There's no need to book, just turn up.  The local trains take around 1 hour and 45 minutes to reach Ayutthaya.   Minivans also depart from the Victory Monument in Bangkok, which is easily accessed by the metro.
Ayutthaya was the capital of Siam between 1350 and 1767 when it was sacked by the Burmese.  It's been on the list of UNESCO World Heritage sites since 1991.  Ayutthaya is the perfect place to take a tour around, either in a tuk-tuk or by renting a bicycle.
While at the height of her popularity there were more than 400 temples here, there are just a few remaining.  The most magnificent to see is Wat Ratchaburana, which has a stunning underground crypt, accessed by climbing up the glorious Prang.   The most famous location in Ayutthaya is Wat Phra Mahathat – where you can pay homage to and Instagram the famous sandstone Buddha head tangled in the tree roots. Close by are the fabulous three stupas of the Wat Phra Si Sanphet.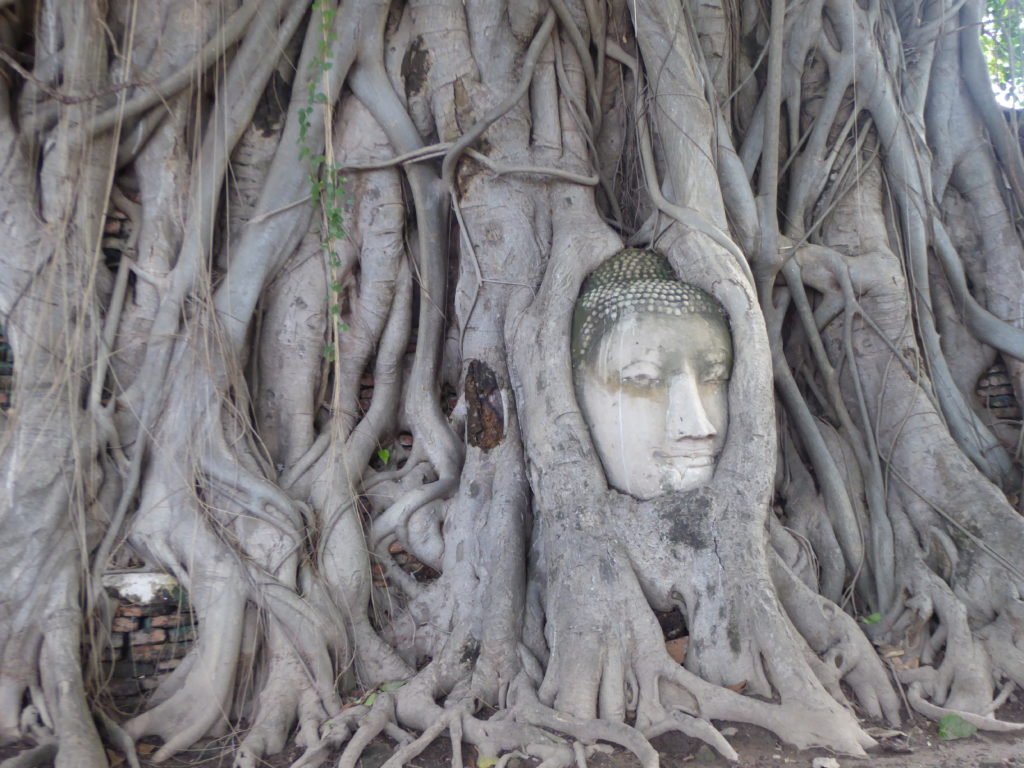 Before you leave this ancient city be sure to try Roti Sai Mai – a speciality of Ayutthaya.  Luridly coloured rice pancakes stuffed with equally luridly coloured cotton candy or spun sugar. I guarantee you won't find anything like it in Asia.
Click here to read more about the 5 must see temples in Thailand.
Amphawa Floating Market
By Campbell & Alya of Stingynomads.com
We spent a lot of time exploring Bangkok and its surroundings, doing different day trips to nearby towns and sights. One of our favorite trip was to Amphawa floating market, 88 km from Bangkok. Thai food markets are always exciting with a lot to try and taste but floating markets are even better and more exotic. The easiest and fastest way of getting to Amphawa is by taking a direct shuttle bus from Bangkok (THB 90). You can also join a day tour to go there. If you like more adventurous ways of moving around you can get there using local trains and buses, it can take a couple of hours but on the way you visit two railway markets Maha Chai and Maeklong.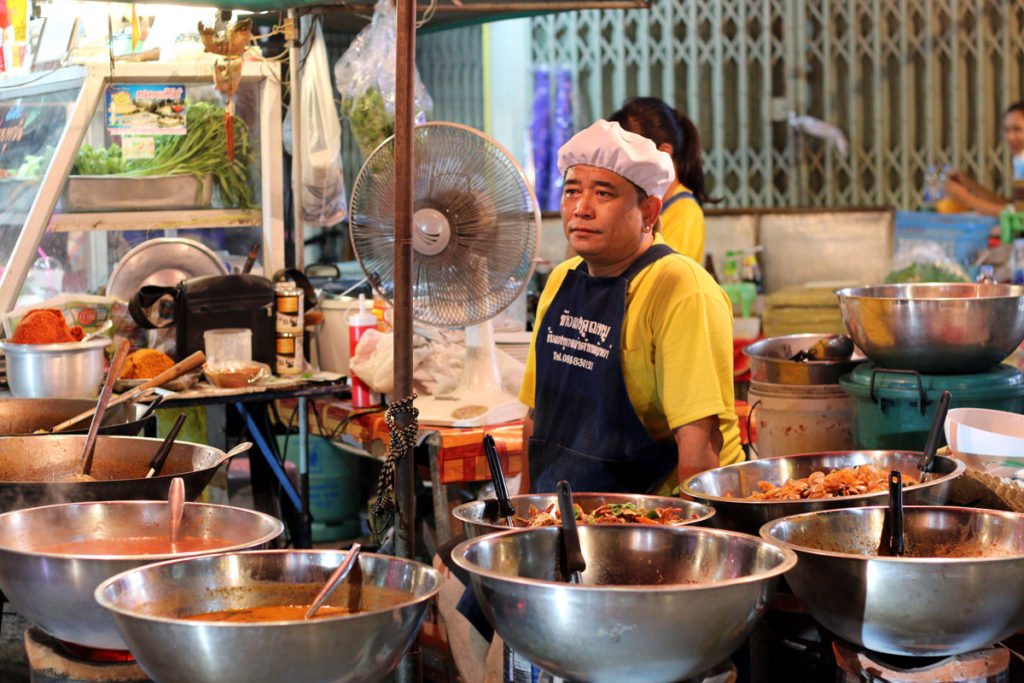 The best time to visit Amphawa is during weekends from Friday to Sunday. On these days it gets busy with hundreds of vendors and food stalls. The town itself is nice with many Buddhist temples. The most interesting being Wat Bang Koong (Tree Temple), a small temple surrounded by the roots of a huge tree. The main attraction and reason people come here is the market. Amphawa market is a real paradise for sweet tooth and seafood lovers. Try some prawns, squids, crabs, mussels – fried or BBQ'ed. Also make sure to eat some traditional pastries, cookies and fruit shakes. Watching how locals cook food and serve it into plates while sitting on small wooden boats is a real show. Food prices vary from THB 15 to THB 50 depending on the dish.
Cycling through the jungle in Bang Krachao
This is my favorite Bangkok day trip. Bang Krachao is an island just outside of Bangkok south of the Chao Praya River. But it couldn't feel farther away from crazy and noisy city. Thanks to the proximity to Bangkok, you won't spend much time traveling so there is more time to relax and enjoy.
The ferries to Bang Krachao leave from the pier at Wat Klong Toei Na (10 Baht). To get to the pier from the center of Bangkok, take the MRT to Klong Toei Station and then hop on a taxi (60 Baht). As soon as you get to Bang Krachao, you can rent a bicycle for around $2 for the day. At the bike rental, you will also be provided with a free map which is perfect for navigation. Most of the island are marshlands and you can navigate your bike on wooden or concrete paths. The main attraction of Bang Krachao is the quietness and relaxed atmosphere – cycling through the jungle will make you feel like you were hundreds of miles away from the next big city.
You can find little restaurants that serve delicious food every couple of minutes. On weekends, there is also a floating market on Bang Krachao which is less touristy than other floating markets where you can taste some Thai dishes. Wat Bang Nam Phueng Nai is a beautiful temple next to the floating market that you shouldn't miss.
Relax in the gardens of the Bang Pa-In Royal Palace
By Michael of Time Travel Turtle
The highlight of the town of Bang Pa-In is the Royal Palace. It was originally built in 1632 but most of what you'll see today is from the major restoration work of King Rama V in the late 1800s. He was inspired by the designs of European palaces and so, amongst the Asian architecture, you'll also find buildings and artwork that look like they could be from Versailles or an English garden.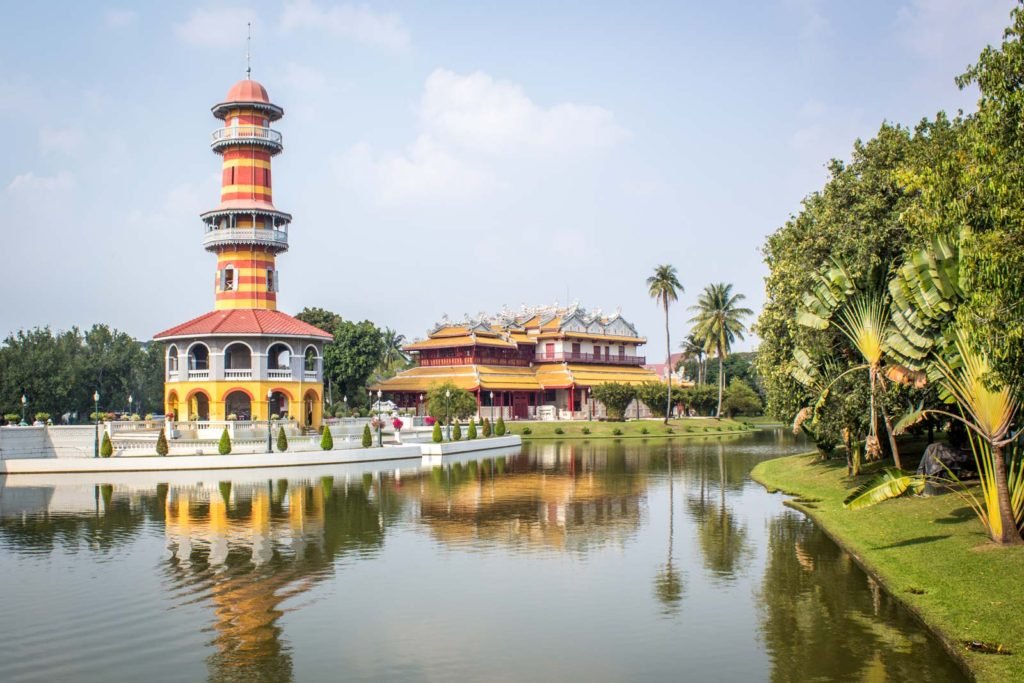 The site is also known as the Summer Palace because that's when it was generally used – as an escape from the heat of the capital. But this holiday retreat has a dark side. In 1880, Queen Sunanda Kumariratana and Princess Karnabhirn Bejraratana drowned here when their raft capsized and nobody would help because it was illegal to touch a member of the royal family!
Entry to Bang Pa-In Palace is just 100 Baht. The site is actually quite large and you'll be able to wander around the grounds and go into a lot of the smaller buildings. It's easy to spend an hour or two here. The easiest (and cheapest) way to get to Bang Pa-In from Bangkok is by train. The trip takes about 90 minutes each way and costs only 12 baht for third class or 54 baht for first class. There are regular trains in both directions throughout the day, making this a simple trip that doesn't involve a lot of planning.
Sukhothai
By Stephanie of SofiaAdventures.com
Most people don't think of Sukhothai as the most obvious day trip to take from Bangkok. However, this ancient capital was my favorite day trip I took in the country while I was there in January. This ancient capital is absolutely stunning, and I loved my time there more than Ayutthaia or Angkor. If you're interested in the history of the 
Kingdom of Siam
, you simply must make your way to the first capital. You can wander through ancient ruins of temples lined with Buddha statues and beautiful moats, far away from the crowds that flock to other sites closer to the main cities.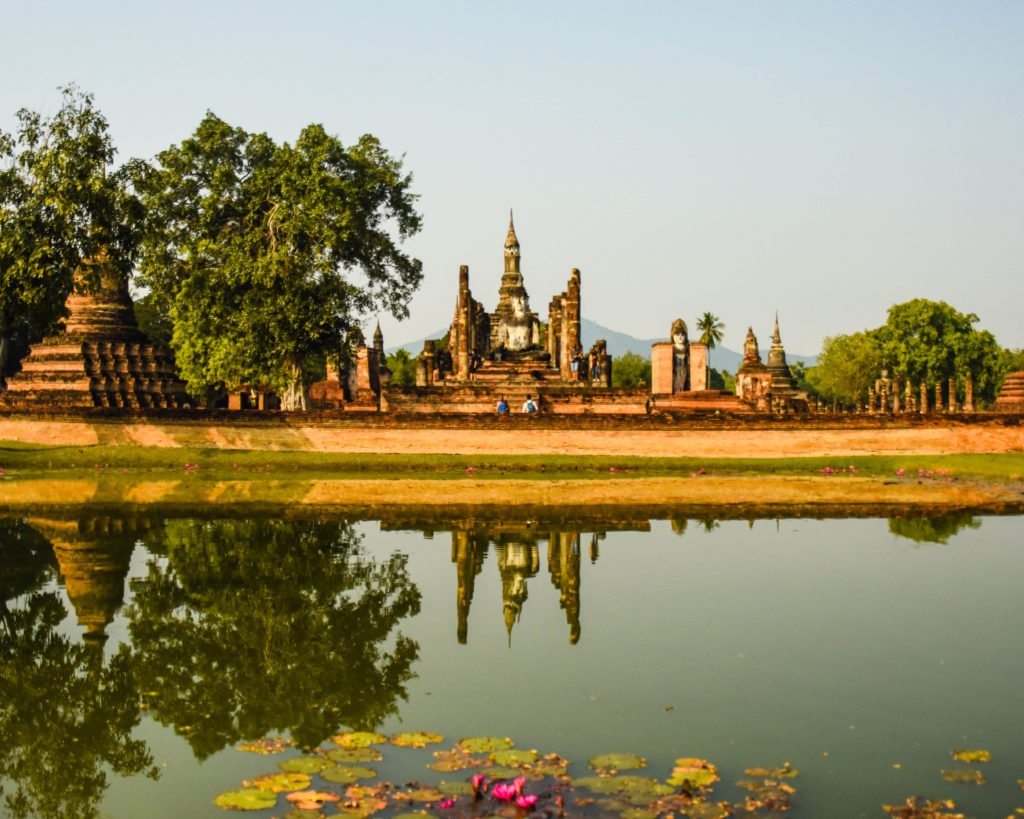 Getting here is a bit of a challenge. It's five hours by bus from Bangkok or Chiang May, so most people don't know that they can do a day trip there from Bangkok. However, there are flights every morning from both major airports and returning flights around the early eventing. Thus, for about $100 round-trip, you can come out to one of the most beautiful, quiet places in the country.
These are our and other travel blogger's top recommendations for the best day trips from Bangkok
Thailand is such an incredible country and the good thing is, that most trips and activities in Bangkok and the rest of the country are very affordable. Prices have definitely gone up over the last years but all of the mentioned day trips can also be done on a budget. Check out this great guide on how to explore Bangkok on a budget.
I've spent 6 months on an exchange semester in Bangkok a couple of years ago and got to love the country back then. After having visited over 100 countries, I consider Thailand one of the most amazing ones. Check out the list of my top 10 countries here.
If you decide not to escape the capital of Thailand instead, you can find the best things to do in Bangkok here. You may also decide to stay in Bangkok to eat your way through the endless food options. Check out this guide on how to do that best.
Have you done any of the mentioned day trips from Bangkok? Or do you have any other recommendations that are still missing in our list? Let us know in the comment section.
Pin this: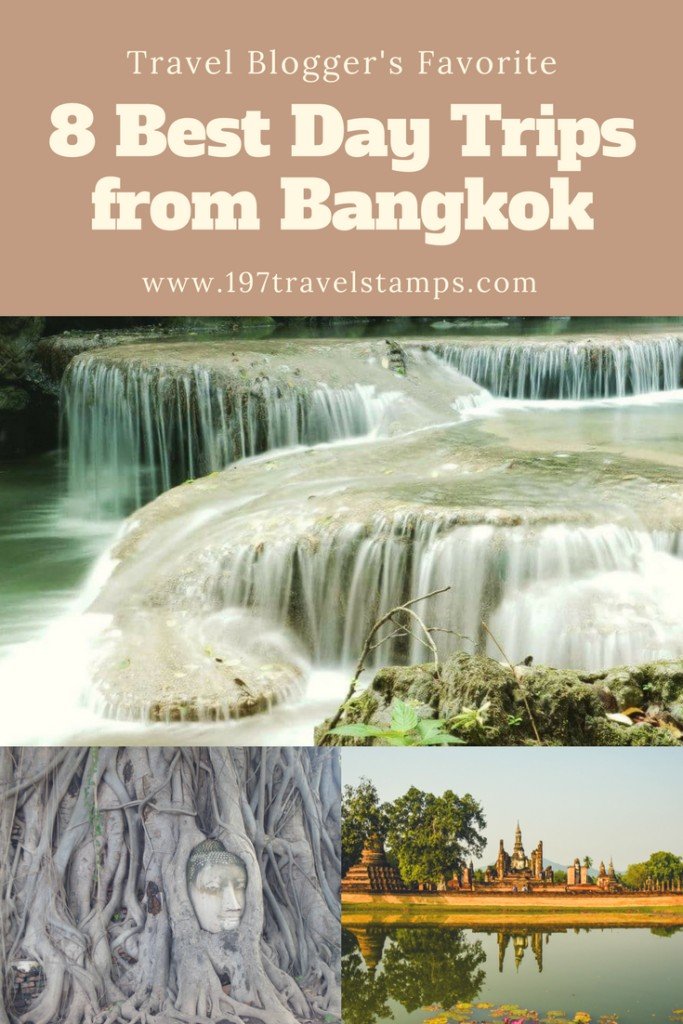 Best Day Trips from Bangkok