Ping! Boarding completed. Here we go again – finally! A crazy trip is starting.
By now I am flying somehwere over Greenland. Some more food, a few more drinks, 4 hours to go. The destination? Hard to tell. Once around the world with lots of stops on the way – in 8 days.
It all started with a very cheap United Airlines fare from New York to Manila with stops in San Francisco, Honolulu, Guam and Palau. The flight from Honolulu to Guam would be on the legendary United Airlines island hopper, a 5-stop flight through the Pacific islands of Micronesia and the Marshall Islands. As there is nothing I love more than interesting flight routes and obscure places, I didn't hesitate for a second. Now I just needed a way to get from Europe to New York and then back from Manila – with the use of a few frequent flyer miles I was ready to circumnavigate the globe.
Read more tips how to find low cost flights and hotels
Day 1
There will be so much flying in cramped economy class seats over the next days that I chose to spend a few extra miles in order to fly the first flight from Frankfurt to New York in Business Class. So all in all, day 1 starts off very relaxing.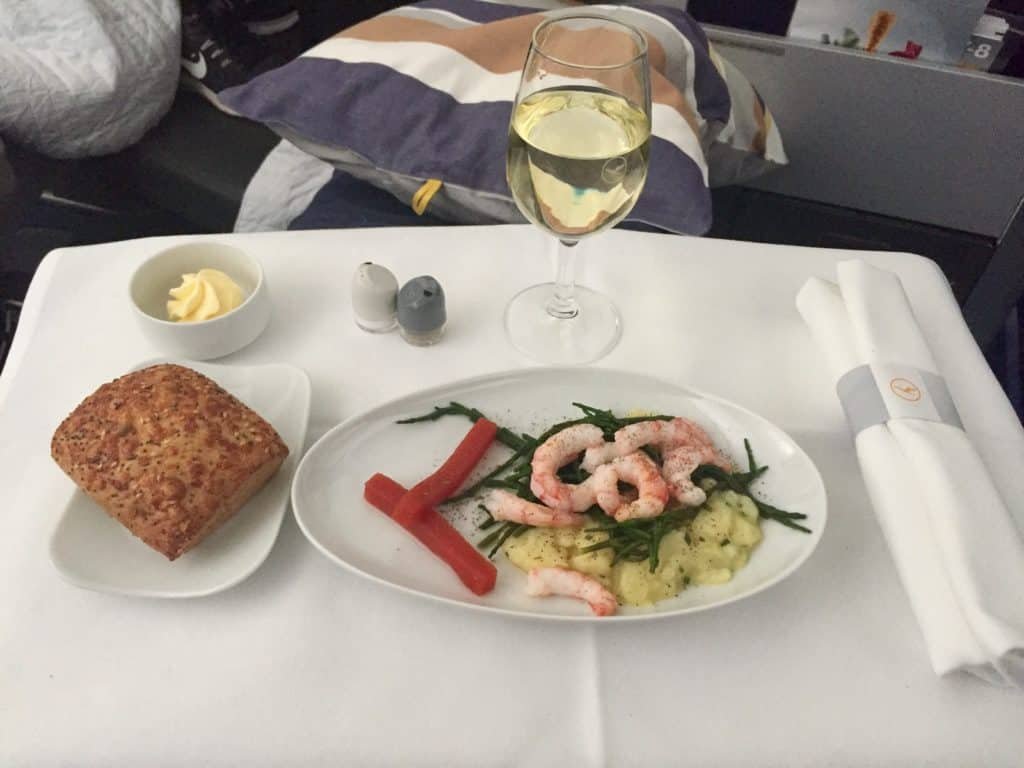 After landing in New York, I still have some time to enjoy my layover and walk around the city. Unfortunately, I only have one afternoon in the big apple so I only have time for a quick tour of the top things to do in NYC and head down to Lower Manhattan. My favorite part of the city. I walk through the huge skyscrapers towards Wall Street and then on to the World Trade center area. But as soon as the sun starts to set, there is only one place to be in New York – Times Square. This time I don't spend too much time under the bright lights of the billboards. I am already quite tired and the next days will be tough.
Rain in The big apple? Check out this post about 61 free museums in NYC
I often use flight connections in major airline hub cities to enjoy a free additional layover. Read this post to find out more how to make the most of flight layovers.
Day 2
I am sitting in the United Club Lounge at Newark Airport, happy as a baby. The United.com website allowed me to select different seats for all the single legs of the flight so I could have the perfect view over every single island. You should have seen the look on the face of the nice check-in lady as the printer started spitting out 11 boarding passes at once.
Ok, here we go. In the next two days I will be in the air for 26 hours with 15 hours ground time in total and a short night in Honolulu.
First flight: Newark – San Francisco. Nothing to write home about but it's nice to know that the cold weather from Europe and New York is behind me now. From now on it will be all sunshine for a few days. I use my transit time in SFO to grab a quick bite and then we go off again. Next stop – Honolulu. The flight is so bumpy that there is no service for the first 4 hours – thank god for that burger in SFO.
Too bad I don't have more time here in Hawaii. But I am not here to relax. So after an enjoyable evening I went to bed early as the next day would start early again.
Day 3
6 am in Honolulu. I am a excited. I am finally doing it, I am flying on UA154, the "island hopper" or, as normal people call it "why don't you take the direct flight to Guam?".
The first leg to Majuro is the longest leg of the island hopper with a flight time of 4 hours and 50 minutes. And it crosses the international date line – I am landing one entire day after takeoff even though the flight just takes around 5 hours. My inner clock is completely messed up by now.
During thos eight days, I spent a whole lot of time in an airplane seat. Most of the time in economy class. How do I deal with it? Here are some long haul flight tips and tips how to deal with jetlag
I spend the next hours landing and taking off at five wonderful islands in the middle of the Pacific Ocean: Majuro and Kwajalein in the Republic of the Marshall Islands and Kosrae, Pohnpei and Truuk in the Federated States of Micronesia. And it is awesome! The views upon landing are spectacular. Most of the passengers change at every stop so I get to know new people every hour and hear about their lives so far from anything in the world. Apart from Kwajalein, home to a huge US military base, it is possible to get off at every stop and I could use the hour of ground time to walk around the tarmac and the airport.
After 14 hours of flight I arrive in Guam.  Yes, I am a little bit tired but would I do it again? Yes, definitely. The island hopper is much more than just a flight (or five flights) – it is a gateway to a world so different from what we know. It is so hard to imagine how these tiny islands so far off everything. And this flight really wets my appetite to spend some time at a Pacific Island. Good thing I will spend the next days in Palau, another island nation in the Pacific. But for now, I am off to my hotel in Guam to get some much needed rest.
Read this post about everything you need to know to prepare for a long haul flight.
Day 4
Guam, a tiny island South East of Japan, part of the territory of the United States. One part of the island is a US military base while the other is home to an endless number of both fast food joints and Japanese tourists. Life doesn't seem very real here. I spend a day wandering around the main town and relaxing on the beach. After more than 24 hours without flying I am ready for the next chapter: Off to Palau.
Day 5 and 6
Palau – Pacific Island Paradise
Life is slow here on the islands, very slow. Quite perfect after all the hassle of international airports and different time zones. Tourists come to Palau for the amazing diving and snorkeling. Apart from that, there isn't that much else to do and see. The first day in paradise I just spend as the locals do – by hanging around and eating a lot. I like the atmosphere here. The next day I join a snorkel tour – at $130 it doesn't come very cheap but what would be my excuse not to see what made Palau so famous internationally. And I don't regret it. The under water world is incedibly colorful and beautiful. Unfortunately, I have no under water camera on me so you have to believe me. At night it is time to head back to the airport. Next Stop: Manila, the Philippines.
Day 7
The Philippines – it's my third stop to this chaotic and crazy country in South East Asia. The last two times I enjoyed a week on the wonderful island of Boracay, this time I am only for a quick 24 hour stop. One more reason to stop at every corner to enjoy some of the delicious meals that can be found on the streets of Manila.
Even though I am not a huge fan of fast food, there is one brand that I go to every time I see it – Mang Inasal (Hiligaynon for Mr. Barbeque). The barbequed chicken and fish they do is just incredibly delicious. And you can get unlimited rice with your order. So next time you are in the Philippines, make sure to check it out.
If you feel like digging deeper into Filipino cuisine, check out this food guide for Manila.
Day 8
Ping! The fasten seat belt sign is on again. We are about to take off. My Turkish Airlines flight will take me from Manila to Istanbul in 13 hours and then on to Frankfurt. I arrive back home in the very early hours of day 9 of my trip. There is still time to have a shower before going to work again. Incredible how much travelling can be done with only 5 days off.
Would you take such a trip or do you think it's just wasting time in an airplane seat? Let me know in the comment section.
Check out my Top 10 Travel Photos of 2017 or test your knowledge in my flag quiz – you will be rewarded with a fun fact for every correct answer.
Pin this post:
Around the World in 8 Days – A Crazy Travel Tale