Dubai is a fantastic destination with its blend of classy contemporary architecture, age-old structures, and striking cultural attractions. Add to this its widest array of shopping, culinary and leisure choices. With so much on offer here, it is unimaginable not to fall in love with Dubai which is a favorite of all. If you can't wait to fly to this charming Arabian metropolis, this Dubai travel guide will serve as a helpful resource to well systematize your holiday checklist and itinerary.
[toc]
Dubai Fast Facts & General Info
Dubai is one of the seven emirates of the UAE (United Arab Emirates). It may be second only in terms of its area, being Abu Dhabi the UAE's capital as well as the largest emirate. Yes, Dubai is the most popular and is considered the heart and soul of tourism activities in the country. Check out this fact file to get an overview of this city.
Area: 4,115 Square Kilometers
Currency: UAE Dirham (AED)
Official Languages: Arabic
Frequently Spoken / Used language: English
Ruler of Dubai: HH Sheikh Mohammed bin Rashid Al Maktoum
Airports: Dubai International Airport & Al Maktoum International Airport
Wi-Fi: Free Wi-Fi is available in almost all hotels, malls, restaurants, and other public places. Apart from these, you can buy a 4G SIM card with W-Fi router to stay connected throughout your Dubai holiday.
Emergency Numbers:

Electricity Interruption: 991
Best Time To Visit
Dubai is full of life in the winter season. In fact, the most ideal time to visit here is from October to March when the weather is cool, outdoors are pleasant, and events' calendar packed with Global Village, DSF (Dubai Shopping Festival), Christmas Festivities, and New Year's Eve celebrations to name a few. That said, traveling to Dubai in summer months is equally endearing, provided you are willing to part with outdoor fun. It allows you to make the most of the region's ultimate snow-and-winter-themed attractions such as Ski Dubai, Dubai Ice Rink and Chillout Lounge. Looking for more reasons to visit Dubai in summer? It lets you enjoy an exceptionally affordable holiday with major price-cuts on accommodation, airline tickets, and entry tickets to iconic landmarks. You can further be part of several amazing events like DSS (Dubai Summer Surprises) and Modhesh World.
Travel Essentials (Visa, Otb And Covid-19 Guidelines)
Visa: A visa or an entry permit is required for all nationalities traveling to Dubai. But, this is not applicable to visitors who are entitled for a visa free entry or visa on arrival at Dubai / UAE airports. Depending on the duration and unique purpose of your Dubai visit, you can choose from single-entry Dubai visit visa (valid for 30 days or 90 days) or multiple-entry visa (valid for 30 days or 90 days). If a visa is mandatory for your Dubai visit, make sure that you apply and get your Dubai visa approved well in time of your Dubai travel date.
Ok to Board (OTB): This procedure is conducted by your airline provider, mainly to ensure the genuineness of your travel documents. It is especially must for passengers traveling to Dubai or UAE from Asian countries like India, Pakistan, and Bangladesh. It is vital to get this procedure done before you board the flight, as your airlines have the complete right to deny you from flying in the absence of an OTB.  
COVID-19 Guidelines
The following are the set of guidelines that you should adhere to during your Dubai travel.
Submit a negative PCR test certificate (printed in Arabic or English with QR code) at the airport, taken within 48 hours or 72 hours of your Dubai travel (depending from where you are traveling.)
Be prepared to undergo another PCR test as you arrive at Dubai International Airport. But, this is not applicable to kids below 12 years and those visitors with any serious or moderate disability.
Bring a valid medical insurance that offers international coverage for the treatment of COVID-19.
Download DXB Smart app in your device and fill out the required details.
If the test result is positive, you should mandatorily self-quarantine for 10 days as initiated by DHA (Dubai Health Authority.)
If your result comes negative, you can step outside but make sure that you comply with all safety measures as imposed by Dubai government, such as wearing masks, maintaining social distance and sanitizing hands on frequent basis.
Important Tips & Information
Here are a few tips and things to know before you travel to Dubai.
As an Islamic destination, Dubai entails its visitors to respect its culture and traditions that are deeply rooted in its religious beliefs.
Wear modest dress especially when you are in public places and visit religious or cultural points of interest.
Avoid actions like PDAs, smoking in public and littering public places. All these can lead you to pay heavy fines.
Take prior permission for taking pictures of locals and significant government structures.
For maximum savings, be sure to book your Dubai accommodation and flight tickets at least three to four months before your visit.
Getting Around
With its efficient, well-integrated public transport system operated by Dubai's RTA (Road and Transport Authority), it is never a hectic task to get around in the city. You can hire a cab, board a bus, catch a ferry, or more ideally use Dubai Metro – which is one of the must-experiences in Dubai, being fully automated and longest of its kind in the world. The best thing is that you can easily make payment for all these public transport with a single smart NOL card.
Now if you are in Dubai for a short visit, it is highly recommended to pre-book a private transfer with driver. This enables you to explore the city at your own pace in minimal time. You can also choose to drive your own in Dubai, but don't forget to carry your international driving license.
Where To Stay In Dubai?
Picking the right accommodation in the right location is crucial to make the most of your Dubai visit.  Each of the neighborhoods in Dubai has its own charm with a distinct vibe, so choose one that matches your itinerary and preferences. If you are planning for a Dubai holiday themed around water fun and outdoor activities, it is ideal to book an accommodation in Jumeirah or Dubai Marina area.
For unlimited shopping, sightseeing and entertainment, you can opt for a hotel stay in Downtown Dubai or Barsha area, such as Pullman Dubai Downtown, and Sofitel Dubai Downtown. If ultra plush stay is what you are seeking, there are some out of the world choices by way of Atlantis, The Palm, Four Seasons Resort Dubai, JW Marriott Marquis Dubai, Armani Hotel (inside Burj Khalifa) and most importantly, the sail-shaped Burj Al Arab, which is considered the most luxurious hotel in the world.  
Now if you don't want to shell out a fortune for your Dubai accommodation, head to one of the hotels in Bur Dubai or Deira region. They offer budget accommodation option with the bonus of central location. Moreover, wherever you choose to stay in Dubai, make sure that it offers easy access to the attractions and activities included in your program. If you are planning to extensively rely on public transport, be sure to book an accommodation that is in close proximity to a bus or metro station.
Shopping In Dubai
From 70 plus high-end malls (including Dubai Mall, Mall of the Emirates and Ibn Battuta Mall) to traditional Arabian bazaars called souks, Dubai's shopping choices are so vast and extraordinary that they are sure to lure even those who are not interested in retail therapy. With an irresistible array of affordably-priced souvenirs, carpets, perfumes, chocolates, and high-street branded items (such as bags, apparels etc) vying for your attention, come prepared to stretch your wallet quite a bit.
Top Things To Do And See
Burj Khalifa: This is handsdown one of Dubai's greatest attractions. Soaring at a height of 828 meters, it is rightly the tallest man-made structure ever built on the planet. Day or night, it is a treat to visit this building and catch the impressive cityscape views from its observation decks on 124th level and 148th level. As an add-on, you can enjoy one of the world's fastest elevator rides and even enjoy a multimedia exhibit on Dubai's modest past.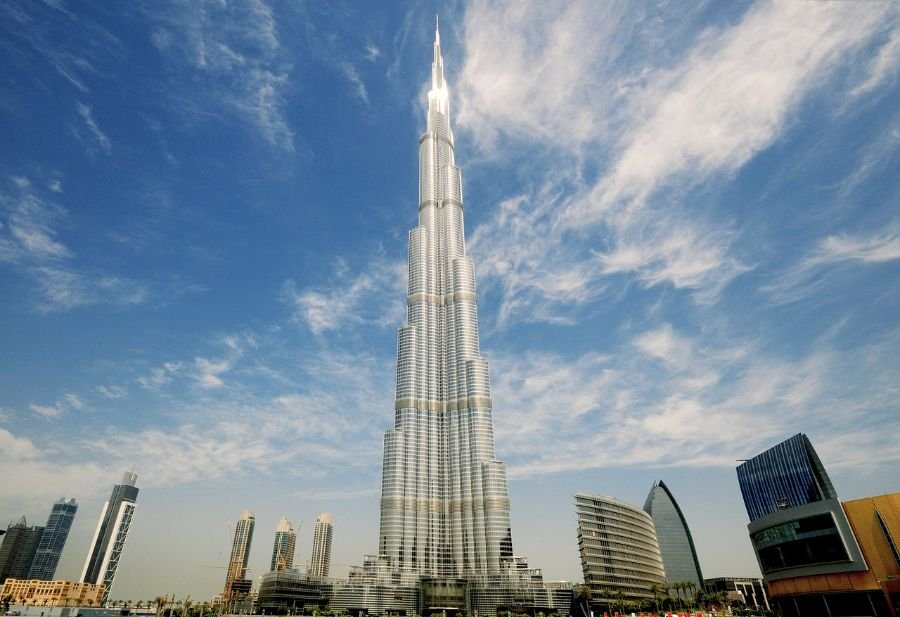 The Dubai Mall &Dubai Fountain: Located in Downtown Dubai and right next to Burj Khalifa, this super massive mall has something to delight in at its every corner. Not to mention, it is more than a place to enjoy retail therapy. It is a place for every age group and interest, with some astonishing attractions such as Dubai Aquarium and Underwater Zoo, Dubai Ice Rink, Ekart Zabeel, KidZania Dubai, and the largest of its kind VR (Virtual Reality) Park Dubai. Most of all, don't miss the breathtaking Dubai Fountain show that takes place outside of the mall, at Burj Lake.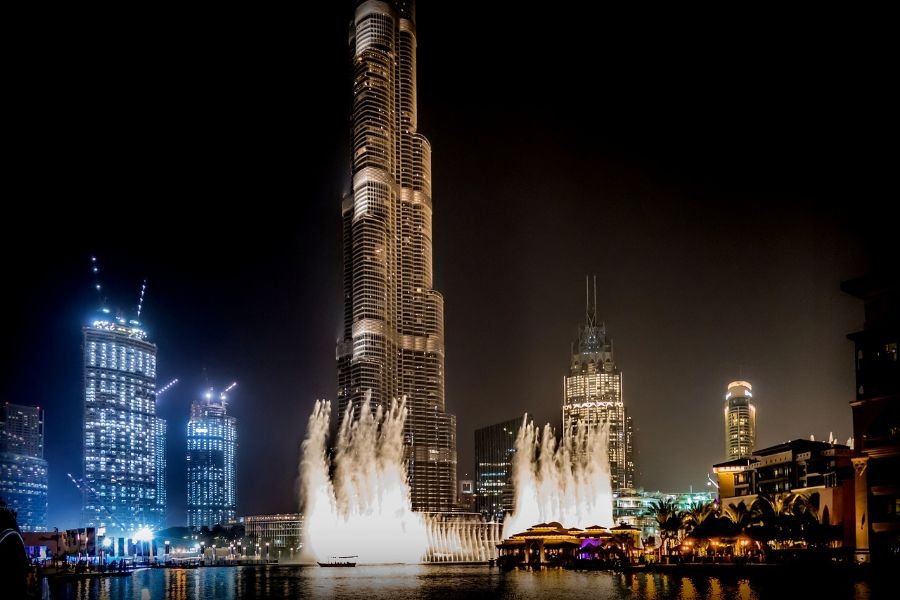 Palm Fountain Show: It is the grander version of Dubai Fountain show. Palm Fountain takes your breath away with its mix of stunning location at the Pointe (against Atlantis, The Palm) and imposing performance wherein water twirls and twists in perfect sync to music and light. As with Dubai Fountain, this fountain show too is a free attraction, but you can watch it close from an exclusive standpoint by stepping into a dining venue that directly overlooks the fountain.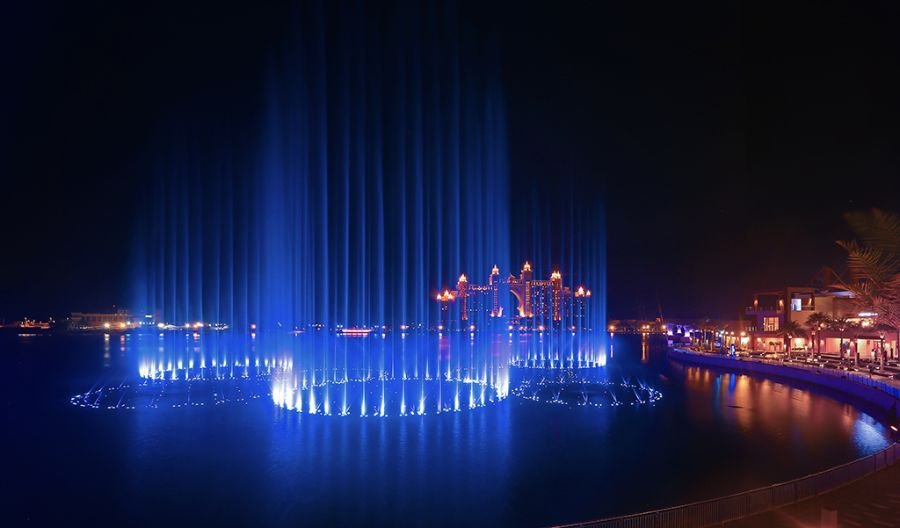 The View at the Palm Jumeirah: No Dubai trip is complete until you see Palm Jumeirah! It is a true engineering marvel with its giant and flawless palm-tree design with a crescent on top. Until recently, the only way to catch this view was on an aerial adventure like sky diving or helicopter ride. However, you can enjoy this spectacle without taking to clouds; all you have to do is to head to the brand-new observation deck on the 52nd level of Palm Tower.
Dubai Parks and Resorts: It is the Middle East's first integrated resort where you will find three amazing accommodations, a  dedicated retail and dining section, and mostly four parks such as Motiongate Dubai, Bollywood Parks Dubai, LEGOLAND Dubai, and LEGOLAND Water Park. All these make it a must-visit for diehard theme park fanatics.
Desert Safari: Looking for a distraction from all glitz and chaos? Take a desert safari in Dubai; it offers a pleasant respite from the city's bustling sights. It journeys you deep into the region's isolated desert sands where you can experience the adventurous ever 4X4 dune bash, enjoy camel ride, and get a slice of the ancient Bedouin culture with activities like henna tattooing, Shisha smoking, and falconry. You further get to relish a scrumptious BBQ dinner and take in traditional Tanura show and Belly Dance on your evening desert safari.
Al Bastakiya Quarter: A relaxed stroll through this preserved 19th century quarter (also known as Al Fahidi Historical Neighborhood) will step you back in time. It is home to some of the region's most treasured historical and cultural attractions such as Dubai Museum, Coffee Museum and Sheikh Mohammed Centre for Cultural Understanding.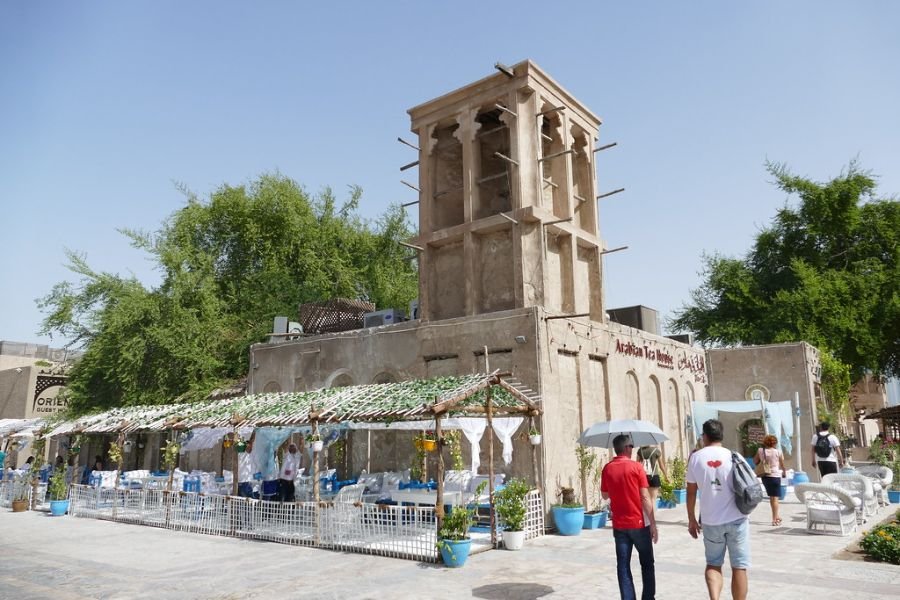 Dhow Cruise: There is no better way to taken in Dubai's illumed city skyline than with a leisurely dhow cruise along Dubai Creek or Dubai Marina. It allows you to enjoy a two-hour sail in a refurbished vessel (which was once used for fishing and pearl farming.)  A lavish buffet dining with entertainment shows like Tanura is included in most dhow cruises.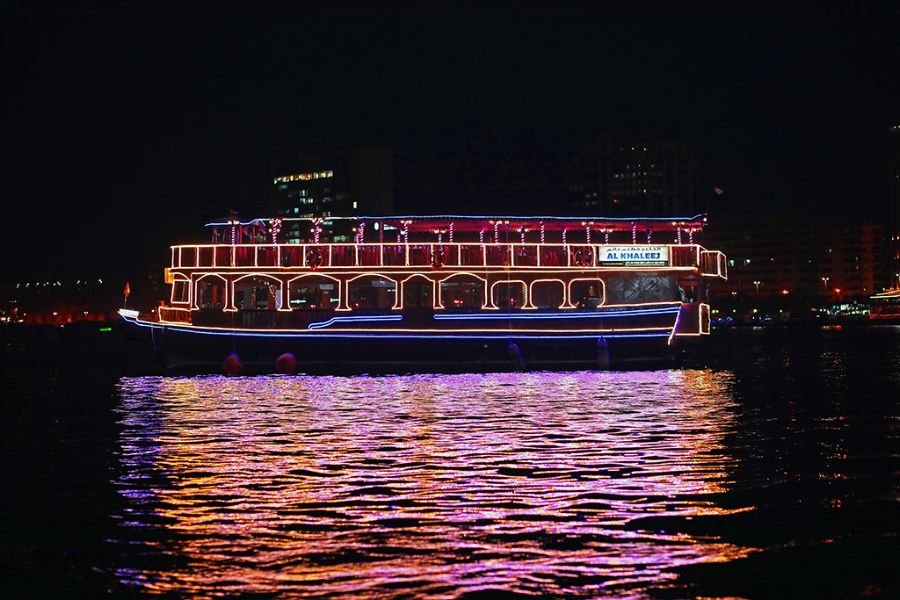 Bluewaters Island: With so much of attractions to check out here, a visit to this waterfront neighborhood is unmissable during your Dubai holiday. Rightly so, it has to its credit some record-breaking attractions, particularly Ain Dubai – the world's highest Ferris wheel, the largest of its kind 3D World Selfie Museum, and the Middle East's first Madame Tussauds Museum.
Dubai EXPO 2020 Site: As Dubai is now all well-armed to host the greatest ever World EXPO, be sure to visit Dubai EXPO 2020 site on your upcoming visit. With its three massive thematic districts (Terra, Alif and Mission Impossible) that collectively host over 200 countries, you can look forward to be part of a spectrum of outstanding attractions and jaw-dropping innovative experiences as part of your visit here.
Conclusion
With its fantastic store of attractions in every category (like culture, nature, amusement and entertainment), Dubai is definite to make for an unforgettable vacation. So visit Dubai, but before that get an in-depth understanding of this amazing city with this all-inclusive guide. This further allows you to plan a perfect holiday that goes with your unique preferences.
Dubai Travel Guide: What to Do, See and Travel Tips