The port city of Mumbai is the financial capital of India and the capital of the Western State of Maharashtra. With a population of over 24 million, it is among the most populated cities in the world. In this post, our guest blogger Smita Bhattarcharya tells us what to do in 24 hours in Mumbai.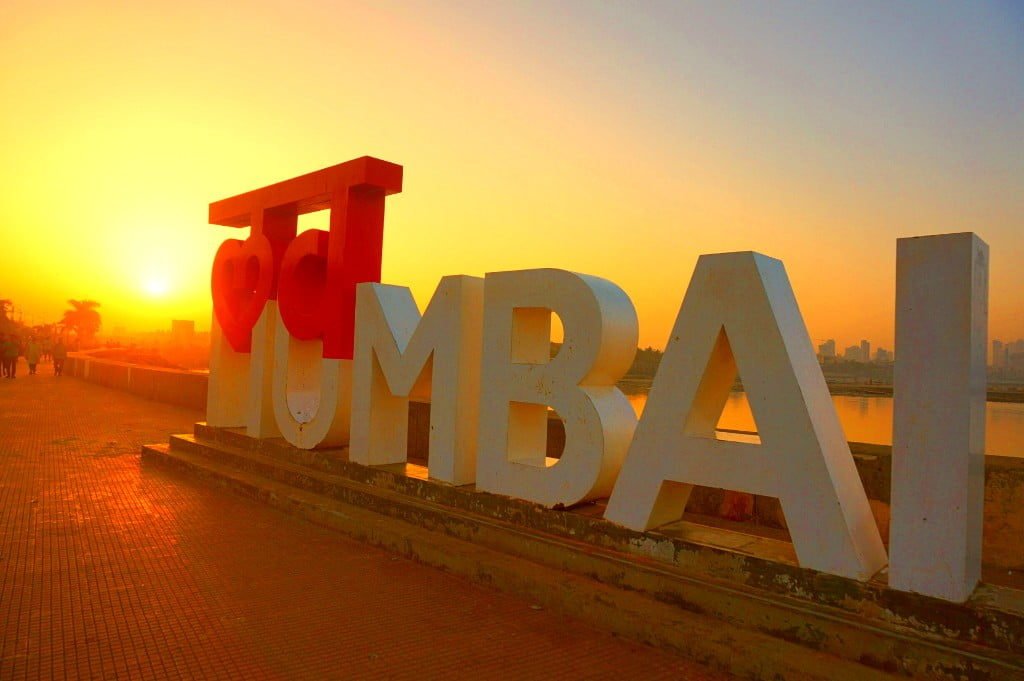 Mumbai is a melting pot of communities and cultures, home to the Bombay Stock Exchange, Bollywood i.e. Indian Cinema, the best cafes and restaurants in the country, and a lot more. Therefore, in 24 hours, you'd only have scratched the surface. Like any bustling metropolis, there's always tons to do. No two days are the same, each experience is intense. But if you're only stopping by and wonder how to spend a day in Mumbai, here are a few things you can pack in your itinerary. Be prepared, the 24 hours in Mumbai are action packed.
Are you just stopping over in Mumbai or are you on an extensive trip through India? Check out our guide on what to do in Sikkim in the northeast of India. Also make sure to visit the capital Delhi, the Taj Mahal in Agra and Jaipur.
8 a.m. – 1 p.m. A DIY walking tour of South Mumbai – the start of the 24 hours in Mumbai
Two Railway Terminus
Start at Chhatrapati Shivaji Terminus railway station. Also known as Victoria Terminus, or as lovingly abbreviated by locals – VT – the station is a UNESCO World Heritage Site and a landmark to behold. It was built in 1887 to commemorate the Golden Jubilee of Queen Victoria and is modeled in the Goth style of architecture. If brave enough, venture inside to see the 18 platforms and hordes of commuters jostling each other. The station is featured in the song 'Jai Ho' in the Oscar winner movie Slumdog Millionaire. It serves both local and long distance trains.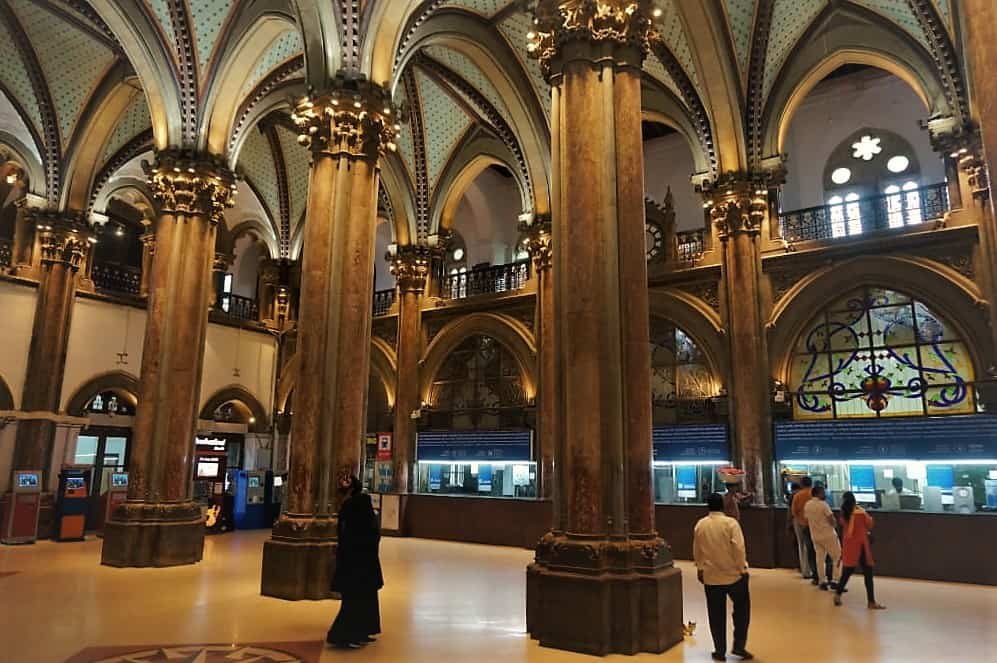 From VT, move towards Churchgate railway station, a 15-18 minute walk (or an 8 min taxi ride). Churchgate is the Southern terminus on the Western Line of the Mumbai Suburban Railways. As you walk from one station to another, you will cross over a few interesting sights, which to my mind is more interesting than staring at stone monuments.
Vendors setting up their cheap goods stalls, chai walas readying their steaming concoction, second hand sellers spreading books and magazines on the road, sweepers, milkmen, pav sellers, scores and scores of sweating harried office goers. This is the heart of Mumbai working class waking up to a new day. To understand the city, is to understand the essence of the people living here.
Both VT and Churchgate are located in the area called Fort which was once just that.
You must have crossed Flora Fountain in the path between VT and Churchgate. Let's explore this after a short breakfast detour to Pizza by the Bay, an iconic and decades-old South Mumbai restaurant with good food and a great view. Open every day, 7 a.m.–12:30 a.m.
Flora Fountain
Built in 1864, Flora Fountain, depicts the Roman goddess Flora and is an oft quoted meeting point in the Fort area of Mumbai. We call it simply 'Fountain'. The square where is its located is also known now as Hutatma Chowk (or Martyr's square) and since five roads meet at it, it is somewhat like the Piccadilly Circus of Mumbai.
From Fountain, move towards Oval Maidan, a large, grade 1 recreational ground. On a weekend, you will see thousands and thousands of youth playing cricket unmindful of the sun and prying eyes. Be prepared to be hit by a ball a couple of times, as you watch. After a few minutes, walk over to see the Bombay High Court and the Mumbai University grounds.
The Bombay High court is one of the oldest High Courts of India and makes for an amazing architectural sight. Next to it, catch a glimpse of the 85 m tall art deco style Rajabhai clock tower or the Big Ben of Mumbai. It is located inside the Fort campus of the University of Mumbai. The tower was named after the mother of Premchand Roychand, a prosperous broker who founded the Bombay Stock Exchange.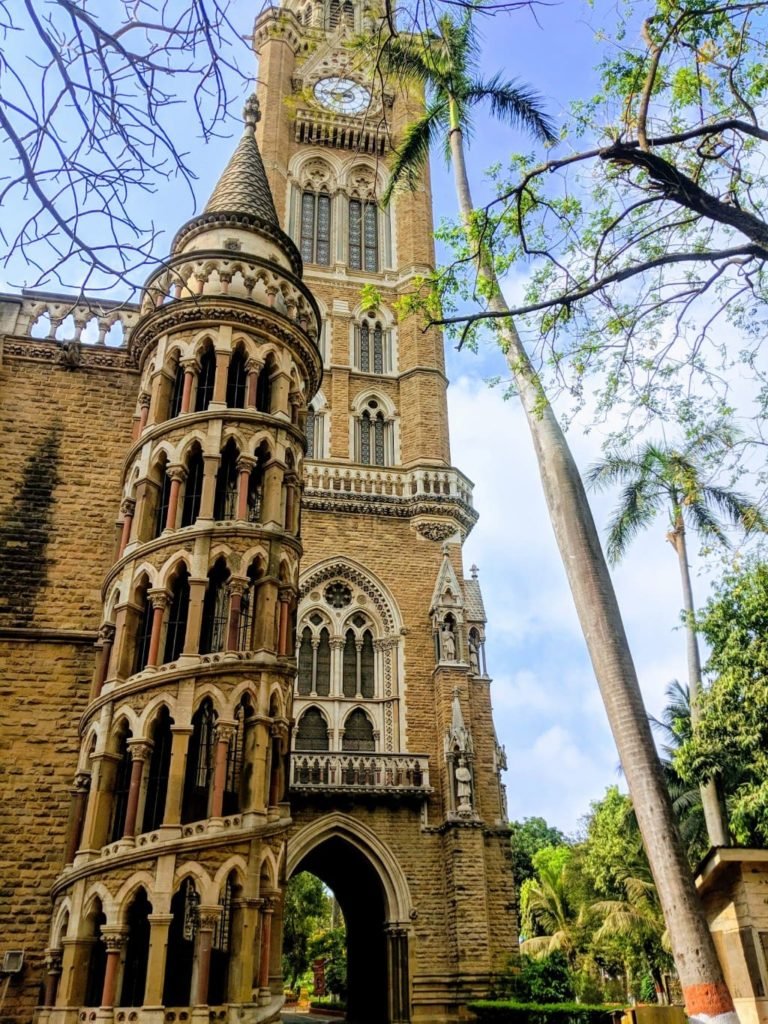 David Sassoon Library
The next stop of your one day itinerary for Mumbai is just five minutes away. Just across the Mumbai post office, you will find the David Sassoon Library. The library is named after Jewish businessman and philanthropist Albert Abdullah David Sassoon.
It was constructed in the 1870s with a lovely reading room inside. Wooden furniture, rickety overhead fans, and beautiful art deco tiles. Books from floor to ceiling. What's not to love? Entry is free. So go in and spend some time browsing through old books and archives. In fact, the series of old buildings on the road – Watson Hotel-Army & Navy Building-Davis Sassoon Library, and Elphinstone College – is my favourite in Town.
Gape at Kala Ghoda right opposite. Kala Ghoda means Black Horse, and in actuality refers to a black stone statue of King Edward VII (or Prince of Wales) on a horse. David Sassoon commissioned the construction of the statue. The original statue not there anymore, replaced by a symbolic black horse (without the rider) as commissioned by the Kala Ghoda Association.
Walk through the lane that leads diagonally away from the black horse, to arrive at the primary icon of Mumbai. The Gateway of India.
Gateway of India
As most monuments in South Mumbai, the Gateway is a remnant of the British times. It was built to commemorate the landing of King George V and Queen Mary at Apollo Bunder when they visited India in 1911, later serving as a symbolic ceremonial entrance for Viceroys and the new Governors. It is an impressive structure, right by the Arabian Sea, always crowded.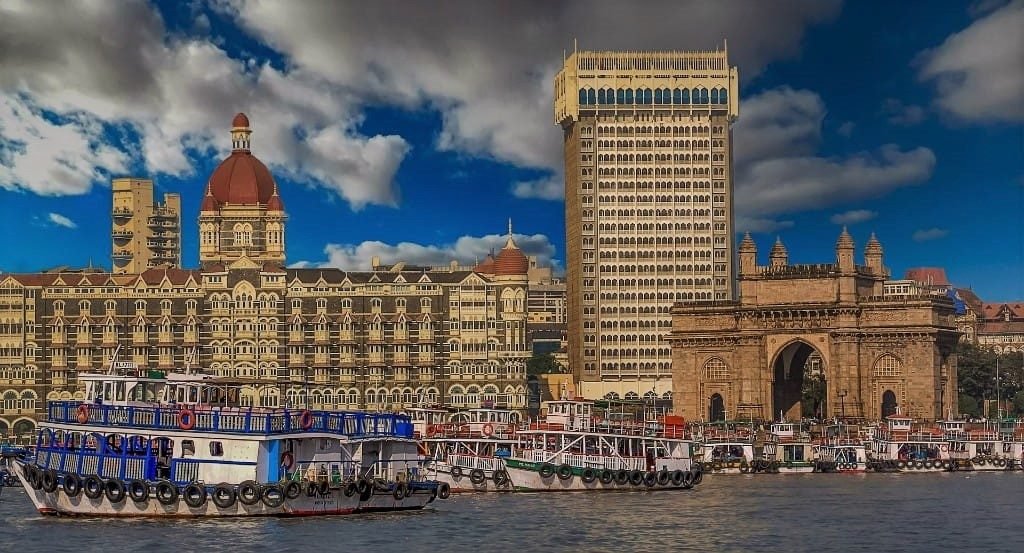 After having taken your fill of pictures of gateway of India, walk over to grab a coffee at Taj Mahal Palace or if not feeling quite so fancy, at Starbucks, located in the same premises but on the other side. It is one of the best looking Starbucks I have seen. Turn right from Starbucks, and at the end of the street is Colaba Causeway.
Colaba Causeway
Colaba causeway is a popular shopping street in South Mumbai. It houses a mix of retail stores and small street shops selling everything from jewelry, antiques, slippers, bags, and much more. Tourists, backpackers and locals from South Mumbai throng the area through the year. There are also some very good eateries here: Delhi Darbar, Piccadilly restaurant, Cafe Churchill, Cafe Mondegar, and the Cafe Leopold being a few of my favourites.
After you've walked up and down the street a couple of times and have tired of haggling with the vendors, sit down for lunch at Leopold Café. Founded in 1871, Leopold is a cult eatery in South Mumbai and a popular meeting place. It was made famous by Gregory David Roberts' entertaining novel Shantaram (the café sells its copies) and was also (sadly, because of its popularity) one of the locations of the 2008 Mumbai terrorist attacks. For lunch, swig a mug of beer and taste their popular roast chicken. Open 7:30 – Midnight.
1 p.m. – 4 p.m. The afternoon of your day in Mumbai
Spend time at the museum
Once known as the Prince of Wales Museum, the museum at Mumbai now is called the tongue twisting, Chhatrapati Shivaji Maharaj Vastu Sangrahalaya. The museum contains a good collection of Indian sculptures, miniature paintings, textiles and consumes and objects of natural history. Consider it a crash course on Indian history and culture. Open Monday to Sunday – 10.15 am to 6.00 pm (last entrance at 5.45 pm). Indians need to pay INR 85 to enter and for foreigners the fee is INR 500 (about USD 7).
Or
Take a taxi and head over to Dharavi for a walking tour
Dharavi is considered the largest slum in Asia. It was also the purported setting of the movie Slumdog Millionaire. With an area of about 2 square kilometers and 70,000 people living in it, Dharavi is one of the most densely populated regions in the world.
The Dharavi tour is a popular one with foreigners who visit Mumbai and I have done it myself. Just google it and you will find many tours going there. Usually, a Dharavi local leads the tour, so you will get an insider's perspective. Please remember to be respectful. People living in Dharavi are not poor or needing alms. They have probably been living there for decades and many of them are quite well to do and happy. Let this not be an area to take the token poverty photo from India home, but instead, to understand the people living here.
5 p.m. – 8 p.m. Visit the queen of suburbs, Bandra
As you cross over from South Mumbai to Bandra, admire the Bandra Worli Sea Link that connects South of Mumbai to the suburbs.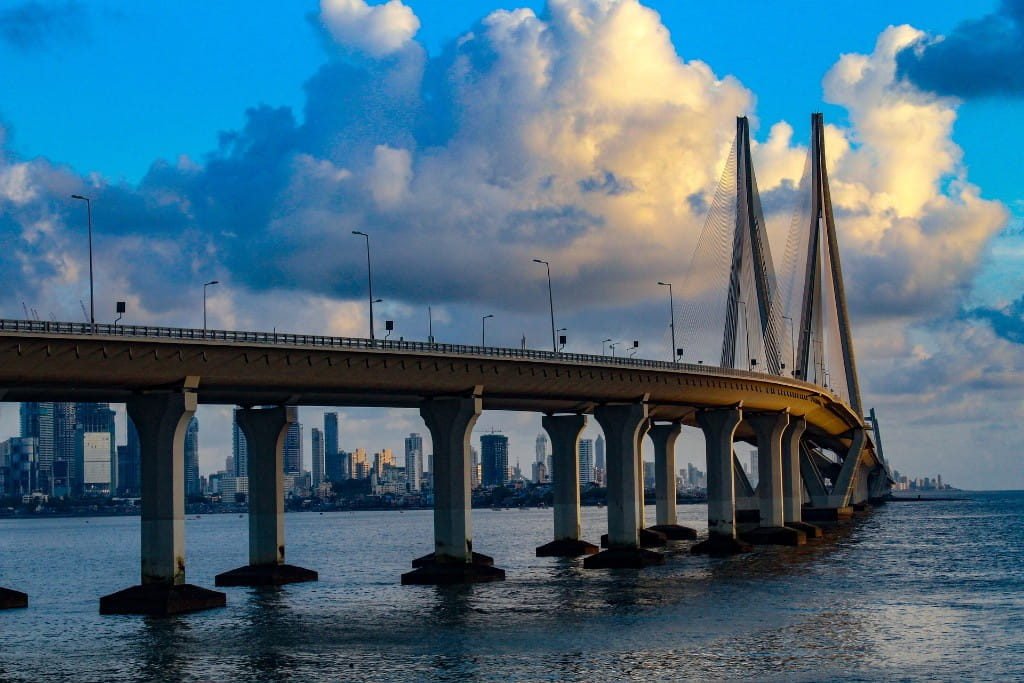 Go graffiti-spotting
Like all major cities in the world, the hipster culture leaves its mark as colourful graffiti across Mumbai's streets. They don't last long and frequently need to be touched upon—blame the relentless dust and the equally relentless Mumbai monsoons—but they make for very interesting photo ops. The best ones are in the streets at Bandra, especially along the narrow lanes of Chapel road. As you walk along, also smile and wave at the old men and women fanning themselves in the verandahs. Chapel Road connects Mount Carmel Church to Hill Road.
A walk from end to end takes about ten minutes along the winding road and you may narrowly miss being run over by honking autos many times. As you walk along, you'll also see the following in no particular order: tailors, pizza shops, sweet shops, chaat places, and groceries, snack shops, second-hand book stores, boys playing gulli cricket, roosters crossing the road, men arguing loudly about a match. More graffiti. Never a dull moment. Many of the graffiti on Chapel Road is by the Bombay Art Project, an urban art project started in 2012 to celebrate Bollywood. For more on Bandra, read this.
Hang in a cool café in Bandra
Bandra is replete with cafes. One of my favorite is the Portuguese themed Candies. It is a favourite with the college going crowd with reasonably cheap prices and a hipster Parisian vibe. My next favourite is Koinonia at Chium Village. The café is tiny, able to seat only around 6 to 8 people at one time. But take-away their freshly roasted coffee and cold brew bottles to savour at peace. The cafe also sells some delicious croissants and brownies. Blue Tokai is another locally sourced, organic, fair trade coffee maker, one of the first to arrive on the local coffee scene. I've been a big fan of their coffee and coffee making philosophy from when they started, devouring their website, sampling all of their single estate coffees. Buy some as gifts to take home.
Taste the local craft beer
There are some local microbreweries doing interesting artisanal craft beers, and I'll encourage you to try them. Doolally, The White Owl, and Brewbot are Mumbai's very own. They also hold brewing and tasting sessions in their pubs and other fun events. Chug a drink while you knife-paint or fight it out in a trivia contest. A great place to meet other people too. Check out their Facebook page to see what's going on when.
Dance the night away – the end of your one day itinerary in Mumbai
Your nightlife options are to stick around in Bandra West and visit pubs such as Toto's Garage, The Den and The Daily Bar and Kitchen (all my favourites) or hop in an auto rickshaw or Uber to go the East side (15 minutes in non-rush hour). Bandra-Kurla Complex or BKC, in the east side of Bandra, is a commercial hub in Mumbai but also home to several great restaurants and discotheques. Local favourites are Dishkiyaaon, Hitchki, and The Good Wife. Other popular nightlife options are in Juhu and Kamala Mills (Lower Parel). But that would mean traveling a bit, and you have only 24 hours in Mumbai, right? You wouldn't want to waste it biting your nails in traffic. Maybe, for next time.
Where to stay in Mumbai with a short stop?
Since your 24 hour Mumbai itinerary ends in the neighborhood of Bandra West, it is best to find an accommodation there. The area is also not far from the airport so you can easily transfer there the next morning if you are just on a short stopover in Mumbai.
Here are our hotel recommendations in Bandra
The hostel offers both private rooms as well as more affordable dorm rooms. Private rooms start at 40 USD per night including breakfast while a bed in a dorm room will set you back a bit more than 10 USD – also including breakfast. Check the prices for your dates here.
This apartment offers some great views over the ocean from the private patio. Prices start at 80 USD per night. Check the prices for your dates here.
The Grand Residency is located in the heart of Bandra and offers a gym, great continental breakfast and many more amenities. Rates start at 150 USD. Check the prices for your dates here.
Find more hotels in Bandra West
We hope you will have a lot of fun on your one day tour in Mumbai.
Pint this post for later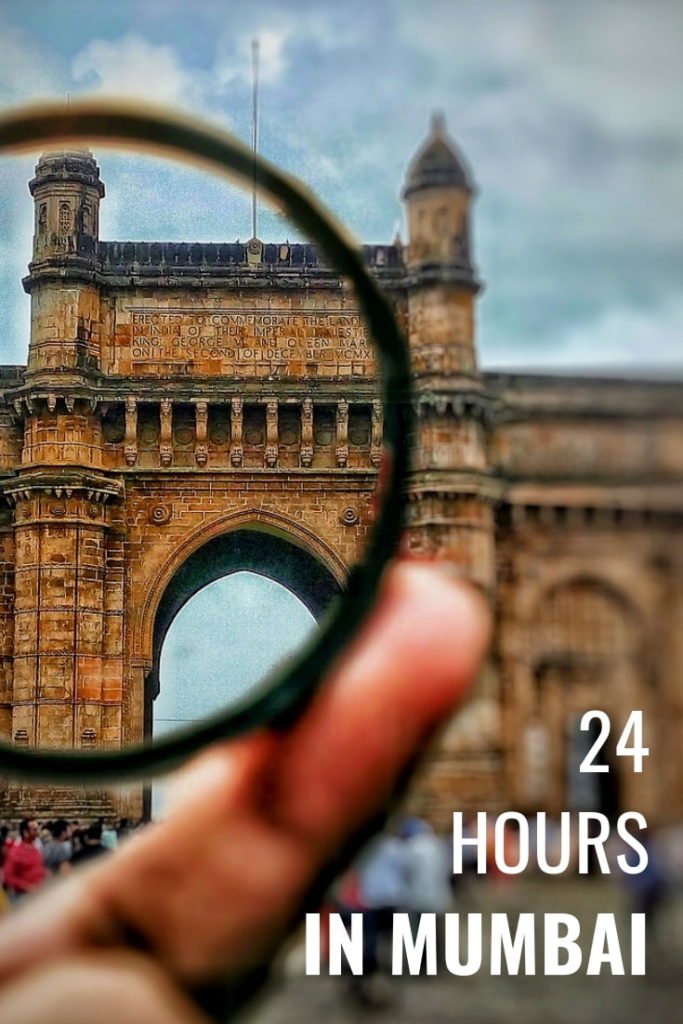 24 Hours in Mumbai – An Itinerary