Djibouti – a place few people have heard of before and even fewer could point at on a map. But since Lonely Planet has named this tiny nation in East Africa one of the top 10 countries to visit in 2018 it has been on the radar of more international travellers. So is it worth travelling to Djibouti? I went there in December 2017 to find out.
So where exactly is Djibouti?
Djibouti, one of the least visited countries on the planet, is located in the Horn of Africa with borders to Eritrea, Ethiopia and Somalia:
[googlemaps https://www.google.com/maps/embed?pb=!1m14!1m8!1m3!1d8059288.651360412!2d38.0891969!3d9.4913671!3m2!1i1024!2i768!4f13.1!3m3!1m2!1s0x1622d46734f9f601%3A0x1472bba7ef0f5b88!2sDjibouti!5e0!3m2!1sen!2sde!4v1515608125365&w=600&h=450]
First Impressions Matter – No More Djibouti Visa on Arrival 2019
The cheapest flight option to Djibouti was on Ethiopian Airlines from Addis Ababa (read my article about the best ways to find affordable flights). I got a seat right behind the empty business class so I was one of the first people to leave the plane and get to immigration. A few weeks before my trip, Djibouti has eliminated visa on arrival for all countries so I had to get my visa beforehand at the embassy in Berlin for €60. Rumour has it that the Chinese government is discouraging people travelling to Djibouti because they have recently opened up their only overseas naval base and are looking at further investments in the country. Everybody is a potential spy.
But the Chinese are not the only ones hoarding guns in Djibouti. Due to its relative political stability and its strategic location at the Red Sea, close to Yemen, France, Italy, the US, Japan and soon also Saudi Arabia all have military bases here. Only one older gentleman from Germany, probably in his 70ies, stood in line in front of me at the immigration counters. With my visa in hand I was expecting this to be a quick entry to a new country.
But the immigration officer kept on asking the old man weird questions about his trip, made him present his boarding passes of domestic flights he had taken in Ethiopia. The old man had to kneel down to look for them in his luggage – everybody standing in line felt very uncomfortable seeing the immigration officer treat the old man with so little respect.
Next in line was me. Somehow I was lucky – after some unfriendly questions and bad looks he stamped my passport and let me in. Thank god he didn't ask for older boarding passes of my trip as I had already misplaced them.
So here I was, "Welcome to Djibouti" I told myself
My guest house was only 5 minutes walking from the airport – African Village. The cheapest place in town that somehow still cost me $140 for two nights. Djibouti is expensive. Very expensive. The room was still the worst place I had slept in for a while. Welcome to Djibouti.
Time for to see some beautiful Djibouti scenery and landmarks – or is it?
The next morning I was ready to explore the beauty of the country. The two main sights are Lac Assal, the saltiest lake in the world and at 150m below sea level the lowest point on Africa's mainland and Lake Abbe, another salt lake and filming location of Star Wars. The Red Sea apparently offers some amazing diving opportunities and you can swim with whale sharks, green turtles and hawksbill turtles.
Did I mention that Djibouti is expensive? Lake Abbe is at least a 2 day tour from Djibouti City as it includes a lot of off road driving. A tour would set you back around $400. Holy cow! Swimming with the whale sharks and turtles doesn't come much cheaper than that. Even though that is something I would have really wanted to do, I wasn't  willing to spend nearly 500 USD for a day trip. Fortuanately, Lac Assal doesn't require a 4×4 car and is around 2.5 hours driving distance from the capital. That sounds doable.
Off to Lac Assal
The first price that I am quoted in the guest house is $250 – crazy. But I teamed up with an Australian traveller and we started asking taxi drivers about the price to the salt lake and back. In the end we scored a ride for around $150 total. Still an insane for a half day trip but affordable.
And the tour to Lac Assal was absolutely beautiful. The first part of the journey is not very spectacular, there is no vegetation or people living on the countryside but the last part of the road before arriving at Lac Assal turns into a beautiful scenery:

Put the camera away
I really like the hustle and bustle of cities in Africa or the Arabic world. It's noisy, loud, crowded and full of friendly smiling people. A bit less so in Djibouti. I didn't really have the feeling of being welcome walking the crowded streets of downtown Djibouti City. Quite understandably, the locals are probably a bit fed up with the huge numbers of foreign military personnel that is trampling around in their country. And while the government nets billions from the leases of the military bases and other foreign investments conneted to them, the people of Djibouti don't seem to see much of that money. The entire infrastructure is either non-existent or totally run down.
As we walk down the streets, everybody seems afraid that we might be taking pictures of them. We hear people shouting "no photo, no photo" from every corner. Every now and then we are accompanied by someone trying to sell us a "photo license" – about $10 to take a picture of the street scenes. Everything has its price in Djibouti. We thankfully declined.
So all in all, my experiences travelling to Djibouti weren't that great. Maybe it was just because I went in December 2017 – one month earlier than Lonely Planet recommended. My guess is that the Lonely Planet writers were on a sponsored trip in the country and didn't see the imbalance between the price and what is offered in Djibouti. I am not totally cheap but I wouldn't see the point in spending such insane amounts of money on activities that are offered in other countries as well. You could do a cruise to Antarctica for the price of visiting the three main sights of Djibouti.
But why is Djibouti so expensive?
The Djibouti tourism board is obviously trying to convince people to travel to their country by getting influencers like Lonely Planet to write them on top of the best of lists. But currently, Djibouti is not a place with many tourists. But the amount of expats who are employed through the army bases in the country (mostly Americans and French) is very high. And has been for years. Those people are usually in well earning positions, constantly bored (especially in a place like Djibouti). Hence, they are paying every price the locals ask them to pay. International companies who pay the rent for their employees pay any price they are asked for to get their employees in a central location. And so it goes on.
Have any of you been travelling to Djibouti? What was your experience? Let me know in the comment section.
Pin this: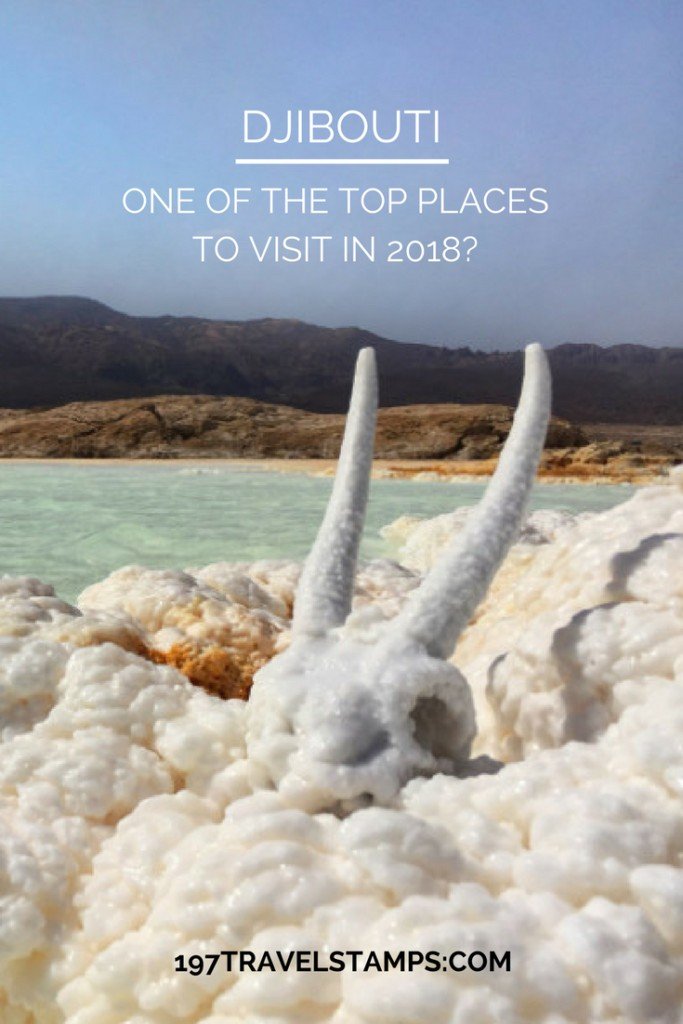 If you like reading about travel to lesser known places, you may be interested in my trip report to Burundi. Or just take a look at my top 10 travel photographs of 2017.
Travelling to Djibouti – One of the top countries to visit in 2018?