If at all, Bishkek, the capital of Kyrgyzstan, is only known as a summer destination. The famous Tian Shan Mountains offer some supreme hiking opportunities that are definitely worth exploring if you are there during the warmer months. But is there anything to do in Bishkek in winter and is it worth travelling there?
The answer is: Yes, absolutely! Keep on reading and find out why!
Bishkek is the perfect winter holiday destination: with several ski resorts just outside the city, traditional Kyrgyz bath houses to regenerate after a day on the slopes, exquisite traditional food and an unexpectedly vibrant nightlife scene this Central Asian jewel is definitely one of the top places to visit if you are looking for something off the beaten track and yet still safe and easy to travel to. And how cool is it to tell your friends that you have been skiing in Kyrgyzstan?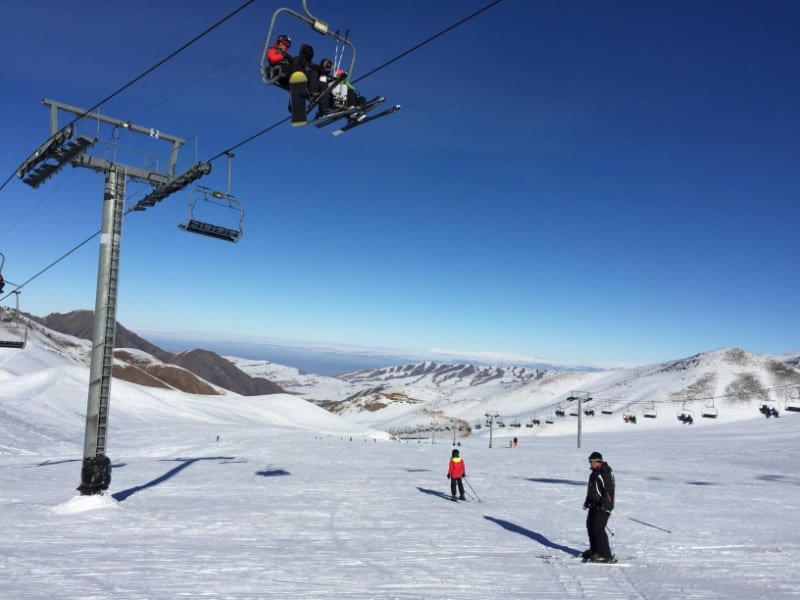 How to get to Bishkek?
A few years ago, travelling to Kyrgyzstan still required a lot of planning and flights were very expensive. That has changed. Since July 2012, citizens from 44 countries (among them all EU countries, the US and several Asian nations) can travel to Kyrgyzstan visa free. Since the Turkish low cost carrier Pegasus Airlines added Bishkek to its international network, getting to Kyrgyzstan became a lot easier and especially cheaper. Flights from Istanbul, a major international gateway start at just over $100 round trip.
Read my guide at how to always find the lowest flights
Skiing near Bishkek
There are over 20 ski resorts in Kyrgyzstan from which you can choose. The largest resorts can be found near the town of Karakol in the Tian Shan Mountains. Getting there is, however, not that easy during winter time since the mountain passes are often closed due to heavy snowfalls. If you are short on time, like I was on my visit, or if you just want to experience a fun day on the slopes, the Chunkurchak ski resort is the ideal choice for you. Located only about 30 kilometres south of the capital Bishkek it is perfect for an awesome daytrip. You can leave Bishkek with one of the numerous busses that bring locals to the ski resort in the morning and be back in Bishkek the same afternoon.
Tip: Busses to Chunkurchak leave every morning at 9 am in front of the Gergert Sport shop. Be there a few minutes early to rent your ski equipment for the day so you can maximize your time on the slopes. I you don't make it in time, don't worry, you can rent some skis at Chunkurchak as well.

Cost: I paid roughly $9 for the ski and boot rental and another $7 for the bus to Chunkurchak and back. The ski pass was around $16 for the day. Compared to skiing in Europe or the US an absolute steal!
Here is a video of me skiing down the slopes of the Chunkurchak ski resort:
[youtube https://www.youtube.com/watch?v=uu4_1llfpEU&w=560&h=315]
Are you looking for a real adventure? Kyrgyzstan is considered to be the cheapest place for heli skiing. A helicopter will bring you to the top of untouched mountains from where you can ski down the untouched whites of the mountain. Tours start at around $4000 for an 8-day tour.
Tip: It can get terribly cold in Kyrgyzstan during the winter months. Check the weather forecast a couple of days before you actually get there and pack accordingly. In case the temperatures are dropping too low, bring foot and hand warmers with you so you can still enjoy the sights and ski resorts of this amazing Central Asian country.
Banya – Bath Houses in Bishkek
After a long and possibly cold day on the slopes, there is nothing more relaxing and reviving than visiting one of the traditional bath houses in Bishkek. I headed to Zhirgal Banya, the most traditional bath house in Bishkek – an absolutely unique experience (entrance is around $5). There are several rooms, a steam sauna, a Finnish sauna and a cold pool to refresh yourself. If your muscles are still sore, you are offered to pay a little extra to get a "massage" – something I don't recommend, at least if you are a man. Since there are separated areas for men and women in the bath, your muscles will be worked by a 200 pound Kyrgyz dude. And he isn't gentle.
Restaurants in Bishkek
Kyrgyz food usually means a lot of meat. Usually lamb or mutton. Be sure to try the national dish Besh Barmak, a delicious stew of horse or sheep meat, often mixed with homemade noodles. Head to Fakir Restaurant for an authentic Kyrgyz restaurant with well sized portions and excellent prices. Good thing in Kyrgyzstan is, that you won't find any Western fast food chains in the country – so you have to go for the delicious local choices.
Nightlife in Bishkek
After the relaxing bath and a filling meal, your batteries are recharged. Time to party. Bishkek offers a wide range of affordable nightclubs and foreigners are welcomed at most places with open arms. Most young people speak English very fluently so you won't have any problems connecting to some locals. Start out at 12Bar, a rooftop bar where you will meet the rich and famous of Kyrgyzstan – and still only pay around $5 per drink. Later you can head to the nightclub Retro Metro.
Compared to other big cities, Bishkek is quite safe. But just like anywhere, try not to flash your Rolex in a dark alley at night and you should be fine. If you feel uncomfortable, take a taxi back to your hotel from the nightclub – a ride should only be around $5.
Sight seeing in Bishkek
Bishkek is much more than just a gateway point to some ski resorts and a few nightclubs. When you walk around town, you can still experience the old Soviet past. Ala-Too Square is the perfect example for that. A massive square surrounded by concrete blocks – Lenin's dream.
Whenever I travel to a new country, one of my favourite things is heading to local markets. At one glimpse you can see how locals interact, what they eat and how they negotiate their prices. Osh Bazaar in Bishkek is just the right place to do that. From healthy nuts to a sheep's head and delicious Korean salads, you can find it all here.
Where to stay in Bishkek in Winter
There are plenty of accommodation options in Bishkek. The range varies from cheap local guest houses to upscale international hotel chains. If you are looking for something a little different, you should check out the Alpinist Hotel. It is located right in the center of Bishkek and even offers its guests a climbing wall.
Have you been to Bishkek or are you planning to travel there? Let us know in the comment section below. If you are planning an extented backpacking trip through the beautiful country of Kyrgyzstan, check out this helpful guide about backpacking in Kyrgyzstan.
Pin this:
Things To Do in Bishkek, Kyrgyzstan in Winter