The northeast of India is a fascinating place. Here, in the state of Sikkim in the Himalaya Mountains, the cultures of India, Bhutan, Nepal and Tibet meet. Our guest blogger Radhika Sharma gives us an insight into the 10 best things to do in Sikkim.
Sikkim has been one of the best hill stations I have travelled to in India. Not only does it offer beautiful landscapes and mind-blowing sceneries but it is also rich in culture and history. All the corners of Sikkim have something to offer and no matter how many times you visit this place, you will always feel like returning.
Here are the 10 best things to do in Sikkim
See the third highest mountain of the world – Kanchenjunga
Standing at an imposing height of 8,586 meters, Kanchenjunga lies between the border of India and Nepal. Kanchenjunga can be seen clearly from various parts of Sikkim. Dzongu is one of the towns in Sikkim from where you can easily witness this mighty mountain. Here are a few of the best places from where you can view the sun rise over Kanchenjunga Mountain:
Rachela Peak – Lying at 10,000 feet above the sea level, this peak lies in Kalimpong region
Lungtung Valley – Lying in the Eastern side of Sikkim, this places offers spectacular views of Kanchenjunga along with other nearby peaks. Thambi view point is the best point to witness the sunrise here.
Nathang Valley – This valley lies in the Old Silk route of Sikkim and is located a few miles from Zuluk
Tashi Viewpoint – This viewpoint lies in Gangtok, the capital of Sikkim
Tiffin Dara – To see Kanchenjunga, you have to climb 2.5 kms to catch the sunrise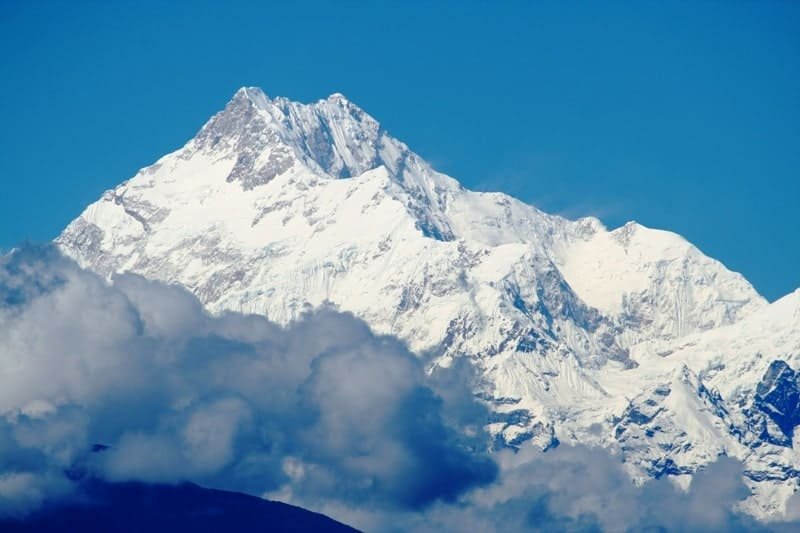 Experience the cultural festival Pang Lhabsol
In Sikkim, Kanchenjunga is considered as the guardian deity of Sikkim. This festival is celebrated by Sikkimese to pay homage to Mt. Kanchenjunga and it is one of the highlights of Sikkim tourism. Masked dances are conducted on this occasion by highly trained members of the local community.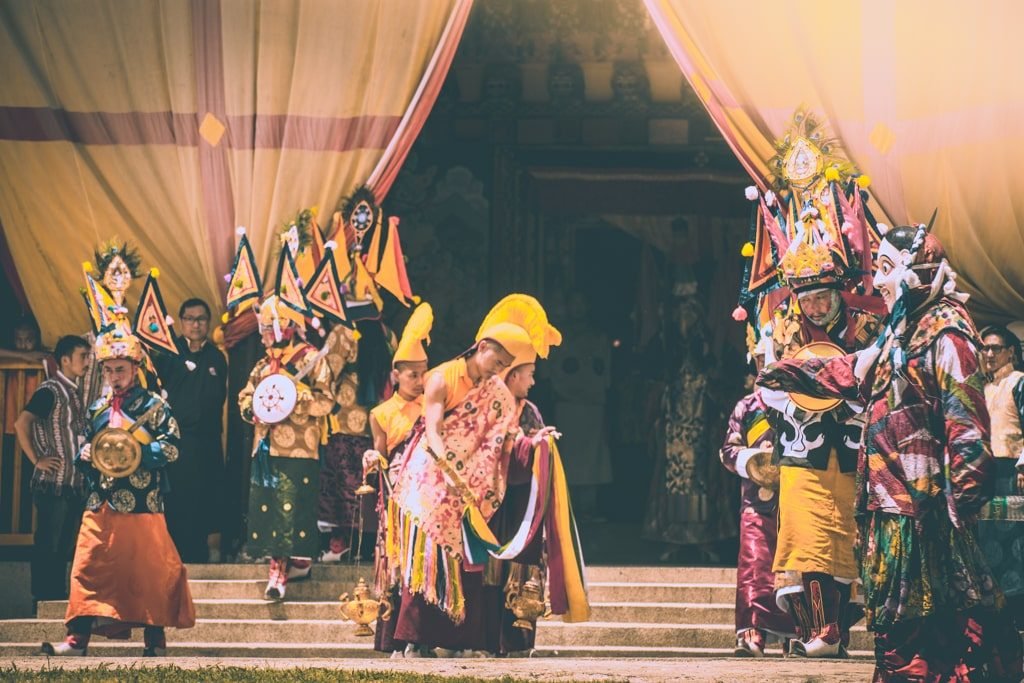 The festival happens in the Tsuklakhang Monastery of Gangtok with the support of special monks from the Monastery. It is celebrated every year in August or September and is one of the best things to do in Gangtok. Sikkim has three main communities – Lepchas, Bhutias and Nepalis. This festival also marks the treaty of brotherhood among Lepchas and Bhutias. It signifies the unity of the Sikkimese.
Visit the beautiful lakes of Sikkim
In Sikkim, you will come across several lakes but there are four major ones that you should not miss if you are travelling to Sikkim
Menmecho Lake
Menmecho Lake is located close to Tsomgo lake and is surrounded with greenery all around. The place is famous for trout fishing but you need to obtain a permit for fishing. The lake is mostly covered in snow during the winter and spring season. To avoid too much snow during your visit, I'd recommend to visit Sikkim in April or October.
Gurudongmar Lake
Gurudongmar Lake lies somewhere above 17,000 feet above sea level and both Buddhists and Hindus consider the beautiful lake a sacred place. It looks completely different in every season. During winter time, you will see the lake covered with snow. Legend has it that the lake has the power of granting children to issueless couples. Gurudongmar Lake is located around 190 km from Gangtok.
Tsomgo Lake
Tsomgo Lake is one of the most visited lakes in the area and one of the most famous tourist places in Sikkim and Darjeeling. The people of Sikkim consider the lake sacred.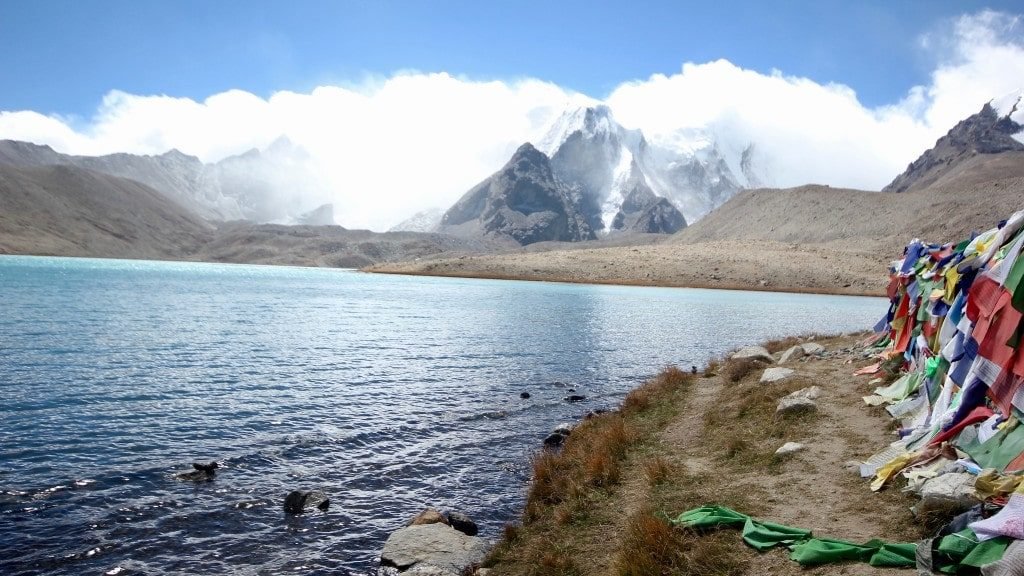 Visit the monasteries and experience Tibetan culture
Sikkim is a place full of Tibetan culture. The place is surrounded with monasteries and the most prominent one is the Rumtek Monastery. It is considered to be the largest monastery of Sikkim with its Golden Stupa that contains relics of the sixteenth Karmapa.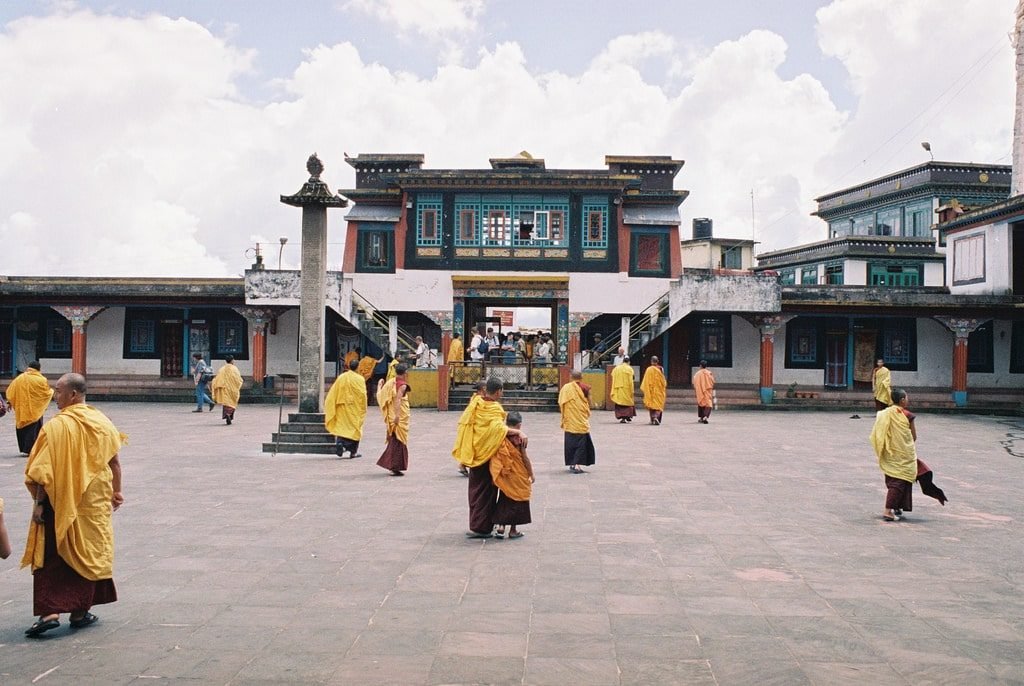 Go Rafting or Paragliding
Yes, Sikkim offers a wide range of adventurous activities. You can try your hands in rafting in the Teesta River, one of the best destinations in Sikkim for rafting. The gushing rapids of Teesta River will make your heart beat faster – a perfect thrill for adrenaline junkies.
You should also try paragliding. You will fly over the skies at 2,200 meters over snow-capped hills. In the month of November the Annual Sikkim Paragliding Festival takes places in Gangtok. Don't miss out on that if you are an adventure junkie or if you want to take some incredible photos.
Visit Zuluk Road and its 32 hair pins
Zuluk is a hamlet close to the Indo-China border at an altitude of 9,500 feet. Here, an incredible road winds up the hillside and from Thambi View point you will be able to see the entire stretch of the Zuluk loops along with 32 hair pins. Also, if you want to watch the sunrise or sunset over Kanchenjunga Mountain this is one of the best places to do it.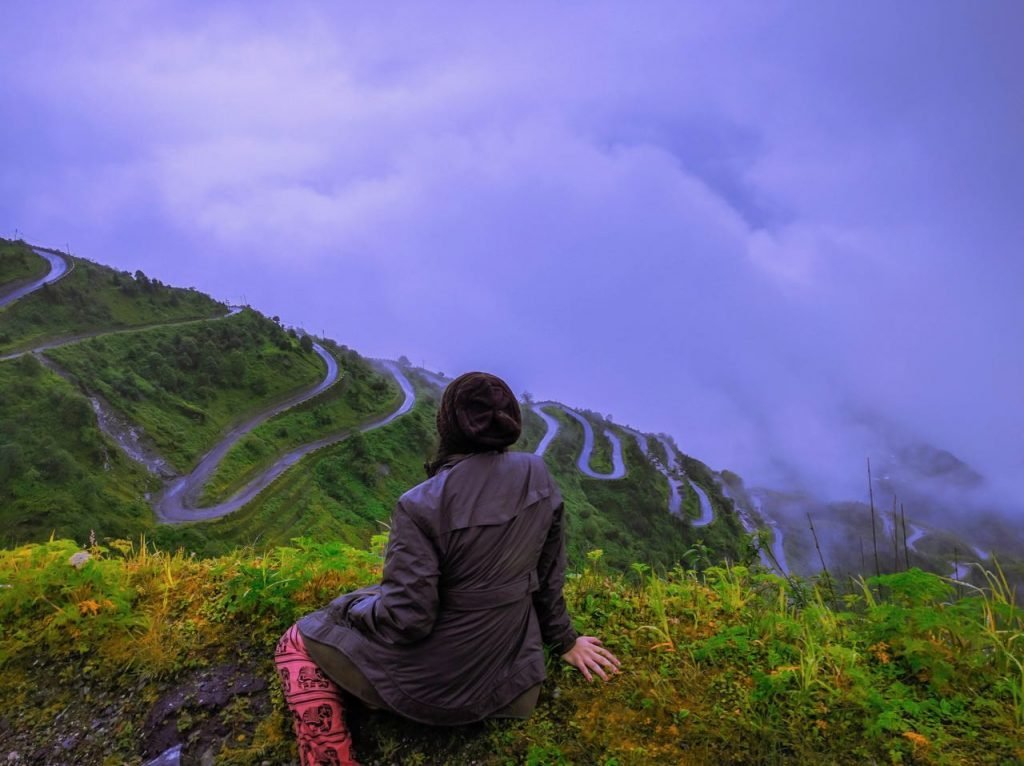 In the earlier days, Zuluk was known as the transit point of trade between Tibet and India and was widely used for the transportation of goods. However, since this place is so close to the Chinese border, it requires a permit to get here.
Alternatively, there are many other viewpoints here that you can enjoy – Kupup, Ganek, Nathang Valley, Lungthung, Thambi Viewpoint and Memenchu Lake.
Ride a Yak
On the way to Nathula Pass, you will cross beautiful valleys and forest areas. But the most stunning site that you will witness is Tsomgo Lake. Its turquoise water comes from the melting snow of the graceful mountains surrounding it.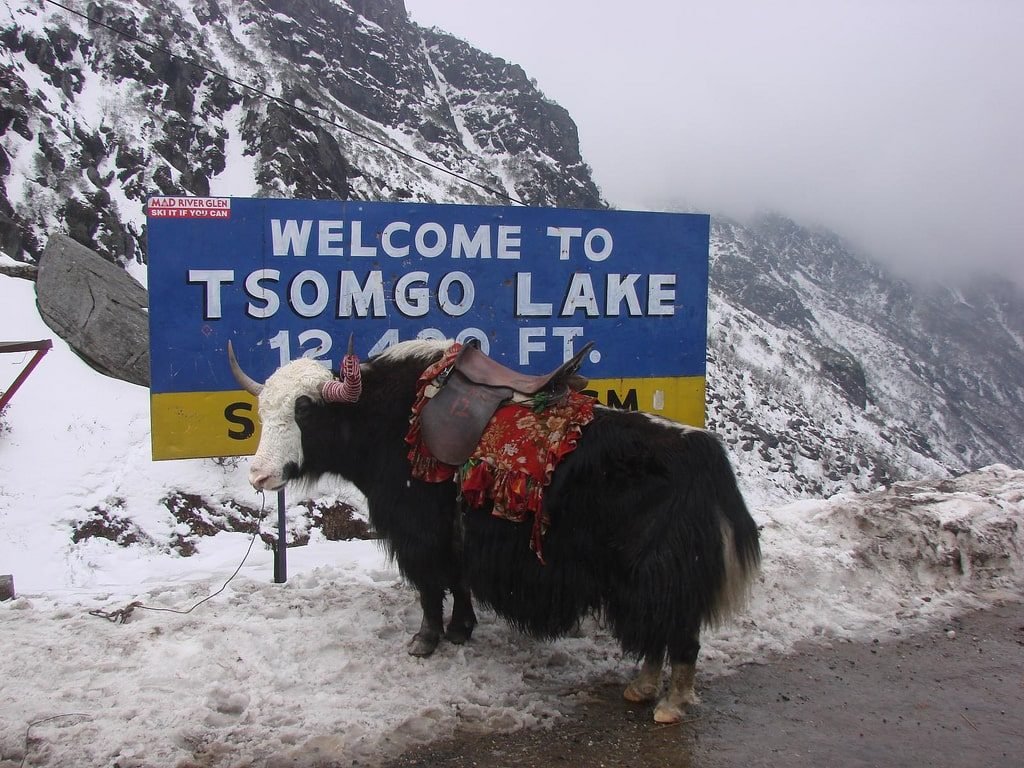 Near the lake you can organize yak rides that will take you on a fun ride around the lake. The yaks are so colorfully dressed with woolen knits which makes the experience feel even more authentic. You can get a yak ride on the spot and depending on the distance you want to cover, the price of a yak ride varies. Give it a try, it is one of the most fun activities in Sikkim.
Visit the Indo-China border
Nathula Pass is a great place that allows you to see the border of India and China. If you are lucky, you will also be able to see a few Chinese soldiers on the other side of the border.
Nathula Pass is an important pass and forms a part of the old silk route. You need a permit to get here which makes it one of the best offbeat things to do in Sikkim. The pass was closed for four decades but has now been opened again to serve as an official Border Personnel Meeting (BPM) point.
Currently, you can visit Nathula Pass only with a special permit that is not available for foreigners. For Indian citizens it can be obtained in Gangtok.
Buy handicrafts from Sikkim's thriving markets
Sikkim offers some unique handicrafts for home décor or as fashion accessories. For example wall hangings or prayer flags. Another great item are masks that can be used as wall hangings – especially those used at the Pang Lhabsol Festival.
Savour the cuisine of Sikkim
If you are a foodie, Sikkim will offer you some incredible food experiences. The North East of India never fails to disappoint with its finger licking variety of culinary delights. Sisnoo, gundruk ka jhol, fermented soyabean chutney, and scrumptious pork curry are some of the must haves. Some of the places that I would recommend are – Munchies Shillong, Jadoh, Dylan's Café and Hashtang. All these places have good ambience and are also cheap with a fulling and satisfactory meal to offer.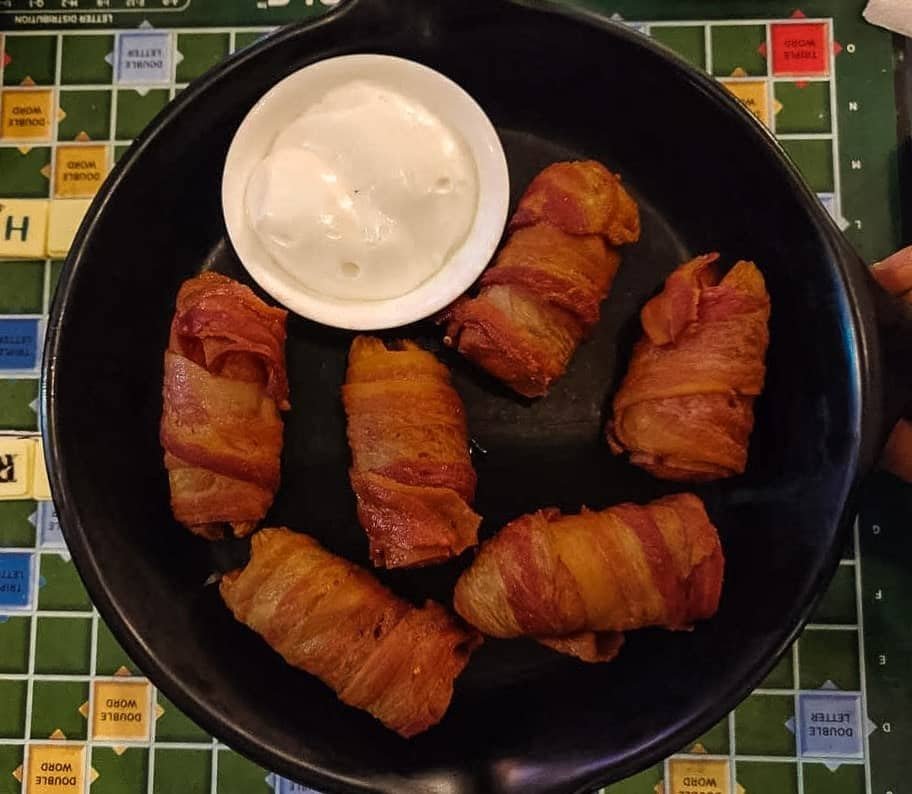 Further, Sikkim is the first to be certified as fully organic in 2003, which ensures healthy living and decreasing the risk of health ailments. So you do not have to worry about the authenticity and quality of food.
Sikkim Tourist Map
The following map shows the main tourist sites in Sikkim that were mentioned above. Most sights of Sikkim are quite easily accessible from the state capital Gangtok. Gurudongmar Lake is a somewhat longer journey up north.
Due to its proximity to neighboring countries, you can easily combine a trip to Sikkim with visits to the neighboring countries. From Gangtok, you can reach the Phuentsholing border crossing into Bhutan. From here, you can start exploring the Himalayan kingdom. Check out this post for a detailed 7-day itinerary of Bhutan. Are you traveling on to other places in India after Sikkim? Check out our 24-hour guide for Mumbai.
Alternatively, you can decide to travel a few hours to the east and explore the mountains and culture of Nepal. In case you still need some convincing, why a trip to Nepal is a great decision, check out this post.
Another great option for a trip extension of Sikkim is a visit to Tibet and other Chinese regions. If you decide to do so, you may find these China travel tips helpful.
Book your accomodation in Sikkim through Booking.com
Sikkim has a lot to offer. It is a place rich with flora and fauna, full of adventurous activities and a perfect place to find peace. You can visit the monasteries to pray to the Gods or just admire Mount Kanchenjunga and enlighten yourself spiritually.
Don't miss our adventurous story how we got to pet a wild crocodile in Bangladesh, another great country not far from Sikkim.
Author Bio

Radhika Sharma is a travel blogger, an avid YouTube an IG influencer for the past 2 years, based in New Delhi. She is the co-founder of the blog, Nomllers. You can find her work on her YouTube and Instagram.
Pin this post for later:
Best Things to Do in Sikkim