Maputo is the capital, largest city and the beating heart of Mozambique, a country in Southern Africa. Since independence from Portugal in 1975, the country underwent a communist rule and a brutal and long civil war. Now, over 25 years after the end of the war, Maputo is a vibrant and safe city. This post gives you an overview of the best things to do in Maputo, the best beaches near Maputo, what and where to eat as well as where to stay in Maputo.
Contents:
Best things to do in Maputo
– Maputo Fortress – Fortaleza da Nossa Senhora de Conceicao
– Walk around Polana neighborhood
– Visit the local markets of Maputo
– Botanical Gardens Jardmin Tunduru
– Praça da Independencia
– Saint Anthony of Polana Catholic Church
– Mesquita da Baixa
– Núcleo de Arte
– Maputo Railway Station
Best Beaches near Maputo
Game viewing near Maputo
Mozambique Visa
Safety in Maputo and Safety in Mozambique
What and where to eat in Maputo
Where to stay in Maputo
Best things to do in Maputo
Maputo Fortress – Fortaleza da Nossa Senhora de Conceicao
The fortress of Maputo was originally built by the Portuguese in 1787 during the colonial period. In the following decades, the building was destroyed and rebuilt several times. The current structure was re-erected in the mid-20th century in an effort to protect the Portuguese heritage and colonial history. Nowadays, Maputo fort hosts a colonial history museum inside its fortified walls. Unfortunately, most of the writing is only available in Portuguese. The fort is still worth a visit even if you don't understand all the historical background, thanks to the beautiful views over the city. The entrance fee to the museum is 200 MZN (3.5$).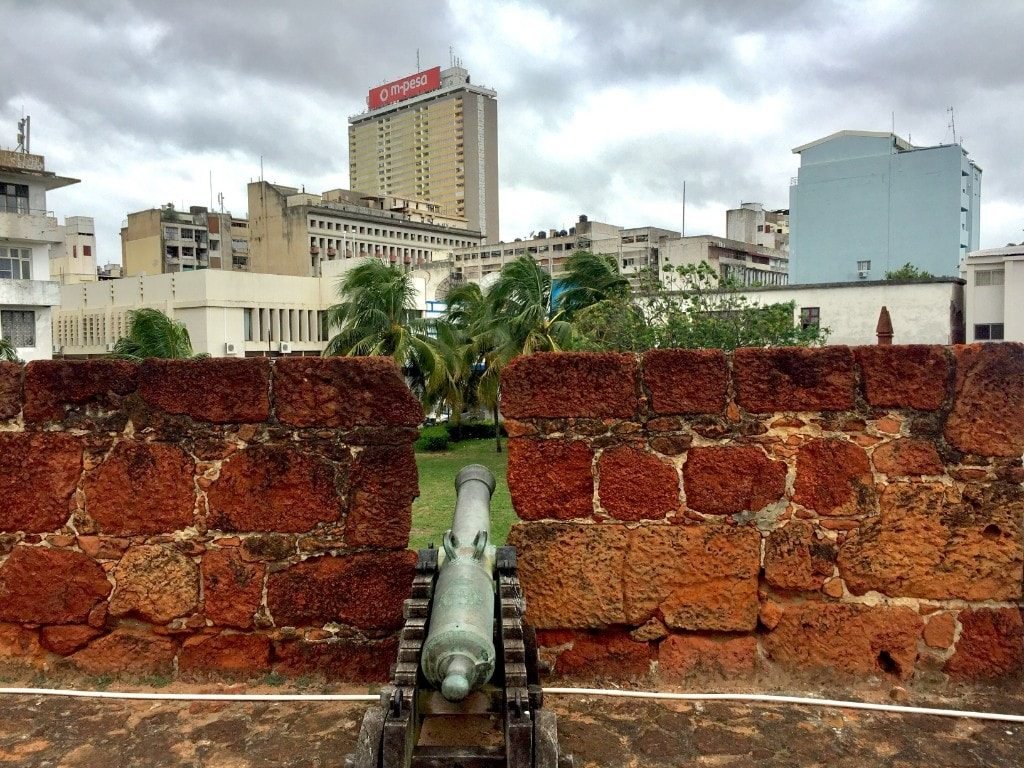 Walk around Polana neighborhood
Take your time and soak up the city life of Maputo on foot. During daytime, the center of Maputo is safe to walk around. This is one of the best ways to experience the past of Mozambique first-hand. Many street names remind us of the communist past of Mozambique. Make sure to check out the crossing of Kim Il Sung Avenue with Mao Tse Tung Avenue in Eastern Polana.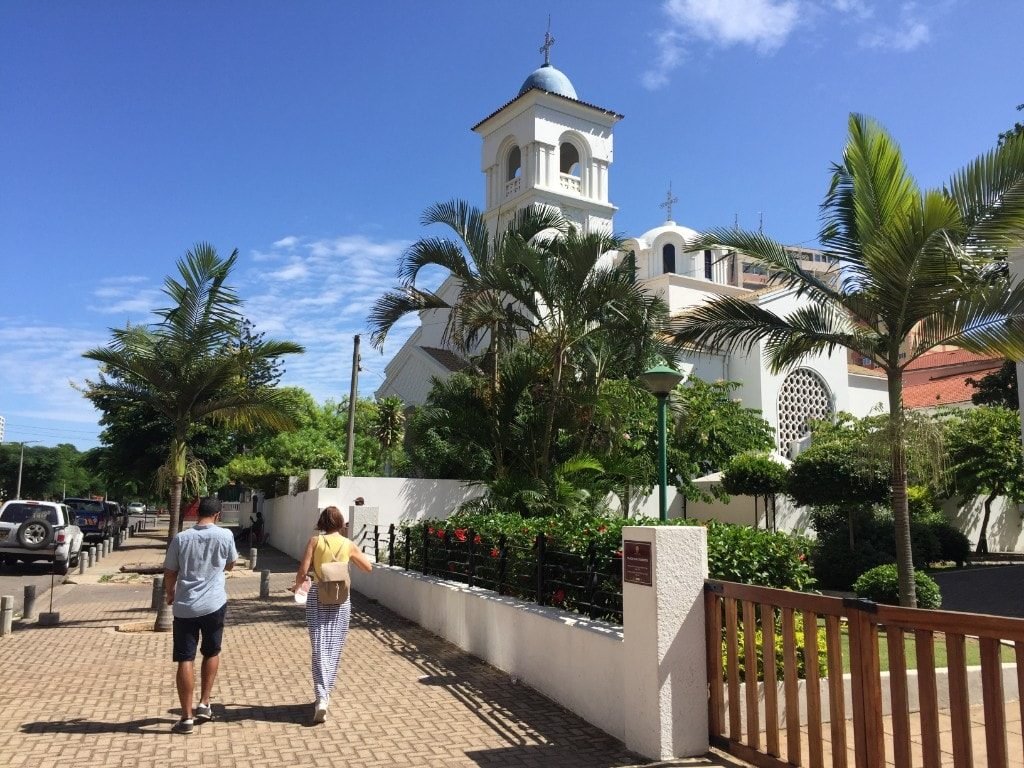 Keep your eyes open for the insane amount of government ministries all throughout the city. There is a ministry for pretty much everything. Counting ministries was one of my favorite things to do in Maputo.
Every now and then, between the modern buildings of modern Maputo, you may discover one of the old Portuguese colonial buildings.
Visit the local markets of Maputo
Maputo Central Market
One of my favorite things to do when I am in a new country is visiting the local markets. The Mercado Central de Maputo (Maputo Central Market) is one of the main markets in the city. It is located inside a beautiful Portuguese colonial building constructed over 100 years ago. Make sure to buy some delicious cashew nuts while you are there – one of Mozambique's main exports.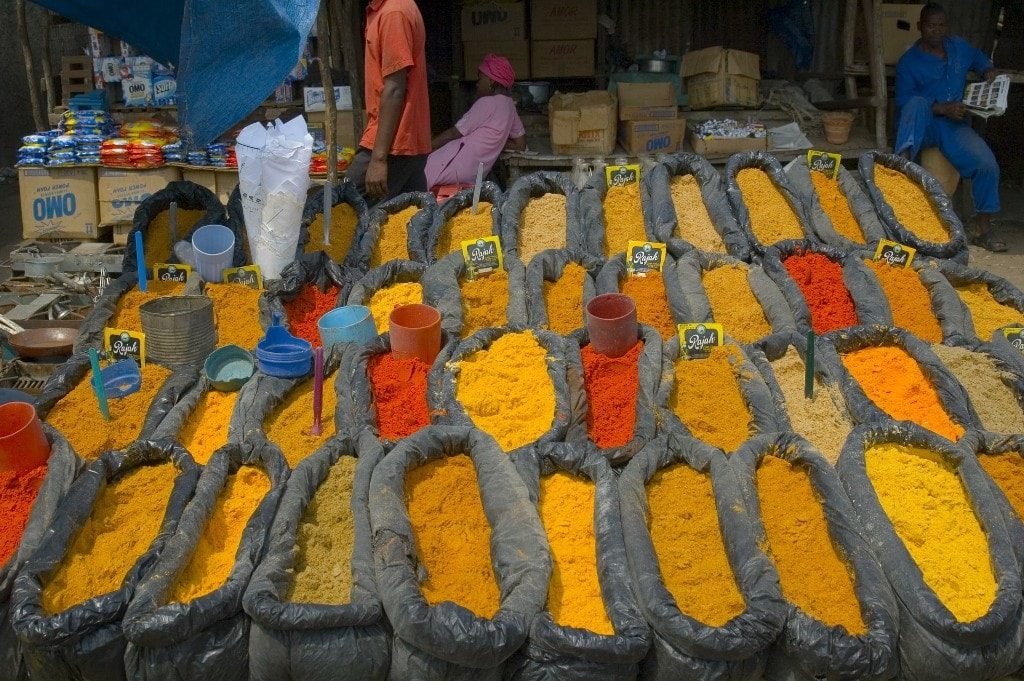 Xipamanine Market
Another great market in Maputo is Xipamanine Market. The market is only open on Saturdays but if you find the time, you should go and check it out. In addition to everyday products, traditional African medicines as well as Voodoo articles are widely available at this market.
Maputo Fish Market
If you are hungry for seafood, head straight to the fish market of Maputo. You can select the fresh catch of the day and carry it outside to one of the many food stalls who will happily prepare the fish for you. The best day to go there is on Sundays – the market will be full of life and locals on that day.
Botanical Gardens Jardmin Tunduru
The Tunduru Garden is a nice and relaxing place to escape the city life of Maputo. The gardens are located right next to the Cathedral of Our Lady of the Immaculate Conception. On Saturdays, wedding parties who just came out from the nearby cathedral are flocking to the park to sing, dance and take photographs. Seeing the joyful groups of locals was one of my favorite things in Maputo. Entrance to the gardens is free.
Check out the video I took of the celebrating wedding party:
Praça da Independencia
The Praça da Independencia (Independence Square) is located just a couple of meters from the Tunduru Gardens and a must on every Maputo itinerary. The massive open square is a reminder of the communist times in Mozambique. On top of it all, a 9 m (30 ft) statue of Samora Machel, the first president of Mozambique overlooks the square. The statue was designed and constructed in Pyongyang, North Korea.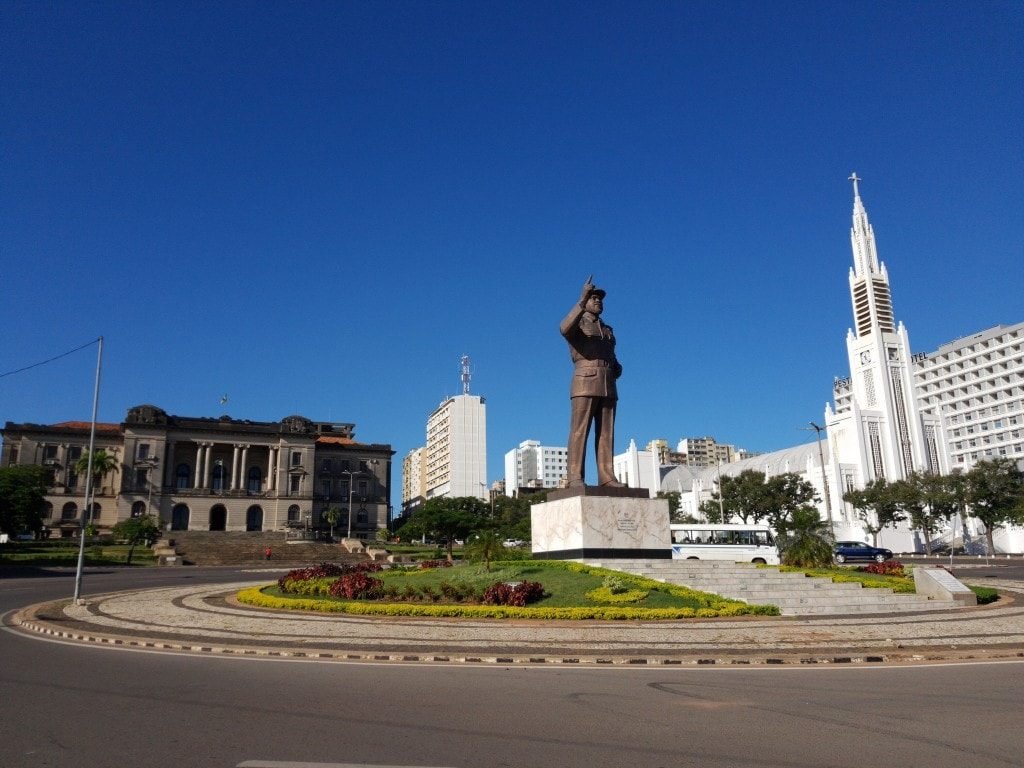 Saint Anthony of Polana Catholic Church
According to the architect, this emblematic church has the shape of an inverted flower. The locals refer to it as the "lemon squeezer". You should definitely stop by and decide for yourself. If you are lucky, you will get that during a service and you can listen to the beautiful choirs.
Mesquita da Baixa
Christians and Muslims live peacefully and respectfully among each other in Maputo. In addition to the many catholic churches, there are also several mosques in Maputo. Mesquita da Baixa is the oldest and largest mosque in Maputo. The original mosque was built in the late 19th century. In 2005, a larger addition to the building was inaugurated.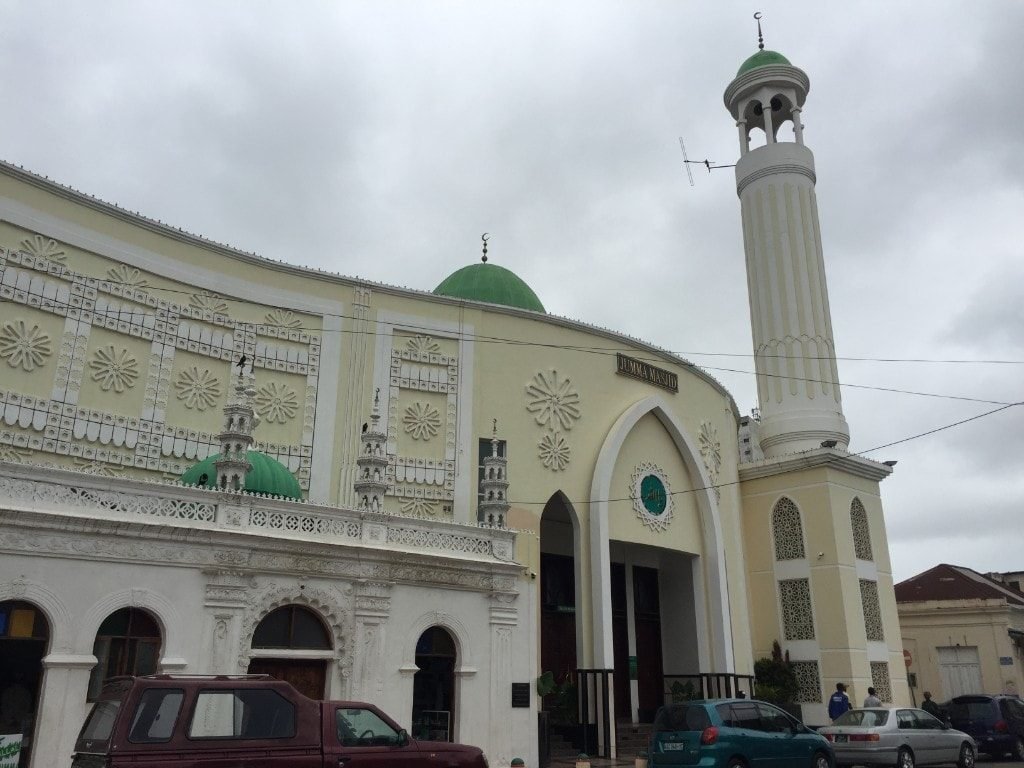 Núcleo de Arte
The Núcleo de Arte is an artist's cooperative in Maputo. This is an ideal place to check out the work of young Mozambican artists and watch them work. There is a bar on site where you can grab a fresh beer and socialize. Most artists speak a surprisingly good English and are happy to meet new people from around the world.
Maputo Railway Station
The historic train station was constructed in the early 20th century and is one of the main Maputo attractions. The station itself is still active today but also features a rail museum if you want to learn more about its history.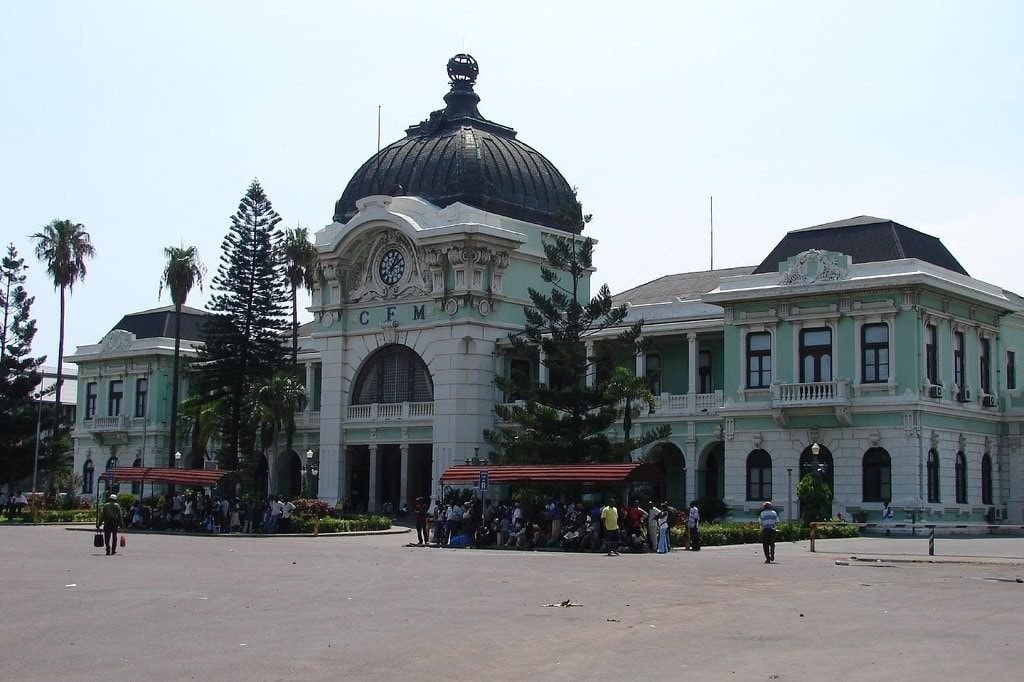 Interesting tours and activities in Maputo
https://www.partner.viator.com/widgets/hotsellers.jspa 68972 en 30759 2 Top sellers 630 true true hotsellers  
Best Beaches near Maputo
Catembe Beach
Catembe Beach is the closest beach to Maputo located right across Maputo Bay. Getting to Catembe Beach from Maputo is easy. Just head to Catembe ferry port in southern Maputo and jump on one of the many ferries. After the short ride, the long Catembe Beach will be to your left. There are plenty of facilities as well as hotels close to the beach if you decide to stay overnight. Compare the best rates for hotels in Catembe here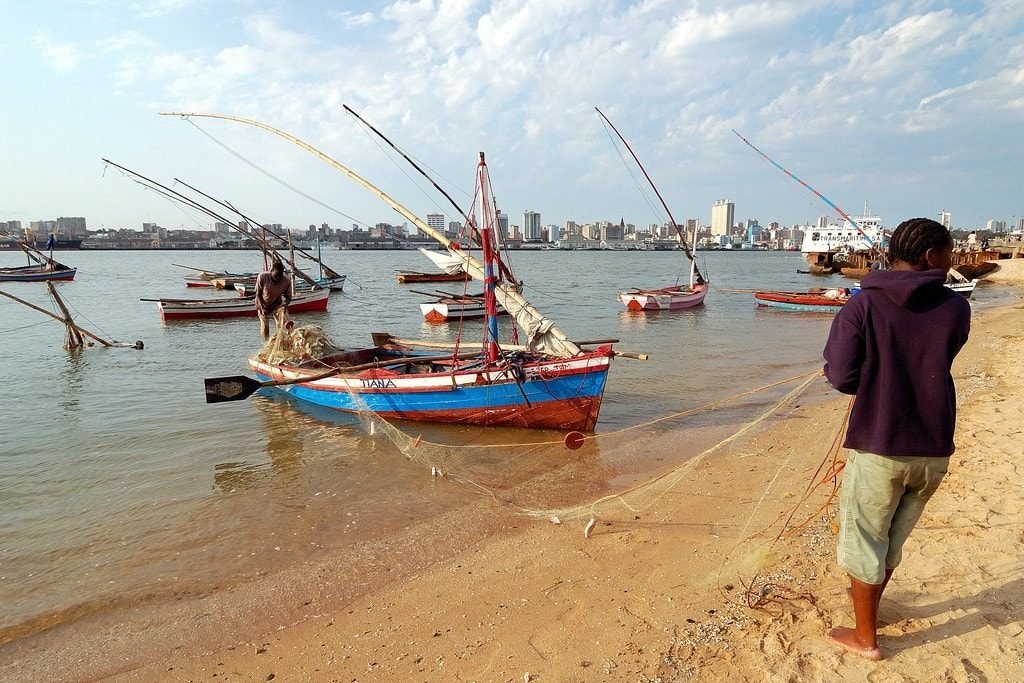 Inhaca Island
Inhaca is an island located in the Maputo Bay. A beautiful coral reef surrounds the sub-tropical island that is home to over 300 bird species. Inhaca can be reached from Maputo with a 3-hour ferry ride. The ferry leaves Maputo from the Catembe pier on Tuesday, Thursday, Saturday and Sunday at 7:30AM and returns at 3PM. The price of the ferry is 400 MZN ($7) each way. Due to the long travel times, I recommend spending at least one night on Inhaca Island.
The island offers some of the most beautiful beaches in Mozambique – as well as an incredible underwater world. You can rent some snorkeling gear on the island or join one of the scuba diving or snorkeling tours.
If you have little time and you still want to explore the beautiful island, you can also catch one of the charter flights to Inhaca Island operated by CR Aviation or join a sailboat tour to Inhaca Island.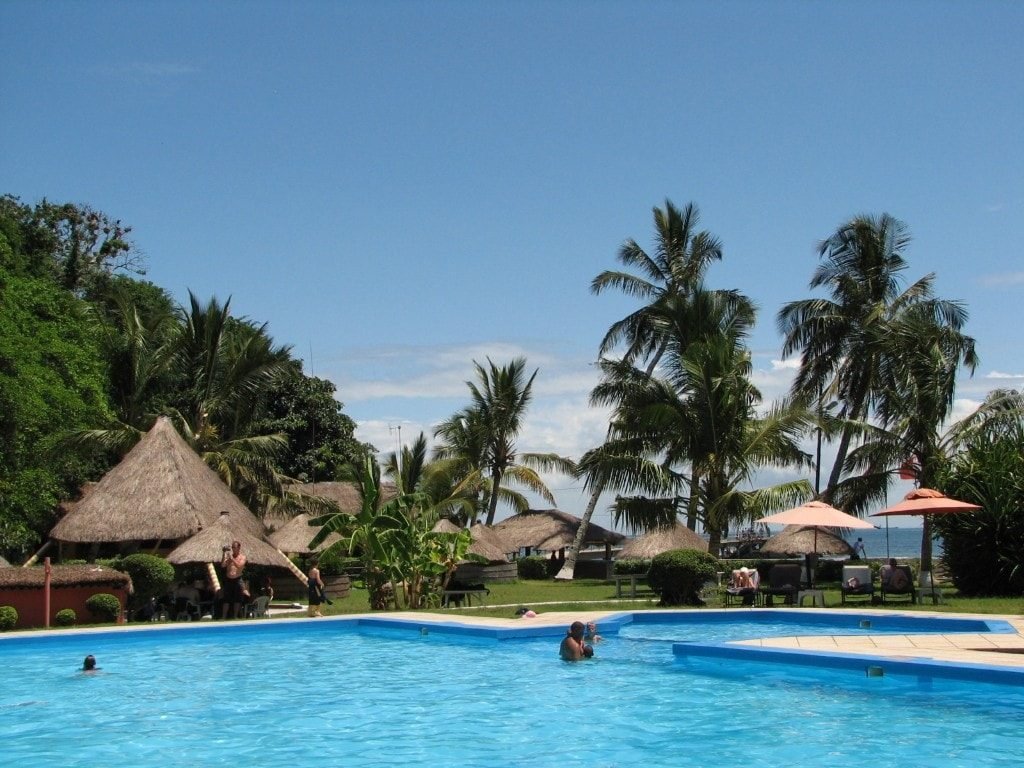 Macaneta Beach
Macaneta Beach is a beautiful beach around 5 km north of Maputo. The beach is only accessible with a 4WD or with the local unofficial shuttle vehicles. The closest town to Macaneta Beach is Marracuene. You can either take a taxi, or a chapa (local minibus), from Maputo to Maracuene and then continue on the local shuttles to the beach.
There are also accommodation options on Macaneta Beach if you decide to take a longer trip to the beach from Maputo.
Click here for details how to get to Macaneta Beach. You can also join a day tour to Macaneta Beach from Maputo – transport and food options will be provided for you and you can focus on having a relaxing day on the beautiful beach. Prices start at 90$ for the full day tour. Check your rates here.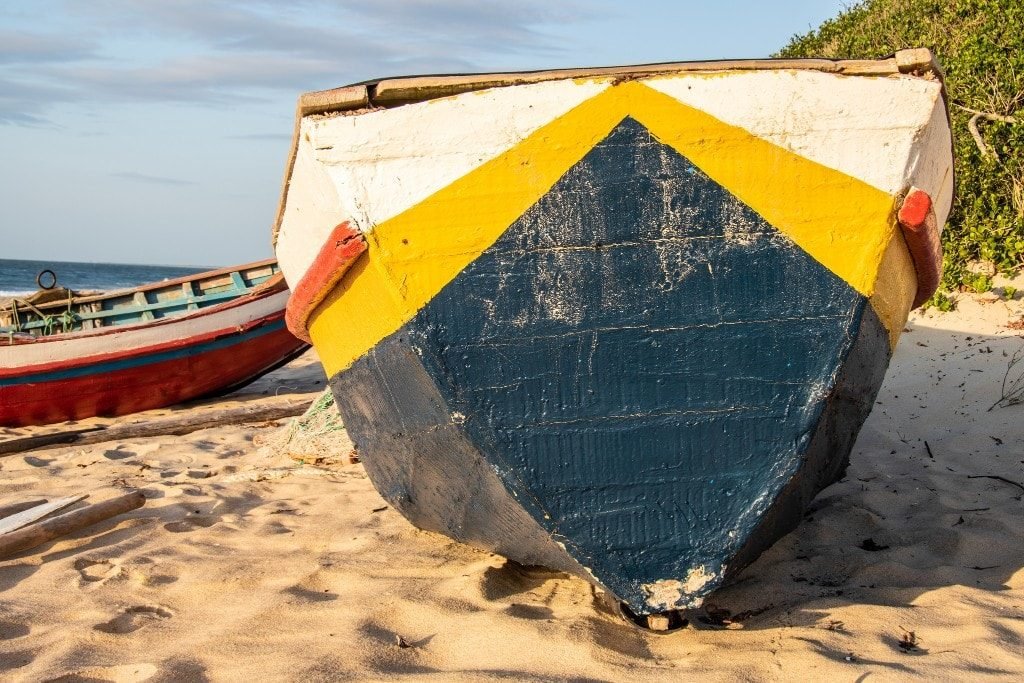 Game viewing near Maputo – Maputo Special Reserve
Maputo Special Reserve is a game reserve around 100 km southeast of Maputo. The reserve is a great way to see some African wildlife on a short trip from Maputo. The game reserve that stretches into South Africa and Swaziland can be visited on a one day trip from Maputo as well as on multi-day trips. Today, over 350 elephants as well as zebras, hippos, antelopes and other wildlife call the reserve their home.
Tours to the Maputo Special Reserve start at $170, including pick up and drop off in Maputo, game drive and lunch. Click here to check the prices for your dates.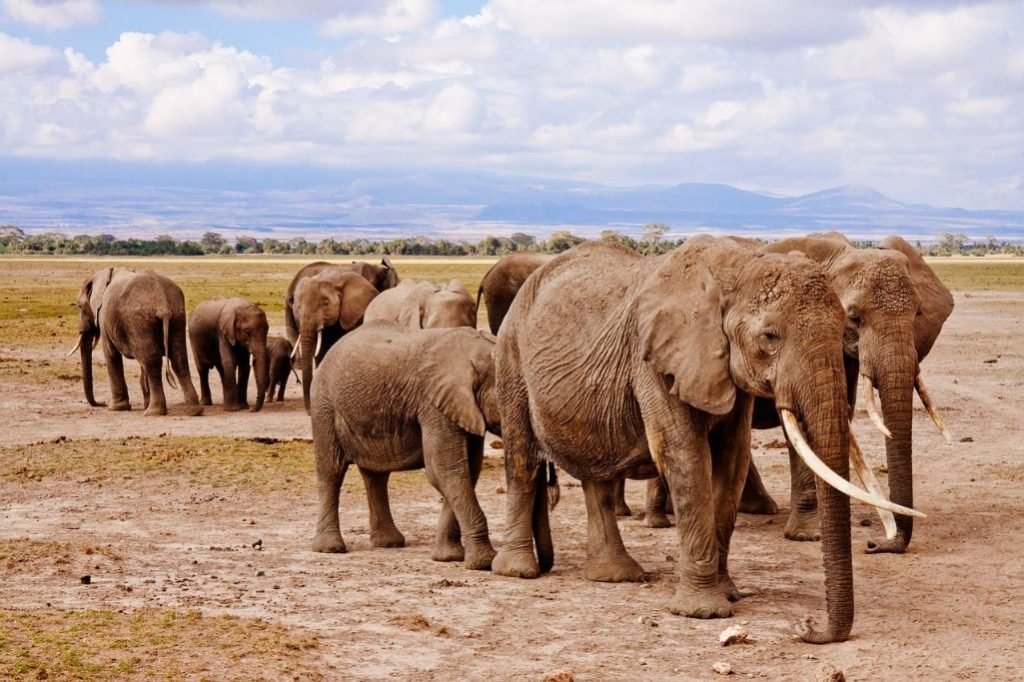 Game viewing near Maputo – Kruger National Park
Kruger National Park is one of the most famous game reserves in the world. The Park is located on the border between South Africa and Mozambique. If you want to get the chance to see the big five, this is your best safari option from Mozambique. Day tours leave Mozambique early in the morning. Right after crossing the border into South Africa, the game viewing can begin. You will be back in your Maputo hotel right in time for dinner. Check the prices here.
For the less hurried traveler, there are also multi-day tours to Kruger National Park available.
Maputo Travel Tips
Mozambique Visa 2020
Passport holders of all countries in the world can obtain a tourist visa for Mozambique on arrival. The Mozambique visa on arrival is available at Maputo airport and all other ports of entry. It costs $50 and is valid for 30 days.
Safety in Maputo and Safety in Mozambique
Compared to the larger cities in neighboring South Africa, Maputo is a very safe city. There are hardly any issues with violent crimes. However, you should be careful around markets or other attractions in Maputo where it gets crowded – pickpockets are an issue in some areas.
Traveling outside the city limits of Maputo is also safe, especially if you travel during daytime. On the overall African safety score, Mozambique ranks 28th out of 54 African countries. This relatively bad ranking is mostly due to some safety concerns in the north of the country. If you only plan to stay in the southern part of Mozambique, you won't have much to worry about.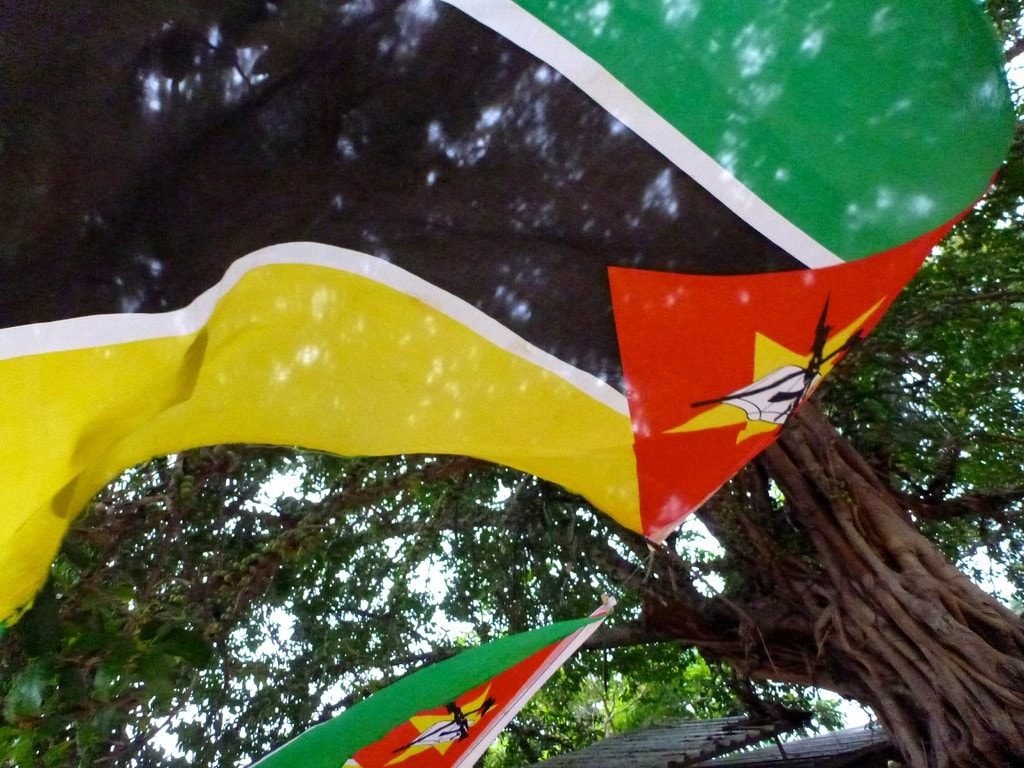 Travel Quiz: How well do you know the flags of the world? Check out our fun world flag quiz and see if you can score 10 correct answers identifying flags of the world!
Corruption in Maputo
The main problem for tourists in Maputo is the corrupt police. Especially at night, police controls are roaming the streets looking for a payday. While the abundance of police patrols helps to keep the city clear of violent crime, corruption is a big issue in Mozambique.
Always keep a copy of your passport and the Mozambican visa in your pocket. If you cannot provide this, the friendly police officers will ask you to pay a "fine". Even if you do, they will probably ask you for money.
Try to remain friendly and calm once you are asked for money. Don't pay any bribes and if you pay a fine, insist on getting a ticket. They may just ask you for a couple of dollars but if tourists keep on paying without hesitation, the corruption will only get worse. We were stopped several times for not having our original passports on us at nighttime. Every time, we refused to pay a fine and agreed to follow them to the police station instead. And every time, they let us go our way once we got really close to the station. So be friendly and pay for time, they will give up at some point.
What and where to eat in Maputo
Typical dishes in Mozambique are Matapa with rice or Xima. Matapa is a vegetable similar to spinach and is served with peanuts and coconut milk. Xima is a corn porridge known as Papp in South Africa. Many restaurants and food stalls also serve grilled chicken or fish with rice and vegetables.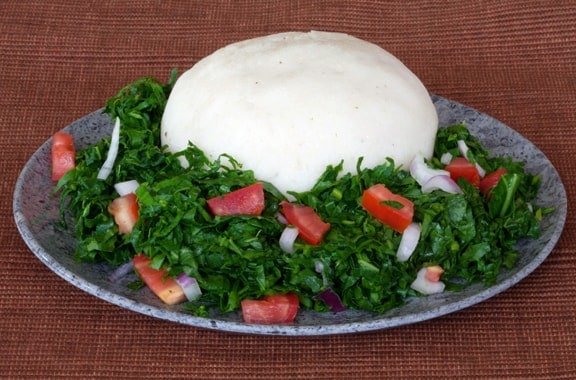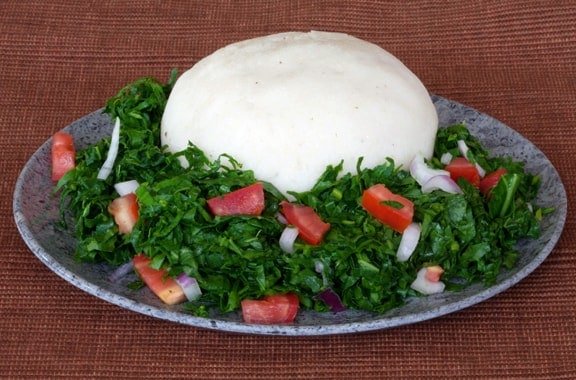 Restaurant Gracianna close to Mao Tse Tung Avenue serves some great Mozambican food.
If you are craving seafood, head to the fish market (as mentioned above) for some amazing food.
Where to stay in Maputo
Duqueza de Connaught Guesthouse
The Duqueza Guesthouse is a great mid-range hotel right in the heart of the central Polana neighborhood and one of the best places to stay in Maputo. It offers a pool, free parking and a great breakfast. All sights of Maputo can be reached by foot or a short taxi or tuk-tuk ride.
Prices for the Duqueza Guesthouse for a double room start at $100 per night. Check the rates for your dates here
GuestHouse 1109
This fantastic guesthouse is located right in the middle of all the main things to see in Maputo. The Tunduru Gardens, the fort, Independence Square and the Catembe ferry port are all just a 10-15 minute walk from your room. It offers a pool and a rooftop terrace with a view over Maputo downtown.
Prices for the GuestHouse 1109 for a double room start at $110 per night. Check the rates for your dates here
There are also plenty of good value budget hotels in Maputo. Click here to compare prices for Maputo hotels on booking.com
I hope this post gives a good overview of the best activities in Maputo. If you have traveled to Maputo and you know of any other things to do or fun activities in Maputo that I should add to the list, let me know in the comment section and I will happily add you recommendation.
Check out our African capitals quiz or our Africa map quiz to test your geography knowledge and learn some new fun facts.
Do you want to read more about traveling around Africa? Check out our trip reports from Burundi, a country in political turmoil. Or read about our experiences in Djibouti – one of the top countries in the planet, according to Lonely Planet.
Pin this post for later: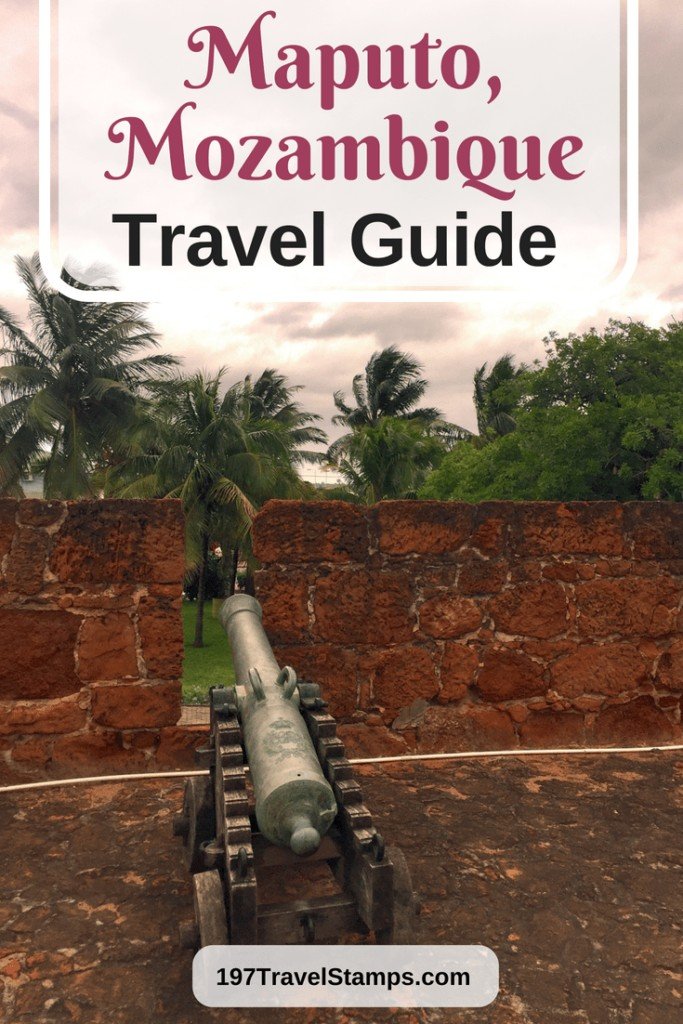 Best Things to do in Maputo Mozambique